Las Vegas National Finals Rodeo 2023
Tickets, Country Concerts, Entertainment during Wrangler NFR
Las Vegas National Finals Rodeo, or Wrangler NFR week of December 7-16, 2023 is packed with great entertainment - country concerts all over the city, watch parties, afterparties, gift shows and other cool things to do. Since 1985, the event has come to Sin City featuring the top fifteen competitors in numerous events that range from bareback and saddle bronco riding to team roping and tie-down roping to steer wrestling and bull riding to the fastest barrel rider. All of the action can be seen live in person at the Thomas & Mack Center and if you don't have a ticket to this raucous event then you can attend one of the viewing parties which are complemented by live country music, drink specials, and giveaways. This is the time of year in Sin City where you put your best boots, hat, and jeans on to go out on the Strip and enjoy some two-stepping and line dancing as well as all the action at the Super Bowl of Rodeos.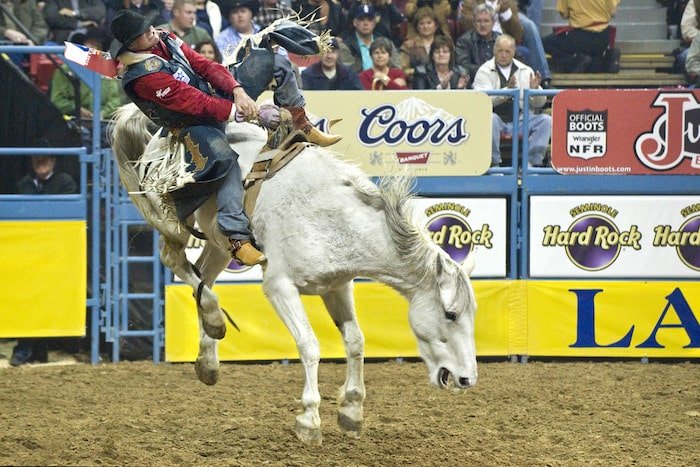 Las Vegas National finals Rodeo Tickets
Country Concerts
Here are the top country concerts to watch during Wrangler NFR week in Las Vegas in 2023:
Thomas & Mack Center
More about Thomas & Mack Center
The Thomas & Mack Center is the only place in Las Vegas for you to watch all of the rodeo action including bronco and bull busting of the Wrangler NFR. The arena transforms itself into a perfect place for the dirt to fly during the performances. Each night is sponsored by a different entity with giveaways at your seat and at the door when you enter. The sightlines at the arena are ideal for viewing all of the rodeo events and there is sure to be an entertaining clown or two to help keep the contestants safe. The arena offers numerous choices for food and drink with plenty of VIP seating available such as boxes and party suites. Get there early and take a stroll through the grounds where you can visit with contestants and their animals. Each is sure to bring all of the excitement that this world class event brings, so make sure you get in to watch the rodeo action.
Afterparty at The Mirage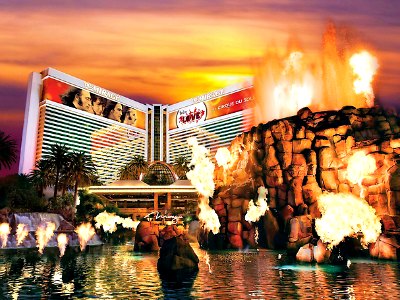 The Mirage Las Vegas National Finals Rodeo 2023 events:
An exciting place for you to watch all of the WNFR events on the largest HD projection screens in Las Vegas is at the Mirage. Every night of the event the hotel is offering drink specials and prime viewing of all the action in Mirage Race and Sports Book. You can proudly cheer on your favorite bronco buster while you indulge in numerous free giveaways during each performance. There are other locations within the property to view the rodeo action too like the Parlor Lounge, Rhumbar, The STILL, and the Center Bar. In addition, there is live entertainment from lots of country music stars. Other activities at the hotel include a Jack Daniel's Whiskey Dinner at Tom Colicchios's Heritage Steak and if you have tickets to big rodeo events there is a complimentary shuttle to and from the Thomas & Mack Center.
Treasure Island
Treasure Island Las Vegas National Finals Rodeo 2023 events:
If you like country music and want to watch the Wrangler NFR in Las Vegas then you should make your way to Gilley's Saloon. Located within Treasure Island, there are plenty of entertaining things on the agenda on a nightly basis. Each night you can go watch the live satellite feed at Gilley's Saloon where you can indulge in numerous drink specials served up by the delicious looking Gilley Girls and special guests like the provocative Crown Royal Woman. While enjoying your night, you can take a ride on the mechanical bull and see how long you last on top before being thrown to mats. After all the exciting rodeo action is finished you can hang around listening to live music from great country artists like Scotty Alexander, Chancey Williams & the Younger Brothers Band, Reckless Kelly, Kevin Fowler, Bob Staley, and a special night with Chad Prather at the Treasure Island Theatre.
Photo by Lawrence Crespo/Released
More Vegas Sports
Get Your Free Las Vegas Events Calendar!
Best of Vegas