Las Vegas Sports Teams Home Games Schedules 2022-2023
Las Vegas sports teams home games bring to the city fun and excitement. You can watch a variety of professional teams like the NHL Vegas Golden Knights, WNBA Las Vegas Aces and starting in 2022-2023 the NFL Las Vegas Raiders will take the field. Other exciting sporting events in Las Vegas include the Las Vegas Aviators of the Pacific Coast Triple A League, the Las Vegas Lights FC playing in the United Soccer League Championship. In addition to the professional teams there is also entertaining sporting events at UNLV. Known as the Runnin' Rebels they play in 16 NCAA Division I sports and is best known for being a basketball powerhouse in the Mountain West Conference. From exciting hockey and football to baseball and soccer to college basketball and professional basketball, there is sure to be the perfect event to wet your sports whistle.
Las Vegas Raiders Home Games Schedule 2022-2023 Season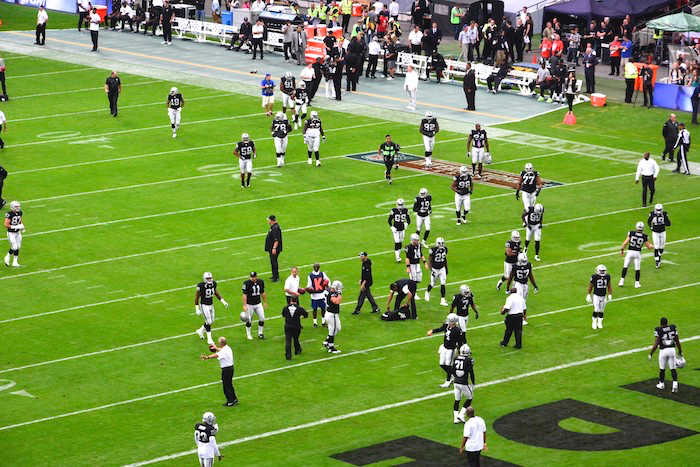 Raider Nation is moving again and starting in 2022-2023 National Football League (NFL) season they will be bringing the Silver and Black to Las Vegas. Once an original team of the American Football League founded in 1960, the Raiders have moved several times during the franchise's history with stints in Los Angeles and two in Oakland. Notable achievements that have helped grow Raider Nation are three Super Bowl victories and four American Football Conference (AFC) championships. Notable players include Marcus Allen, Kenny Stabler, Jim Plunkett, Lyle Alzado, and wide receiver Tim Brown. The Las Vegas Raiders are set to duel against their usual archrivals including the Kansas City Chiefs, Denver Broncos, the Los Angeles Chargers, and other traditional rivals like the Pittsburgh Steelers. You can catch the action in the new 65,000 seat domed Las Vegas Stadium which will be packed with first rate amenities for fans to enjoy.
Photo by Pete Sheffield
More Vegas Sports