X Burlesque Las Vegas Review
X Burlesque Las Vegas show playing at Flamingo is another classic piece of entertainment brought to audiences by the creators of X Country, X Comedy and X Rocks.
This 75-minute topless revue at Bugsy's Cabaret located within the Flamingo Hotel and Casino has been entertaining guests for over thirteen years. X Burlesque features beautiful women who perform many seductive and synchronized dances to a classic burlesque event that mixes the ideal choreography throughout the show.
X Burlesque Las Vegas show is classic burlesque at its finest. There are six main showgirls that include Shakeera, Meeka, Emile, Nanako, Whitney and Tiffany. All of these gorgeous women have chiseled bodies of glorious flesh and they are not shy about their figures. Highlights of the show include a wonderful seductive pole dance on a silver stripper pole by Meeka. Meeka also performs a traditional strip tease to Sexy Silk that brings the house down and most of her clothes leaving only high heels.
Nanako likes a little S&M and with her costume complete with whip as well as feathers, she is graceful dancing to Beyonce's Haunted. Nanko is superb in her groove as she grinds her guitar in a sexy dance during Crazy Bitch. The choreography is right on target like in the number Uptown Frank where the women use lighted chairs to highlight their luscious bodies. Shakeera is the ultimate free love woman of the 1960s when she asks the audience "Will you go to bed with me?" during her bare all performance during Um.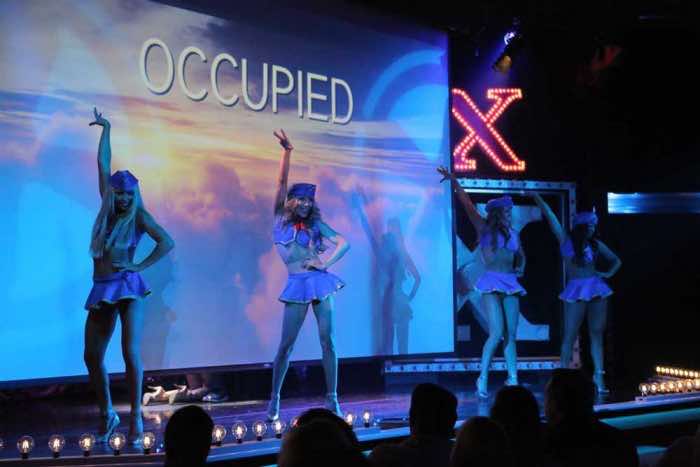 Whitney steals the stage during a sexy number in which she is dancing on a zebra bench and she is seductively superb with her brilliant strip tease during Champagne Wishes where she performs in a glass. Tiffany proves to be at the height of sensuality when she uses bungee cords to help propel her beautiful body across the stage during No Strings Attached.
One part of the X Burlesque Las Vegas show that has never changed has been the routine called Sweet and Innocent. This is a seductive two girl scene that includes a bathtub with Shakeera and Emile pouring champagne on each other. There is one other scene that involves three seductive women that include Meeka, Shakeera and Nanko where during Selena Gomez's song The Heart Wants What the Heart Wants the gorgeous women perform acrobatic moves on a white mattress. There are times when all of the seductive women are on stage together like in a foot stomping rendition of Now or Never. During Have Your Cake and Eat It Too the scantily clad dancers are wearing leather jackets and sporting crystal crusted canes. The topless dancers perform Downhome Cooking that sizzles while they are wearing only cowboy boots, Daisy Dukes and a hat.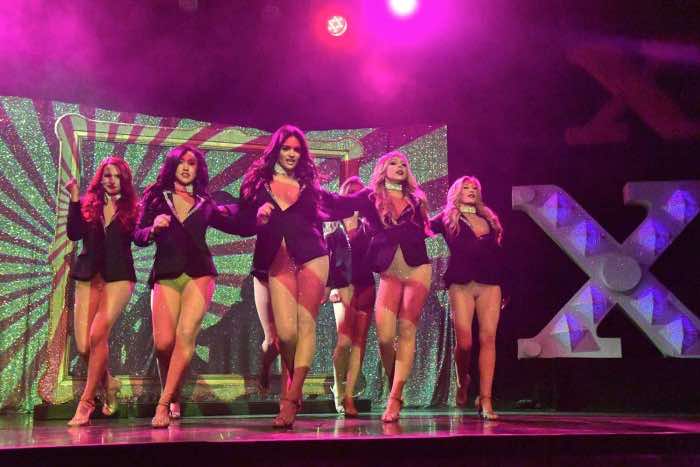 There are slight breaks in X Burlesque Las Vegas show for set changes and this is when comedian Nancy Ryan shines with her fantastic humor which is bent on the sexual side. Nancy is also joined by James Bean for a comedy duo that has the audiences laughing before the next jaw dropping dance by the lovely topless burlesque dancers. Before the night is over one lucky person will be admitted to the Mile High Club on X Burlesque Airlines by Ryan and Bean.
The Bugsy's Cabaret at the Flamingo Hotel and Casino is the perfect venue for this stunning stage show featuring all these beautiful women. The multimedia effects during the show are supported by numerous video screens and excellent lighting. The sound system is perfect and with only 100 seats the intimate feeling is unique. Seating includes a special area around the silver stripper pole known as the Pink Circle.
X Burlesque Las Vegas show will satisfy all of your wildest fantasies of watching a topless revue of beautiful, seductive and sexy women. The music fits the dance and the costumes are perfect for revealing the dancer which has been leaving audiences with smile on their faces.
X Burlesque Las Vegas Cast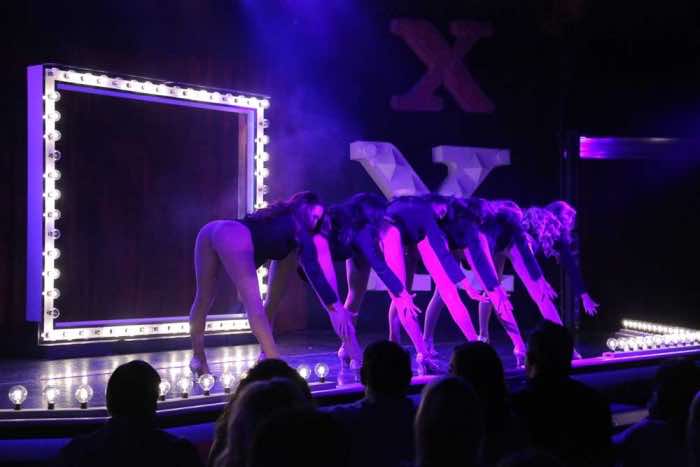 X Burlesque is the creation of Angela and Matt Stabile, who are a husband and wife team. The Stabile's have been producing shows since they opened Stabile Productions Inc. in 1986. From this time going forward the married couple has brought X Rocks, X Country and X Comedy to the entertainment scene in Las Vegas.
X Burlesque stars the beautiful and well-shaped X Girls. Some of the X Girls include Shakeera and Meeka who are a sister duo that have been with X Burlesque from opening night; Smithy has six years being an X Girl; Nanako and Nicki are going on four years; Tiffany and Whitney have almost three years with the production. Other X Girls on the dance troupe may include Megan, Melania, Alyssa, Jen M., Tara, Kim and Jenny.
Tickets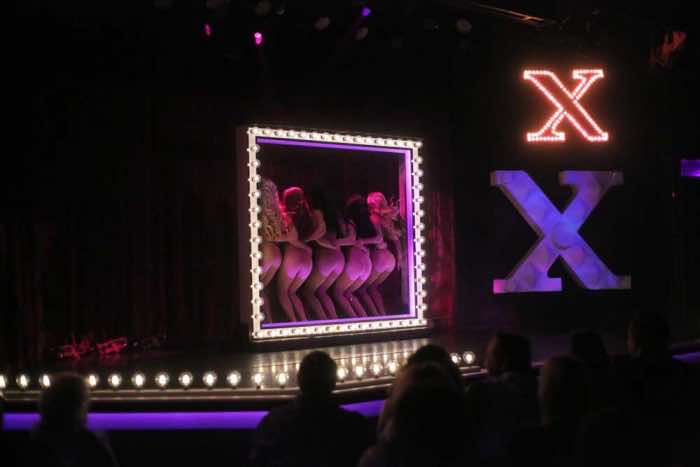 The show is performing at Bugsy's Cabaret located on the second floor of the Flamingo Hotel and Casino. This venue is small and intimate with seating for about 100 guests. Seating arrangements are clustered around tables although there are some areas with only chairs. The X Burlesque Las Vegas is open to guests 18 years of age or older. The event runs seven nights a week starting at 10:00 P.M. X Burlesque Las Vegas Tickets are on sale now and range from general seating to a seat in the Pink Circle.
Get Your Free Las Vegas Events Calendar!
Las Vegas Gifts - Art, Merch And more!
Grand Canyon Helicopter Tours by Papilloin
Grand Canyon Helicopter Tours by Maverick
Awesomest Things to do in Las Vegas Every Day!