Outdoor wedding Venues in Las Vegas
Outdoor weddings in Las Vegas - you can get married at the beach, have a simple outdoor gazebo or garden, Neon Boneyard, golf course, and so many other venues! Explore these unique outdoor wedding destinations in and around Las Vegas below!
What's Hot
Garden Or Gazebo
For outdoor weddings in Las Vegas, gazebos are quite popular because they are versatile. Wedding chapels throughout the city offer gazebo packages that allow couples to plan a day time, evening or night time wedding. Along with beautiful floral decorations there can be romantic candles and lighting setup throughout the venue and ample seating for guests. With gazebos, couples can make the most of the beautiful weather and have their wedding in a landscaped garden. Gazebos are also quite budget-friendly and allow you to customize the wedding according to your own personal preferences by selecting the kind of flowers and wedding photography you'd like.
Las Vegas Helicopter Weddings
Saying your wedding vows as you soar high up in the air with the dazzling, twinkling lights of Las Vegas Strip under you is definitely one of the coolest and the most special ways to get married for a couple. Helicopter weddings are unique because you'll be aboard a private luxury helicopter that will take you high up in the sky. A minister on board will marry you as you enjoy the gorgeous view of the Strip under your feet. Although helicopter weddings would not allow you to have many guests on board to witness the wedding, it is definitely a spectacular idea for outdoor weddings in Las Vegas.
What's Hot
Weddings at the Welcome to Fabulous Las Vegas Sign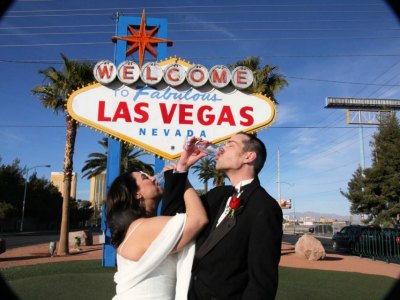 One of the most recognized and iconic site in the Sin City is the famous "Welcome to Fabulous Las Vegas" sign. For couples who truly love Vegas, there could be no better place to get married than at this famous landmark. Couples from around the world choose to renew their wedding vows or get married at this location because it is an exciting gateway to Sin City. You'd be able to get married at this location and have everything arranged for you so you wouldn't have to stress about the details but simply enjoy your beautiful outdoor wedding in Las Vegas.
Neon Boneyard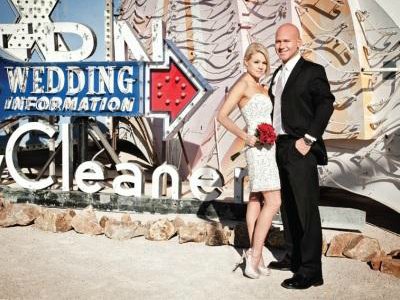 The Neon Boneyard is a massive property spread over two acres with a very unique curated collection of some of the most legendary architectural landmarks of Las Vegas. The location is a photographer's dream and now an equally popular venue for outdoor weddings in Las Vegas. For couples who want a quintessential Vegas experience for their wedding, the Neon Boneyard offers a vintage venue with a touch of contemporary flair. The neon signage collection here is the largest in the world and is a great location for couples to tie the knot and revel in the colorful history of Las Vegas. The venue offers good amenities and several different packages to choose from.
More about Neon Boneyard Weddings
Golf Course Weddings
This photo of
Bali Hai Golf Club
is courtesy of TripAdvisor
A golf course proves to be an excellent venue for outdoor weddings in Las Vegas because it provides couples a very private and elegant location to plan the perfect wedding. Las Vegas has a large number of golf courses that provide couples all the services they need to celebrate a very special wedding. For golf lovers, this is the ideal venue. Nearly all Vegas golf courses offer wedding ceremonies. The scenery in a golf club is almost always spectacular so not only is it a beautiful location to get married but it also offers many options for wedding photography. Golf course weddings also allow couples to invite a large number of guests and customize the decorations.
Springs Preserve
The Springs Preserve is a very unique biological and cultural preserve in Nevada. It is also a very memorable and tranquil location for outdoor weddings in Las Vegas. Known for its sustainable and green practices, all weddings at the Spring Preserve are planned with "green" in mind. With 180 acres of nature trails, botanical gardens, museums and galleries, couples have plenty of different wedding venues to choose from. The Spring Preserve can accommodate anywhere from 50 to 350 guests in one of its 6 wedding venues. Options available at this venue include the Courtyard Rotunda, Gardens Amphitheater, Gardens Arboretum, Courtyard Plaza, Banquet Room and Springs Amphitheater. This location offers indoor as well as outdoor wedding venues.
More about weddings at Springs Preserve
Weddings at the Grove
This photo of
Las Vegas Weddings at the Grove
is courtesy of TripAdvisor
The Grove is a very unique and private wedding venue in Las Vegas. Away from the city's neon lights, this venue offers a private sanctuary where couples can get married in peaceful, elegant and beautiful natural surroundings. The Grove offers a number of different options, indoors as well as outdoors, to choose from. Couples that are looking for elegant and classy outdoor weddings in Las Vegas will love the spectacular green lawns, old fashioned gazebo, mature trees and water feature. The Almond Orchard venue is especially breathtaking because it features a large expanse of almond trees and beautiful green lawns.
Beach Wedding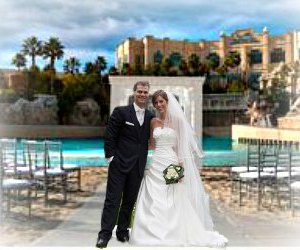 Sin City is the magic place where dreams come true - even such impossible dreams like a beach wedding! Right in the middle of Nevada Desert, you can have the romantic Las Vegas beach wedding you have always dreamed of. Of course this beach won't be attached to a lake or an ocean, but the swimming pools of several hotels & casinos are just as beautiful and open for outdoor weddings in Las Vegas.
What's Hot
Do you have any questions or Comments?