Cheap hotels on Las Vegas Strip
Cheap hotels located on Las Vegas Strip? It's possible! While generally it's not very cheap to stay in a popular touristy area, some Las Vegas hotels are nice to your wallet and offer very good deals. Here are some of the cheapest, great value hotels located right on the Strip in Vegas, all boasting fun Casinos, restaurants and top-notch entertainment.
Harrah's
Book a room at Harrah's Las Vegas
3475 Las Vegas Blvd South
Harrah's is a classy, energetic cheap hotels on Las Vegas Strip that doesn't pretend to be something else. Country music formed the hotel's cozy atmosphere, and the familiar smell of juicy steaks and hot burgers fill the air around the dining places. KGB (really Kerry's Gourmet Burgers) restaurant stands out with Russian-themed interior and a crazy combination of vodka and burgers. Hotel's live entertainment is based on the first-class comedy shows such as Broadway-inspired Defending the Caveman, and lounge acts.
Open-air Carnaval Court Bar & Grill serves the visitors with delicious food, creative cocktails prepared by charming flair bartenders, and endless music from favourite live bands and DJs. Blackjack tables allow visitors to gamble while taking breaks from dancing. Real gambling fans will head to the Harrah's Casino to enjoy the ultimate excitement of the place. Harrah's hotel is located right in the heart of the Strip, offering numerous attractions just around the corner, such as a world-famous Madame Tussaud's museum.
Stratosphere Hotel, Casino and Tower
Book a Room at Stratosphere Hotel, Casino and Tower
2000 Las Vegas Boulevard South
Unique and memorable, Stratosphere Hotel brings the most exciting experiences to its patrons. The main attraction of this cheap hotels on Las Vegas Strip is the Stratosphere Tower, the tallest structure in Las Vegas, which is a must-visit place for tourists. The 1,149 ft. (350.2 m) tall tower offers the 360 degrees, bird-eye view of the Sin City.
Romantic couples feel like in heaven, having an unforgettable dinner at the rotating Top of the World restaurant. Extreme fans admire the tower for its adrenalin-filled rides, especially the Big Shot - the world's highest thrill ride ever! The bravest daredevils try the bungee-like SkyJump Las Vegas, the fastest way to get down from the 108th storey.
Adrenalin dose is followed by a generous meal and relaxing shopping at the Tower Shops. Fortune seekers stop at the Stratosphere Casino right at the bottom of the tower to play roulette, poker and slot machines. Refreshing pool and spa salons are preparing guests for the next day of adventures in Las Vegas.
The Linq Hotel and Casino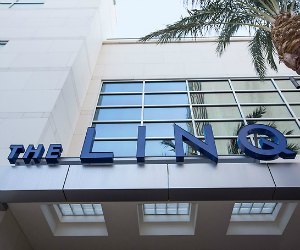 Book a room at The Linq Las Vegas
3535 Las Vegas Blvd South
$26 +
Surprisingly cheap for the central Strip location, The Linq Hotel & Casino (formerly known as The Quad and Imperial Palace) is a veteran cheap hotels on Las Vegas Strip. It suits young and easy party-goers who return to the hotel just to refill energies for the next night on the Strip. Those who expect a home-like comfort and spotless bathrooms - better look somewhere else. The Linq Hotel offers a variety of suites with standard amenities to meet everyone's needs. During your stay check the hotel's Auto Collections, the world's largest classic car museum featuring antique, celebrity and historic cars.
The main attraction of The Linq is new ferris wheel known as High Roller located at the new promenade area. If that's not enough, the Caesar's Place and tens of other Strip's hot spots are just around the corner.
Bally's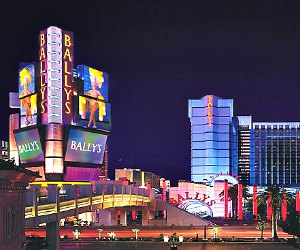 Book a room at Bally's Las Vegas
3645 Las Vegas Blvd South
$47 +
Bally's Las Vegas surprises its guests with diversity of entertainment options, upscale suite interior and convenient central location on the Strip - and yet Bally's is among cheap hotels on Las Vegas Strip with very affordable prices. Three hotel's towers have more than 2,800 suites to choose from. The guestrooms are very spacious with ceiling-to-floor panoramic windows that give a breathtaking view of the Sin City.
In addition to the Strip's attractions everywhere around you, Bally's has few "secret weapons" to entertain its guests.
This cheap Las Vegas hotel's classic casino provides the ultimate Sin City gambling experience with a wide range of table games, poker, slot machines and a book room. For relaxation visit Bally's Las Vegas Spa to enjoy massages and facial treatments, or catch some suntan at the sparkling Blu Pool. When you're ready for some adventure, Las Vegas Monorail will take you to any spot at the Strip!
Plan Vegas Stay
Strip Hotels

Shows

Fun Activities

Tours

Grand Canyon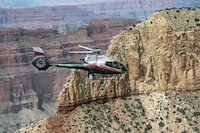 Do you have any questions or Comments?