Five Stars Luxury Las Vegas hotels With No Casino
These five stars, luxurious Las Vegas hotels with no casino, located on or just minutes away from the Strip, are ideal if you want some quiet time for you and your family in the middle of all the action and casinos.The hotels we are recommending below are fully functional resorts.
They all are offering tranquil respite and swimming pools so you could spend there all day without ever leaving the hotel grounds.
MGM Signature Las Vegas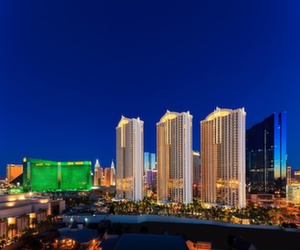 145 East Harmon Avenue
Review: MGM Signature is a non-casino, no-smoking, all-suites condo type part of MGM Grand hotel. It's one of the most intimate best Las Vegas hotels without casino - this condo complex is located directly behind MGM Grand in a secluded area off the Strip. It's ideal if you are looking for some quiet time, and still want to be close too all the fun!
MGM Signature consists of three towers with condo suites. Each suite has a fully equipped kitchen. Each tower has a swimming pool with cabanas where you can relax. The hotel charges resort fee for using it's facilities. Guests of the Signature are also free to use all the facilities of MGM Grand.
There are a few small dining facilities at the hotel, including gourmet delicatessen and Starbucks, but plenty of restaurants to go to at the MGM Grand and other nearby 5 star hotels in Las Vegas.
More Hotels
Get Your Free Las Vegas Events Calendar!
Best of Vegas