Top kid friendly hotels in Las Vegas
Here is a list of kid friendly hotels in Las Vegas. I carefully checked that the hotels I recommend here are suited for kids.
Four Seasons Las Vegas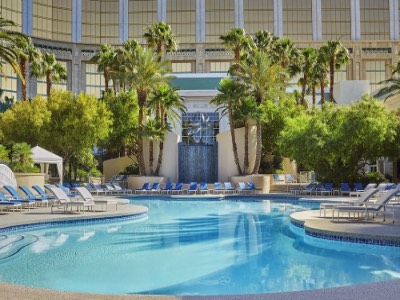 3960 Las Vegas Blvd S, NV 89119
Review: The For Seasons Las Vegas is the ideal choice if you are looking for a luxury and quiet, no-casino hotel that helps you forget you are in the Sin City! The Four Seasons is one of the most kid friendly hotels in Las Vegas, although a very expensive one. However if you take into account all the freebies and no surprise resort fee common in many luxury Vegas hotels, and the fact that it's small size and super high service standards can make you and your whole family feel like celebrity, the price is not that bad.
The Four Seasons Hotel actually loves and welcomes families and offers all sorts of family activities and spoils kids with popcorn and soda, children's menus and playstations (surcharge). It's a small and intimate hotel, and it's located inside another family-friendly Las Vegas hotel, Mandalay Bay Resort, but it has a separate entrance so your kids don't need to go through a smoky casino every time they go in and out. If you have a sudden surge to gamble, you can easily go do that at Mandalay Bay!
There are restaurants on site - an Italian Verandah featuring green natural decor, and an upscale Charlie Palmer Steak. Each restaurant has a bar, and there is also another bar at the picturesque lagoon-style pool. There is also a kids-only wading swimming pool at the hotel.
Get Your Free Las Vegas Events Calendar!
Grand Canyon Helicopter Tours by Papilloin
Grand Canyon Helicopter Tours by Maverick
Awesomest Things to do in Las Vegas Every Day!

More Hotels
Get Your Free Las Vegas Events Calendar!
Best of Vegas