Top 5 Most Romantic Hotels in Las Vegas
These five romantic hotels in Las Vegas, located on the Strip, offer plenty of romance packages to celebrate your love!
Recommended For You
Whether you are looking to paint the town red at a hot nightclub with your partner, or dream of a relaxing couples massage in a private cabana at the pool side - Las Vegas has it all!
Keep reading to find the best hotel for a perfect romantic getaway - one of these very different Las Vegas hotels definitely offers exactly what you need.
Explore more romantic ideas in Las Vegas in the "Recommended" section on the right.
What's Hot
The Mirage Hotel Las Vegas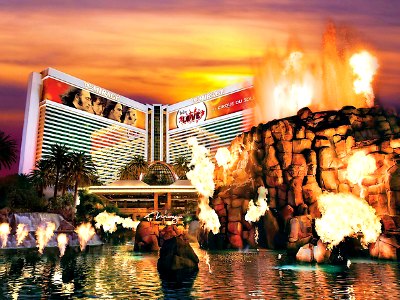 Book A Room At The Mirage

3400 Las Vegas Blvd. S., NV 89109
Review: Choose the Mirage is you are looking for an fun, energetic vacation with your partner! It's one of the most action-packed romantic hotels in Las Vegas and very rich night life. The hotel offers 8 very different bars and lounges to have a romantic evening in - including the Italian-inspired Onda Lounge to the vibrant Japonais Lounge.
The Mirage Hotel hosts many entertainment events - it's home venue of the The Beatles - Love by Cirque du Soleil, and to the very funny ventriloquist Terry Fator. The Mirage also has a line up of great comedians that perform at the Terry Fator Theatre - including Ron White and Jay Leno. If you want to indulge in some shopping - the hotel's 10 designer boutique shops are there for you! And of course, do not miss the life-like miniature erupting volcano set in front of the hotel!
Hotel Paris Las Vegas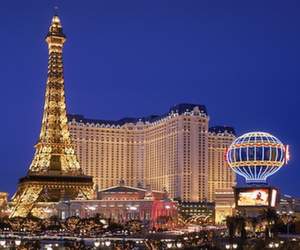 Book A Room At Paris Hotel

3655 Las Vegas Blvd S, NV 89109
Review: At Paris Hotel Casino romance is in the air - that's why it tops our list of the most romantic hotels in Las Vegas!! And it's not just because the hotel bears the name of the most romantic city in the world. On the main level of the hotel, as you walk with your loved one, you will feel as if you are walking along a street in Paris - you could visit the little boutique shops, eat at fine Parisian restaurants or relax at the Paris Las Vegas Spa by Mandara.
Even better, you could climb the Eiffel Tour which is a half-size replica of the real Tower, and admire the city and the whole Las Vegas Valley from the observation deck.
There's plenty to do at Paris Hotel! Live entertainment shows are regularly on at the Empire Comedy. The hotel is also home to one of the top Vegas musicals Jersey Boys and a naughty hypnosis show by Anthony Cools. And if you want to get married, you could even have your wedding at the Paris Hotel Casino!
Platinum Hotel Las Vegas
Book a Room at Platinum Hotel Las Vegas

211 E Flamingo Rd, NV 89169
Review: Platinum Hotel is ideal if you are looking for a quiet romantic retreat with your significant other. There's no noisy casino, no shows. But there is a Well Spa that caters to couples - you could have a Platinum Painting Party and paint on each other's bodies with detoxifying spa mud and even get a couple's Swedish massage!
You could have an intimate lunch at the Kil@wat® Restaurant or have an in-suite dining, relax at the pool or take a Vinyasa Yoga class together. Platinum Hotel also offers wedding and banquet facilities should you want to get married in Vegas!
Vdara Hotel Las Vegas
Book A Room At Vdara Hotel & Spa

2600 W. Harmon Avenue, NV 89109
Review: At the all-suites Vdara Hotel & Spa you and your partner could enjoy a quiet luxury retreat from all the Vegas buzz and commotion! If you feel like having some fun, you could always go to the nearby Bellagio or ARIA.
Vdara is among luxury romantic hotels in Las Vegas. It offers multiple kinds of suits, including the most luxury one - Stylish Suite Escape which comes with a roundtrip limousine ride to and from the airport. What could be more romantic? It could be the pool that provides a blissful private retreat with its spa cabanas or having an in-suit dining after a relaxing massage at the Spa & Salon Vdara.
Tropicana Hotel Las Vegas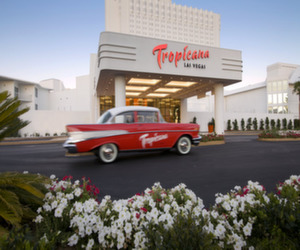 Book A Room At Tropicana

3801 Las Vegas Blvd South, NV 89109
Review: The newly renovated Tropicana Las Vegas is a beloved spot of couples looking for romantic hotels in Las Vegas thanks to its vibrant atmosphere and tropical motif reminding of Miami. The hotel also boast a lot of amenities voted "The Best in Las Vegas" - starting from that little wedding chapel that received that vote 8 years in a row!
The hotel has a tropical swimming pool (also voted "The Best in Vegas") with private cabanas where you and your partner could relax and bask in the sun. Or you could indulge into relaxation in an oversized bath at the Couples Wet Villa at the Glow, A Mandara Spa.
Tropicana Las Vegas offers plenty of entertainment including live bands, Laugh Factory at the comedy club voted "The #1 Comedy Club in the Country".
What's Hot
Do you have any questions or Comments?