Downtown Las Vegas Hotels Near Fremont Street Experience
Downtown Las Vegas hotels, located on Fremont Street, have a special vibe - very different from that of the Strip. This is what old, or "vintage" Vegas looks and sounds like! Even if you go to Vegas all the time, you should experience downtown at least once.
Below you will find our reviews of the best hotels located very close to the world-famous Fremont Street Experience, where fun never stops. Just keep in mind that if you want at least some quiet during your stay - you should book rooms facing away from Fremont Street Experience.
Hottest Deals In Vegas
Golden Nugget Hotel And Casino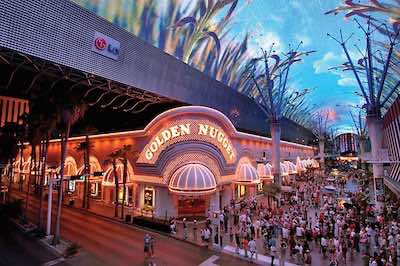 Address: 129 East Fremont St Map
Review: Golden Nugget is an incredibly fun hotel, with top-notch "old Vegas" entertainment, casino, shopping, restaurants and everything you may need. Cozy, tastefully decorated rooms, make it one of the most popular downtown Las Vegas hotels.
Entertainment at Golden Nugget includes a permanent show by a stand-up comedian/impersonator Gordie Brown, and they often host live folk music concerts.
The main attraction of the hotel is the largest golden nugget in the world - The Hand Of Faith, displayed proudly in the lobby. The hotel purchased this golden nugget for a million dollars from Kevin Hillier, who found it by accident (don't we all wish we had more of those?) with a metal detector in his own home.
And just in case you have been wondering what it's like to swim with sharks, Golden Nugget makes it possible to find out. They have a huge water tank with sharks and other sea creatures and you can swim around the tank in a pool, or even ride through it in a water slide!
Four Queens Hotel and Casino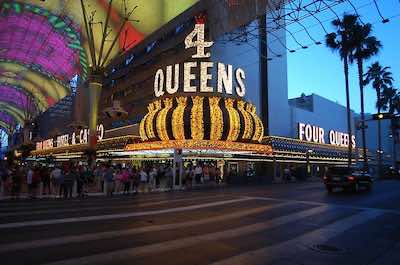 Address: 202 Fremont St, Las Vegas, NV
Map

Review: If staying close to Fremont Street is important for you, and you want to make use of all the free entertainment, then Four Queens is your best bet - it's one of the cheapest downtown Las Vegas hotels. Just keep in mind that it can be pretty noisy here - considering the hotel is located right inside Fremont Street Experience.
Four Queens has it's own magic show by Mike Hammer, as well as a few occasional concerts. However, you won't get bored considering the location.
They have 2 affordable restaurants on site - a romantic Hugo's Cellar looking like a wine cellar, and Magnolia's Veranda offering casual dining.
By the way, the casino at Four Queens is also quite affordable, too, with $5 low minimum tables.
Golden Gate Hotel & Casino
Address: 1 Fremont Street, Las Vegas, NV Map

Review: Golden Gate is a hotel of modest proportions, that has been around since 1906 and is dubbed "The Most Historic" of all downtown Las Vegas hotels. Imagine, it was standing there, at 1 Fremont street, and watched Fremont Street Experience being built near it! So if you want a taste of "old Vegas" - you will find it at Golden Gate.
However don't think that Golden Gate looks exactly the way it did over 100 years ago - it underwent many renovations since then. The hotel is particularly appreciated for it's rich history, best shrimp cocktail in town, and it's low price, although they do charge $2 for coffee - but you are free to bring your own snacks.
As for entertainment- there is plenty of free fun right on the Fremont Street Experience, plus inside the hotel they have special numbers by "Dancing Dealers" - who for some reason are just girls, although I would prefer a few guys to mix it up!
Fremont Hotel and Casino
Address: 200 Fremont Street, Las Vegas, NV Map

Review: Medium-sized, with only 452 rooms, Fremont Hotel stands proudly on the corner of Fremont Street Experience. The hotel is very modestly priced, and doesn't really offer any entertainment of it's own - but it's so close to all the fun and entertainment in other downtown Las Vegas hotels that you won't get bored.
Rooms in the hotel are quite small but modern and nice.
On the other hand, Fremont Hotel caters to gourmet public with it's several themed restaurants - Paradise Buffet, Second Street Grill serving steak, seafood and poultry, and Tony Roma's whose specialty is ribs.
Cheap Hotels
Please share this page with your friends!
Hottest Deals In Vegas
Explore The City
Do you have any questions or Comments?