Excalibur Hotel Las Vegas Review

The Excalibur Hotel Las Vegas is a replica of a medieval castle that will have you feeling like Sir Lancelot or perhaps Gwendoline.
This 3,900 plus room complex is the ideal spot for people not looking to break their budget. Virtually everything at Excalibur's is less expensive compared to other resorts on the Strip. The rooms are adequate for the price, which is sometimes extremely low during off-peak times. The medieval feeling looms throughout the Excalibur Hotel Las Vegas with draw bridges, moats and there is even a jousting match. The casino is filled with energy, the entertainment ranges from the family oriented Tournament of Kings to a risqué Thunder Down Under performance. Restaurants are unique and this is the only location for Dick's Last Resort in Las Vegas. The Excalibur is connected to the Luxor and Mandalay Bay complexes by an enclosed walkway that makes this complex a great MLife reward property. With all of these options it's no wonder budget conscience travels prefer to be the King or Queen.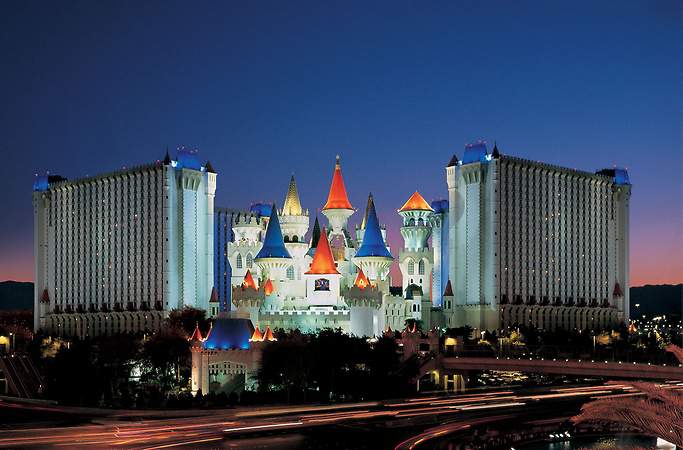 Excalibur Hotel Las Vegas Shows
Tournament Of Kings
Thunder from Down Under
Australian Bee Gees
Mac King Comedy Magic

Excalibur Hotel Las Vegas has several distinct shows only available and is the only place in Las Vegas to view a live jousting event. The Tournament of Kings is an once-in-a-lifetime adventure of fun, jousting and eating. At this event you will relive Medieval Europe where eating with fingers and cheering for your favorite knight was commonplace. The Australian Bee Gees have been performing all of your favorites from famous Saturday Night Fever. The group is tight and they will have you dancing to every beat. Thunder Down Under is a live show that features the hottest male Aussie's to step foot in Las Vegas. This provocative adult show is perfect for bachelorette parties and will keep you gyrating all night.
Excalibur Hotel Las Vegas Rooms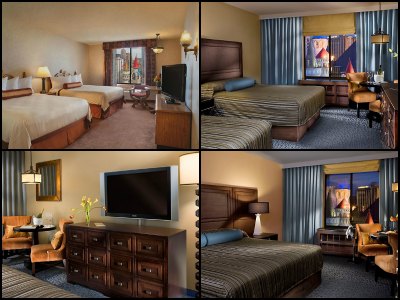 Accommodations at the Excalibur Hotel Las Vegas range from your standard room to guest suites. The standard rooms are your typical hotel size, feature decent décor, a no-nonsense bathroom and the king size bed option offers a bigger sitting area. The Contemporary Tower rooms have been updated over time and offer a fresher feeling. These rooms include a small sitting area with a table and a standard bathroom. There is nothing too special about these two options but the price point will always be right.
The Guest Suites at Excalibur Hotel Las Vegas are quite spacious and have been renovated recently to offer a newer looking décor. These suites have a separate living room with a full complement of furnishings, a dining area with a refrigerator and the bedroom also has a sitting area. There is also a guest bathroom and a trendy marble shower in the master bath.
Excalibur Hotel Las Vegas Nightlife - clubs & bars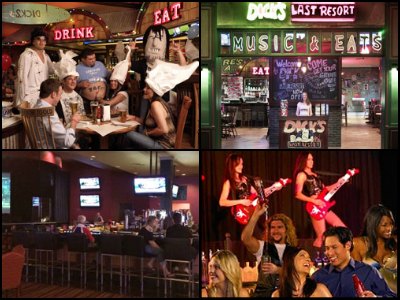 Excalibur Hotel Las Vegas has a couple of interesting bars to enjoy your nightlife away from the casino. The Lobby Bar is open 24 hours and is a convenient place to meet and relax; the Lounge is located on the casino level, open 24 hours and boasts live music on the weekends; Octane Lounge has lots of energy, an over 21 years of age crowd and is perfect for that pre-bachelorette party and there is also the world acclaimed Dick's Last Resort that offers a unique setting of junk yard memorabilia, rowdy music and a variety of signature drinks from different Long Island Ice Teas to a Hurricane.
Excalibur Hotel Las Vegas Casino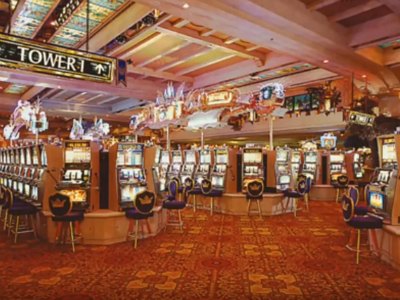 The casino located at the Excalibur Hotel Las Vegas features all of your favorite table games like Texas Hold'Em to Caribbean Stud Poker in a special poker playing area in its 100,000 square feet area. You can also enjoy blackjack, craps, roulette, video poker or play one of hundreds of slot machines. The 145 seat race and sports book carries live events on over 35 televisions.
Excalibur Hotel Las Vegas Restaurants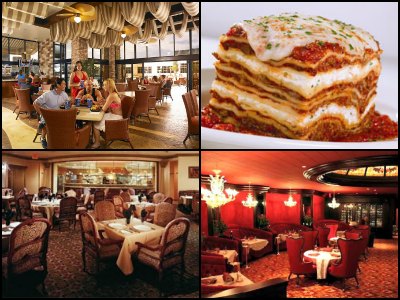 Only at Excalibur Hotel Las Vegas will you find the best in affordable eateries from a food court to fine dining. The castle Walk food court features Krispy Kreme donuts; hand crafted Schlotzsky's sandwiches; Popeye's Louisiana Kitchen for fried chicken and even a McDonalds.
Other dining options inside the fabulous castle include Baja Fresh with South of the Border treats and interesting margaritas; you can get an original hamburger at Johnny Rockets as well as other American dining favorites; Buce di Peppo has unique Italian cuisine with an affordable twist; the Steakhouse at the Camelot serves up great grilled delights; if you are around the pool area then give the Drenched Grill a try for an afternoon meal and there is also Dick's Last Resort which boasts an eclectic décor, messy food and several one-of-a-kind drink creations.
Excalibur Hotel Las Vegas Buffet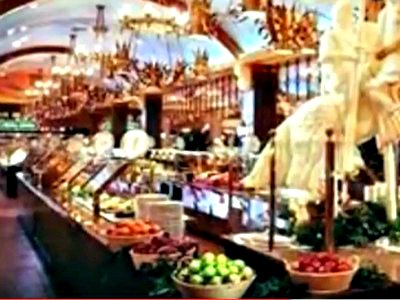 The Buffet restaurant located at the Excalibur Hotel Las Vegas is a pleasant surprise for the just the right price. The eatery has been recently renovated with a contemporary décor and the food has been upgraded too. There are six stations that change daily from breakfast to lunch to dinner. Each station has quality food with fresh ingredients that have been prepared by trained chefs. There is a culturally diverse selection from several regions in the world as well as all of your favorite dishes you would expect from omelets to seafood to pizza to salad to roast beef. Fridays and Saturdays are a crab leg feast evenings but the best idea might be the all-day pass available that allows you to indulge whenever you want.
Excalibur Hotel Las Vegas Pools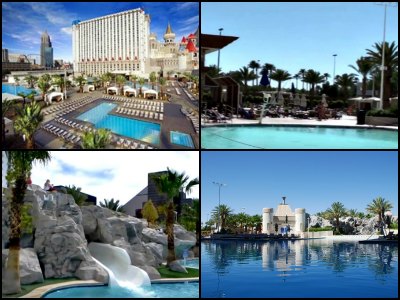 The Excalibur Hotel Las Vegas has four different pools for a person and family to enjoy. The 30,000 square foot deck area is lush with plants and there are several cabanas for rent with all the amenities you would expect. There is a unique waterslide and an interesting casual dining restaurant at the Drenched pool. For those who are more open with their body, you can enjoy a day at the adult pool as long as you are 18 years of age or older.
The Fun Dungeon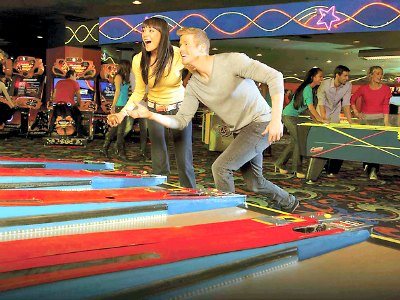 The Fun Dungeon at Excalibur is the largest arcade in the Sin City. This place has all of the arcade and video games that a person can imagine playing. There are 10 sports game, 83 redemption games, 65 arcade games, 19 prize redemption games and 16 carnival-style midways. If you are craving Dairy Queen or Orange Julius than this is also the spot to cure that want. The Fun Dungeon brings that carnival feeling to the public from 10:00 A.M. until 10:00 P.M. daily.
Excalibur Hotel Las Vegas Weddings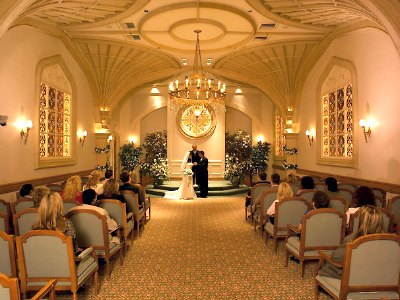 The wedding services at the Excalibur Hotel Las Vegas are coordinated by expert planners, who will ensure that your day goes great. There is a small and large chapel as well as packages like the Tantalize for up to 40 guests to the Intrigue that accommodates to a 100 guests. One of the more unique aspects of weddings at the Excalibur is that you can rent a medieval wardrobe that will have you and your groom looking like Royalty.
Excalibur Hotel Las Vegas Spa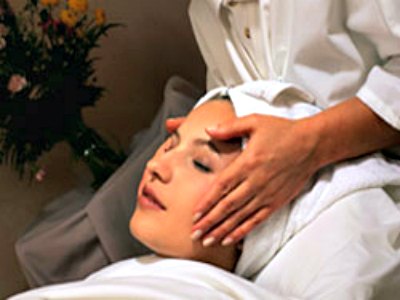 The Spa at the Excalibur Hotel Las Vegas is quite affordable and encompasses a 13,000 square foot area overlooking the lush green pool area. This venue has all of the treats for you to restore your body and soul to a tranquil state. There are numerous packages to choose from like the Soothing Breezes or the Pure Refreshment. You can also mix and match an Aloe Wrap with the Sea Salt Glow treatment for pure relaxation.
Excalibur Hotel Las Vegas Shopping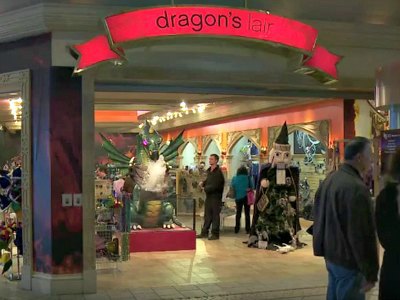 The shops at Excalibur Hotel Las Vegas are located at the Castle Walk which has a wide range of interesting stores featuring designer clothing to souvenirs to toys to jewelry. You can browse the delightful fashion at the Cosmic Groove; the jewelry at Cashman Crystals and the Pearl Factory is unique; plush toys, costumes and figurines of medieval knights as well as dragons can be found at Kids of Kingdom and the Dragon's Lair; Marshall Rousso carries casual clothing for both men and women as well as designer clothing; LIDS is the perfect place to buy that new hat for your collection; there is also a $10 Boutique for all of your accessories under $10; pick up souvenirs at either the Excalibur Shoppe or the Vegas Store and the don't forget there is additional shopping located in the connecting walkways to the Luxor and Mandalay Bay too.
More Hotels
Get Your Free Las Vegas Events Calendar!
Best of Vegas