Grand Canyon rafting trips From Las Vegas 2023
Grand Canyon rafting trips are probably the most adventurous way to explore this magnificent wonder along with the Colorado River that created it. There are plenty of ways to do that. Below you will find some of the best one day rafting tours down the Colorado River departing from Las Vegas, as well as multi-day tours, leisurely family friendly (smooth water) and more challenging (white water rafting) tours departing from the Grand Canyon in 2023.
Grand canyon rafting and Helicopter Flight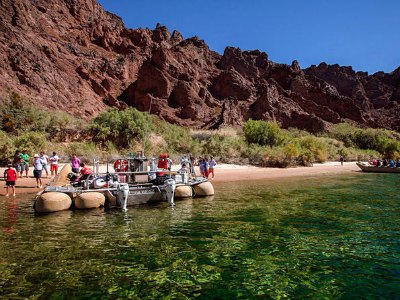 Duration - 11 hours
Seeing the Grand Canyon from the tourist lookout is awe-inspiring! Just imagine how it feels to raft down the Canyon Colorado River and then soar overhead in a helicopter. Now you can do all this on one exciting trip. Your group will collected at your hotel and set off for Boulder City. Once there, meet your pilot and crew and board the helicopter for a one hour flight over the Grand Canyon West Rim. Learn all about the Hoover Dam and be awed by the panoramic views over the Dam, the Black Canyon and Bypass Bridge. Then fly over the extinct volcano known as Fortification Hill. Your flights circles over the massive Colorado River and the Mojave Desert. Make sure you snap photos of the surreal rock formations, pillars and buttresses.
After landing and catching your breath, you will head to the River Launch area where your personal guide will get you settled onto a comfortable river raft. The fun starts as you drift slowly along the river, watching out for wildlife, birds and amazing scenery that will be pointed out to you. Look out for the Great Blue Heron, Big Horn Sheep and Osprey. The high walls of the canyon rising up on either side of you will leave you tingling with excitement as you negotiate the twists and turns. Safety is a top priority and your guide will be with you at all times. When you want a break, the raft stops at a lovely secluded beach where you can take a dip and enjoy a scrumptious picnic while relaxing on the sands in blissful peace. Once refreshed, continue your rafting trip to Willow Beach on the Arizona side. Explore the local stores and buy a hand made souvenir to take home as a reminder of this awesome Grand Canyon Rafting experience.
Plan Vacation
What to wear during Grand Canyon rafting trips : In hot weather, wear comfortable shorts and T-shirt on top of a swimming suit - you may stop for a swimming session. Wear either tennis shoes or rubber sandals - do not wear flip flops as this trip is action-packed and flip flops will stand in the way. In cold weather make sure you packed your rain gear, as you may get very wet. Also don't forget to take you sun block, and plastic bag for your camera, money and other belongings.
More Grand Canyon Tours
Get Your Free Las Vegas Events Calendar!
Best of Vegas