Grand Canyon Jeep Tours from Las Vegas
These Grand Canyon jeep tours from Las Vegas are extremely comfortable and more personal than bus tours thanks to the small size of the groups. With these narrated tours you will be in experienced hands of great tour guides who do everything to make your trip enjoyable! Leave the buzzing Las Vegas Strip behind and explore one of the greatest natural wonders - Grand Canyon, in all its glorious beauty! Most of these tours include an off-roading, a hearty lunch, fuel surcharge and a pick up from all major hotels in Las Vegas. Most of these jeep tours are open during COVID 19.
Grand Canyon West Rim And Hoover Dam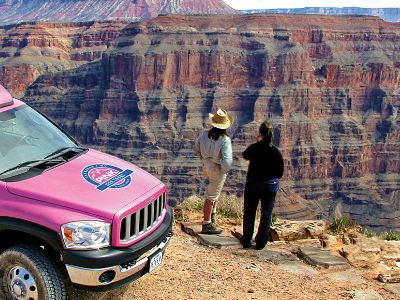 Duration - 10 hours
Pink Jeeps combined their two most popular tours into one! If you are pressed for time, you could see the top two Las Vegas attractions in one tour. These Grand Canyon jeeps tours include exploration of the West Rim and the Hoover Dam - all in one day!
You will get a briefing on the most important highlights of the two attractions - history of the construction of the Hoover Dam, geological history of the Grand Canyon. You will stop for unforgettable pictures and learn facts about living creatures of the region.
Grand Canyon West Rim by Pink Jeeps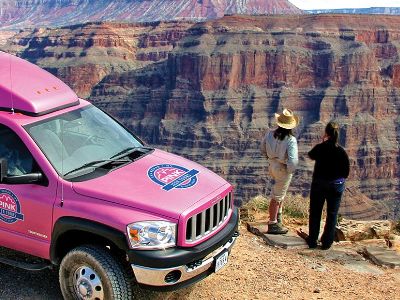 Duration: 10 hours
These Grand Canyon jeep tours from Las Vegas will take you to the Grand Canyon West Rim, which is home to the Hualapai tribe. The itinerary goes through theHoover Dam bridge, and Joshua Tree forest.
Once on the West Rim, you can take an optional Skywalk which is not included in the tour price - pay separately $30 at the West Rim).
Grand Canyon South Rim by Pink Jeeps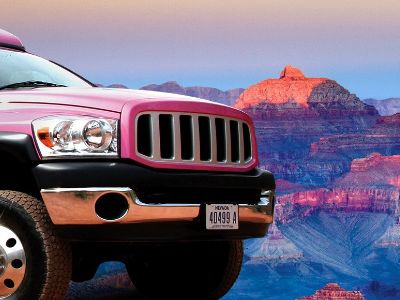 Duration - 13 hours
South Rim is so remote that there are very few Grand Canyon jeep tours departing from Vegas that take you there. So here is your chance to explore the South Rim with Pink Jeeps! On the way to the South Rim you can admire the most scenic views of mountainous horizons and pine forests as the 4X4 jeep takes you along the historic Route 66through, through theMojave Desert. At the South Rim, you will have a scrumptious lunch, a fully narrated 3 hour tour, and possibility to take unforgettable pictures along the panoramic Rim Trail.
Get Your Free Las Vegas Events Calendar!
Grand Canyon Helicopter Tours by Papilloin
Grand Canyon Helicopter Tours by Maverick
Awesomest Things to do in Las Vegas Every Day!

More Grand Canyon Tours
Get Your Free Las Vegas Events Calendar!
Best of Vegas