Explore Lake Mead Nevada: Cruises, Kayak And Kanoe Rentals and More Things To Do
Lake Mead located close to Las Vegas in Nevada is the largest man-made reservoir in the world. The lake, located in the middle of the desert, is also incredibly gorgeous! Visiting the lake is a nice break from the fuss of the Las Vegas Strip! Activities at the lake include swimming, sunbathing, boating, kayaking, canoeing, water skiing, fishing, scuba diving and houseboating. While around the lake you can do hiking, biking, camping, birdwatching, photographing the wildlife. Most recreational activities are open year- round thanks to the warm weather. However, activities around the lake are less popular than water-based activities.
Lake Mead Nevada Boat Cruises
Boat cruises and tours are very popular on Lake Mead. These cruises are made on board of a Mississippi-style paddleboat called "Desert Princess". Cruises is not all that boat does! It's also an interesting place to host special events, and even to get married - If you can imagine a wedding in the middle of a desert on a boat! Desert Princess has room for up to 200 guests. This boat also offers sightseeing tours around Lake Mead and Hoover Dam.
What's Hot
Hoover Dam Top To Bottom Tour By Pink Jeeps
Book Hoover Dam Top To Bottom Tour
Spend a fascinating day exploring one of the greatest achievements of modern day engineering feat in the Hoover Dam and view Lake Mead which is the largest body of man-made water in the Western Hemisphere. Later in the tour you will float down the mighty Colorado River in a raft. First meeting at the tour guides office you will arrive at Hoover Dam in a specialized touring vehicle-the Pink Jeep, or a Tour Trekker-that only seats 10 people. Once at Hoover Dam you will be given a guided tour that includes a spectacular documentary film on the history and construction of this man made marvel. You will be guided to the observation room that exhibits the actual massive electric turbines working. You also have the opportunity to experience once-in-a-lifetime vistas of the Colorado River and Lake Mead National Recreational Area.
You will continue your adventure from the Lake Mead overlook being transported down the Lower Portal Road along the Colorado River. Imagine the workers taking the same path on their way to work every day as you travel back in time viewing such historic sites such as the original gauging station as well as the dynamite storage bunkers.
When you reach the Colorado River you will be pleasantly surprised by the beautiful sights. As you float down the Colorado River you will have unspoiled close up views of the Hoover Dam and its enormous power facility as your guide offers interesting historical facts about the construction of this massive project. The views of the Black Canyon are spectacular while floating effortlessly down the mighty Colorado River.
Stand Up Paddleboarding Lesson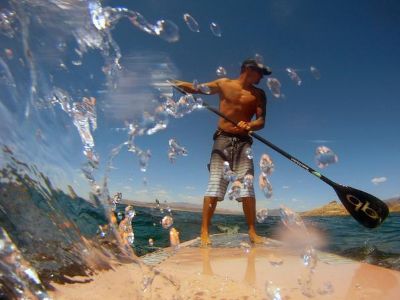 Book Stand Up Paddleboarding Lesson
Experience one of the fastest growing recreational sports, stand-up paddleboarding, on the largest body of man-made water in the Western Hemisphere. This well-crafted half-day tour at Lake Mead National Recreation Area will teach you the basics of stand-up paddleboarding as your instructor leads you through various lessons of stand-up paddleboarding tailored to your ability.
Starting with a hotel pick up and a quick 30-mile drive to Lake Mead, which is ideal for learning how to stand-up paddleboard, you will be greeted with all of the equipment needed for your stand-up paddleboarding experience. Your instructor will lay out a sensible game plan based on your experience, maybe that is balancing for the novice or how to carve a better turn for the more experienced.
Enjoy a quick history lesson of Hoover Dam and Lake Mead from your instructor and resupply your body with a boxed lunch. From here you might just float by an extinct volcano or journey out to the Boulder Islands. Either way you will enjoy the beautiful water that makes Lake Mead famous for recreation purposes and stand-up paddleboarding. Your 5-hour tour ends with a stop at Hemenway Park to view bighorn sheep and a drop off at your hotel.
Biking And Kayaking Tour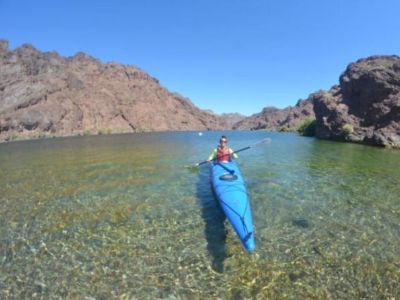 Book Lake Mead Biking And Kayak Tour
Maneuver your mountain bike down a trail that winds some 1,500 vertical feet through historic tunnels, bighorn sheep habitat on your way down to Hoover Dam and a kayak picnic lunch on Lake Mead.
The first part of your experience will be mountain biking down a gorgeous trail that has a vertical elevation drop of 1,500 feet. Travel through five historic tunnels and the Hemenway Park, for bighorn sheep viewing. You will maneuver along the beautiful desert scenery that surrounds Lake Mead on your way to one of the most fascinating engineering projects in the world, the Hoover Dam.
Just when you thought your legs were going to give out you arrive at Lake Mead, where kayaks await for the second portion of your journey. Enjoy a refreshing lunch after you take a plunge in Lake Mead on that hot day after you paddle to the outlying Boulder Islands. Once on the island you will have a prepared lunch waiting to restore your body's nutrients. After lunch you will enjoy a nice kayak adventure with views of sunken wooden ships and marine life as you paddle on the serene waters of Lake Mead. Once you are dropped off at your hotel you will realize you just spent the perfect recreational day.
Lake Mead Kayak Rentals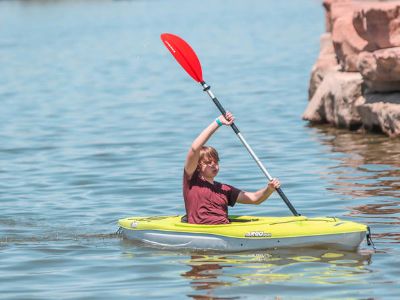 Thinking about kayaking but don't want to be confined to a tour group or guide? The half or full-day kayak rentals can offer you the freedom you seek.
After arriving at our office you will be outfitted with your choice of either a "sit-inside" or sit-on-top" style of kayak and then transported to your point of put-in at Lake Mead. Most beginners choose the "sit-on-top" style of kayak and the more experienced paddler prefers the "sit-inside." Outfitters will answer any and all questions you might have before you venture out.
You can decide on your own destination based on your rental period of either four or eight hours. Paddle the serene waters of the largest man-made lake in the Western Hemisphere as you enjoy the surrounding landscape and animals that Lake Mead offers the visitor.
Bring your own lunch or dinner and enjoy a relaxing meal on your own on Boulder Islands or simply paddle along the shoreline until you find a private cove to open your picnic basket and start resupplying your body. Your body will enjoy the activity and your mind will relish the peaceful scenery that you will be encountering on your kayaking journey.
Lake Mead Canoe Rentals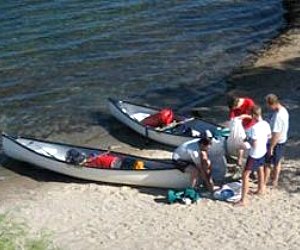 Just want to get away without the confinements of a tour? Then rent a canoe for either a half or full-day and explore Lake Mead at your leisure while paddling on the largest man-made lake in the Western Hemisphere.
Canoes are perfect for an adventure because of their stability, carrying capacity and maneuverability. Canoes are not fast but when you start looking around at the natural scenery of Lake Mead you will be amazed by its diversity.
Pack a lunch and travel to the Boulder Islands for a hike. Breathe in the fresh air of the surrounding Mojave Desert and look for fish as you paddle at your speed. Look on the nearby cliffs for bighorn sheep and take a dip in the warm waters of Lake Mead.
Outfitters will drop you off at your starting point and pick you up when you are done. All the equipment is included and the experience will leave you with a new sense of adventure when you leave Sin City.
Lake Mead Boat and Jet Ski Rentals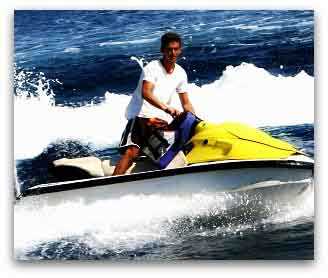 More things to do on here include jetskiing, boating and other water sports and recreational activities. There are a few options to rent marine equipment, but we discovered that some of them are really pricey.
The cheapest small watercraft rentals are found at currently acting marinas (some marinas had to close due to low levels of water in the lake): Callville Bay, Temple Bar, Las Vegas Boat Harbor and Lake Mead Marina (this is the same company). The prices are more or less the same, and you could either make a reservation online or over the phone.
Lake Mead Nevada Houseboat Rentals
Renting a houseboat and living there is also a popular thing to do here! Think of a houseboat as of a hotel minus casino - they have everything you may need for a few days of vacation for your whole family and a few friends! Houseboats are very easy to operate - anyone can do that, besides you will get complete instructions from the marinas you choose to rent from: Callville Bay, Temple Bar .
If you have never used a houseboat before, we recommend you to check out the Guide to Houseboats.
Lake Mead Nevada Fishing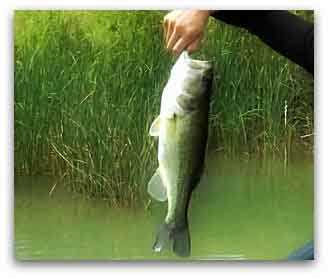 Lake Mead is a fisherman's paradise! It has plenty of fish including striped bass, crappie and bluejill and others. However, there are certain regulations you have to follow - such as holding a valid Nevada fishing license, or a "use stamp" if your license is from Arizona.
Lake Mead is a great spot for fly fishing.
What's Hot
Do you have any questions or Comments?