Lake Mead Tours, Cruises, Rentals, Things To Do In 2022-2023
Taking one of the many Lake Mead tours in 2022-2023 is a a great way to spend the day away from the bustle of Sin City. There are a wide assortment of excursions that have you exploring the Lake Mead National Recreation Area, the Hoover Dam and the Colorado River. You have a great variety of ways to see the largest man-made body of water in the Western Hemisphere from peddling on a mountain bike to maneuvering an ATV to cruising on a jet ski and you can even take a trail run along the Historic Tunnel Trail. The excursions offer many other exciting options too like going to a shooting range, taking a swim in the Colorado River or you can add-on a stunning helicopter flight to Grand Canyon National Park. Whether you want to take the family or just your loved one, there is an ideal excursion to Lake Mead to please everyone..
ATV Tour of Lake Mead National Recreational Area from Las Vegas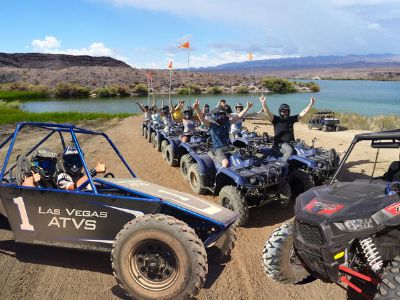 If you are searching to take a break from Sin City and raise your adrenaline level then a perfect a Lake Mead tour for you to try is the ATV Tour of Lake Mead National Recreational Area from Las Vegas. Your 6.5-hour journey starts with complimentary hotel pick-up service when you meet your guide and transported to Lake Mead National Recreational Area. As you travel your expert guide will inform you of the interesting history behind the Hoover Dam, the Colorado River and the mining districts that surround Eldorado Canyon. Once you reach the Lake Mead National Recreational Area you will be outfitted with an ATV and all the necessary safety equipment before you start your journey. During your 3-hour ATV driving adventure your eyes will pop from the beautiful scenery that includes sheer cliffs, desert landscapes as well as plenty of wildlife. After maneuvering your ATV for 1.5-hour you will stop next to the Colorado River where you can indulge in a free lunch and take a quick dip in the water to cool your body off. When you finish your ATV ride you will make a stop at Hoover Dam on the way home for photographs. Your excursion concludes with drop-off service at your hotel.
Get Your Free Las Vegas Events Calendar!
More Vegas Day Trips