Las Vegas to Antelope Canyon Multi Day Tours
Read on for our vast choice of Las Vegas to Antelope Canyon multi-day tours that also include Horseshoe Bend, Monument Valley, Grand Canyon, Lake Powell and other gorgeous parks! There are a fantastic array of natural sights to see in the desert surrounding Las Vegas! After the glitz and the glam, the lights and the casinos, join a fabulous tour and get to visit the amazing natural sights of the Grand Canyon, the Horseshoe Bend and Antelope Canyon. Tours also include Hoover Dam, Lake Mead, Lake Powell and more! Choose a trip that suits your itinerary. They vary from one to five days and make for an unforgettable experience.
Las Vegas Vegas to Antelope Canyon and Horseshoe Bend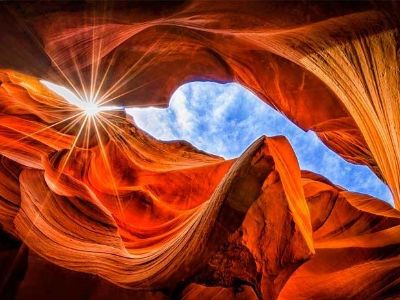 After the glitz of the casino, head out of the city and discover the beauty of the landscape around Las Vegas. Our first tour takes you from Las Vegas to Lower Antelope Canyon and Horseshoe Bend. Be ready to meet your guide at around 6.00am. The trip departs from a number of the popular Las Vegas Vegas strip hotels. You will travel in a luxury bus and set off on a 4.5 hour drive to Antelope Canyon. On the way your guide will update you on what you will see. At the Canyon, you will be required to do some walking to explore this astounding region. This colorful canyon is long and narrow with a walking corridor on the canyon floor. Learn how it was created by flash floods that created cracks in the sandstone which was then further eroded by strong winds. The surreal effect of light penetrating into the canyon creates amazing photo moments. After spending time here, you will take a short 10 minute drive to Horseshoe Bend. Your trip takes a 280 degree turn around the Bend for you to get the magnificent sight of the Colorado River captured on your camera. A picnic lunch is included. This Las Vegas to Antelope Canyon day trip is suitable for people who are moderately fit as some walking is involved.
What's Hot