Best Zion National Park tours from Las Vegas 2023
Here is our pick of best Zion National Park tours from Las Vegas in 2023. The region surrounding Las Vegas offers nature lovers a stunning array of Canyons, protected National Parks and massive Rivers. Spend a few days and join a Las Vegas to Zion trip that will take you to these amazing venues. Rough it under the stars in a tent or relax in a comfortable hotel. Enjoy hiking, walking or just sight-seeing from the minibus. The Zion, Grand Canyon, Bryce Canyon, Colorado River and other beautiful parks are calling!
Get Your Free Las Vegas Events Calendar!
Grand Canyon Helicopter Tours by Papilloin
Grand Canyon Helicopter Tours by Maverick
Awesomest Things to do in Las Vegas Every Day!

7-Day National Park Camping Tour-Zion, Bryce, Monument Valley, Grand Canyon South Rim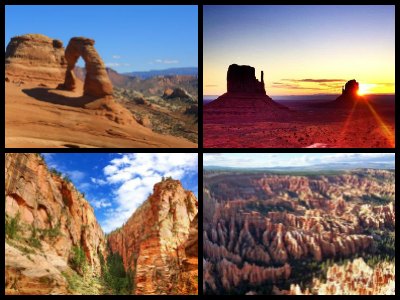 Spend seven days and six nights in some of the most breathtaking landscape that your mind con conjure up, while enjoying a unique camping experience in over five national parks.
Start your intimate camping adventure with a comfortable tour from Las Vegas to Zion National Park and Bryce Canyon where you will spend two days journeying through this unforgettable landscape with carved sandstone cliffs and unique hoodoos that are worshipped by local Native Americans. Spend one night in Zion and the second night in Bryce Canyon at a campground equipped with wi-fi, hot water and showers.
Your third and fourth days will include spending time near Moab, Utah where you will have access to Arches and Canyonlands National Parks. Explore the landscape that Butch Cassidy and the Sundance Kid used during their time together. Choose your hiking poison of slot canyons or easy trails that take you through this area carved by the Green and Colorado Rivers. Spend these two nights under the stars in a tent and still enjoy the comforts of home.
Day five will take you to Monument Valley where you will view the iconic landscape made famous in movies that starred John Wayne and others. You will take a guided 4x4 off-road journey with an original Navajo guide that has all of the insights into this sacred Indian area. Spend the again in a comfortable campground that allows for unlimited star gazing.
Day six will be spent traveling through the Painted Desert on your way to the South Rim of the Grand Canyon. Here you will have the opportunity to hike such trails as the Bright Angel Point or simply enjoy a snack at Mather's Point. Explore the numerous visitors' centers that are filled with interesting information about the culture and history of the Grand Canyon. You will finish by spending the night in comfortable surroundings.
Day seven is return to the Sin City that will take you on the famed Route 66 which many travelers over the years have enjoyed. You will arrive in time for a nice evening or a dip in your hotel pool.
This Las Vegas to Zion and other national parks tour requires an additional $70.00 as a food supplement to your tour fee. People may opt for a 3-star hotel (additional fee) instead of camping. Tents are provided but you must bring your own sleeping bag. Patrons under the age of 17 years old must be accompanied by an adult. Proper clothing that can handle all types of weather is encouraged.
More Vegas Day Trips
Get Your Free Las Vegas Events Calendar!
Best of Vegas