Las Vegas To Zion National Park
Here is our pick of best Las Vegas to Zion National Park day trips. The region surrounding Las Vegas offers nature lovers a stunning array of Canyons, protected National Parks and massive Rivers. Spend a few days and join a Las Vegas to Zion trip that will take you to these amazing venues. Rough it under the stars in a tent or relax in a comfortable hotel. Enjoy hiking, walking or just sight-seeing from the minibus. The Zion, Grand Canyon, Bryce Canyon, Colorado River and more are calling!
Las Vegas To Zion National Park Day Trip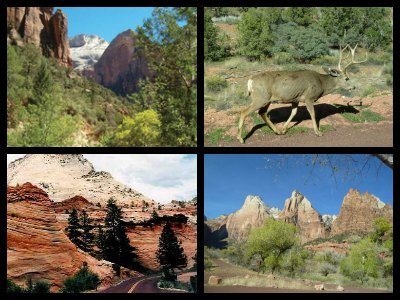 Prices from: $198; Duration: 11 hours
Your adventure starts with a hotel pick-up that will take you to the wonders of the world known as Zion National Park. This 11 hour Las Vegas to Zion tour will take you to some of the most impressive sandstone walls and sheer cliffs that have been carved, shaped and sculptures by Mother Nature.
Admire the Virgin River as you gaze upon remarkable memories that will remind you of the beauty that nature offers all of us. Watch climbers of these sheer vertical walls ascend and retreating into their pillow like structures that are precariously hanging from just a few pitons and ropes.
Enjoy a splendid complimentary lunch before settling back for a ride home to your personal hotel. The best thing is that there are no restrictions on age or weight and everyone is guaranteed to have fun.
Bryce Canyon National Park and Zion Tour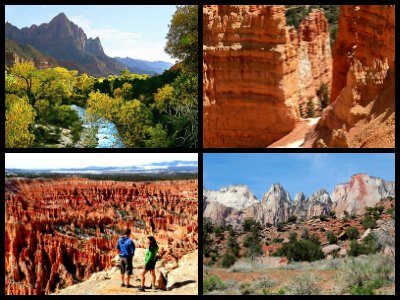 Prices from: $239; Duration: 13 hours
Once you leave the Sin City on this fourteen hour Las Vegas to Zion National Park and Bryce Canyon tour, you will travel through the Virgin River Gorge that has carved some of the most iconic sandstone formations in the world. Arriving at Bryce Canyon National Park you will have time to view the spectacular hoodoos in this natural amphitheater.You won't be disappointed when you leave this national park and find yourself in Zion National Park after a short comfortable ride.
Here you will have time to take the shuttle to some of the more memorable places of the park like Emerald Pools, the Great White Throne and the Virgin River. Spend time in the visitor's center for a cultural experience of the area that is second to none.
During your journey you will enjoy a continental breakfast and a box lunch with unlimited snacks as well as bottled water. This journey is open to all ages but a minimum of four people is necessary for this great adventure.
Seven Day National Park Camping Tour-Zion, Bryce, Monument Valley, Grand Canyon South Rim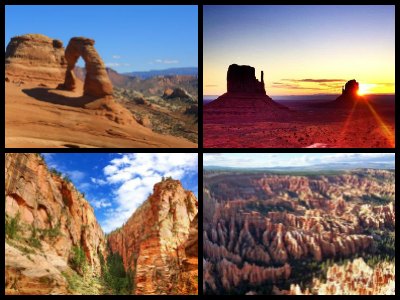 Prices from: $898; Duration: 7 days
Spend seven days and six nights in some of the most breathtaking landscape that your mind con conjure up, while enjoying a unique camping experience in over five national parks.
3-Day National Parks Camping Tour: Zion, Bryce Canyon, Monument Valley And Grand Canyon From Las Vegas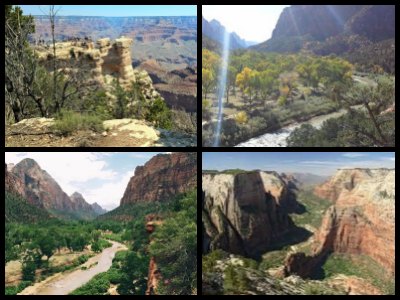 Have the holiday of a lifetime in the southwest of the USA with a Las Vegas to Zion Nastional Park tour that offers a three day adventure to the most iconic National Parks. You have a choice of roughing it under the stars in a tent or relaxing in 3-star accommodation, making this ideal for all tastes.
Set off on the first day to Zion and learn about the stunning pink, red and white sandstone cliffs that define this region. Take photos at the Emerald Pool and the Great White Throne. The tour then heads to Bryce Canyon where you will learn how this massive natural amphitheatre was created by erosion. Lake Powell is the next day's attraction. Enjoy a Jeep tour guided by a Navajo member and then settle down under the night sky around the camp fire. Day three visits the fabulous Grand Canyon National Park where you can choose to have an optional helicopter trip. Parts of this tour are seasonal, so check before booking. It is suitable for ages 7 years and up.
3-Day National Parks Tour From Las Vegas: Grand Canyon, Zion And Bryce Canyon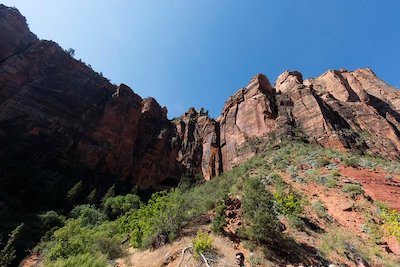 Set off on a Las Vegas to Zion National Park tour that will leave you breathless! Depart Las Vegas in a luxury minibus and head south east through the desert. You will visit a Navajo reservation and then reach the Grand Canyon. Your knowledgeable guide will give you a fascinating insight into how the massive Colorado River carved this iconic landscape. Enjoy lunch and then do some shopping at authentic Native American markets. Accommodation is in the glorious Best Value Inn at Lake Powell.
The next day offers breakfast and a boat cruise on the Lake. Seek out secluded coves and admire the red sand arches. It's then off to Bryce Canyon which offers amazing natural sculptures. See the pillars, spires and amphitheatres and watch the magnificent sunset.
Day 3 finds you in the Zion National Park for more awe-inspiring beauty. Visit the Weeping Rock and the Temple of Sinawava. Take photos and hike around to soak up the atmosphere. End your day strolling along the river banks before setting off back to Vegas.
Private Overnight Tour To Antelope Canyon, Horseshoe Bend, Lake Powell And Zion From Las Vegas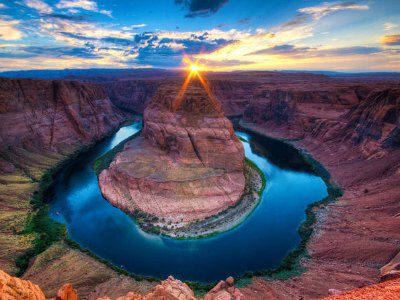 Explore the area around Las Vegas and visit Zion as well as the amazing Lake Powell and the Antelope Canyon. This exclusive tour is just for your party and offers a private guide.
Leave Las Vegas and travel along the Virgin River Gorge on a stunningly scenic route. You will stop to see the Glen Canyon Dam and then enjoy lunch on the banks of Lake Powell. Later in the day you will have fun on tour of the Antelope Canyon with a Navajo guide. Take photos at Horseshoe Bend as you explore this famous landmark. Overnight lodging is in a 3-star hotel in Page. Day 2 will thrill dinosaur fanatics when you visit the Big Water Dinosaur Center and learn all about these fascinating creatures. Then head off to the Zion National Park and enjoy a walk. The walks cater for all levels of fitness and ages. See the beautiful Temple of Sinawava and the Emerald Pools, memories for a lifetime!
5-Day Tour: Utah Mighty 5 From Las Vegas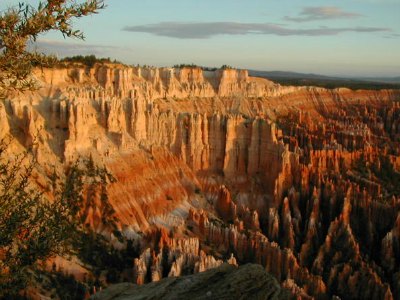 If you are serious about exploring this part of the world, a fabulous 5 day tour from Las Vegas to Zion National Park and other gorgeous parksis for you! Breakfast and accommodation is included as well as a local knowledgeable guide who will entertain and look after your party.
Day 1 visits the Zion National Park to explore the stunning canyon and then sets off to Kolob Fingers where you will walk to the Timber Creek Overlook. Day 2 will thrill you with scenes at the Canyonlands National Park. Hike up the San Rafael Swell for magnificent views of the remote regions of Utah. The next day visits Arches National Park which offers iconic sights like the Balanced Rock, the Windows Sections and more. Day 4 explores the Capitol Reef, Cohab Canyon, Sulphur Creek and takes you down the Burr Trail to an exciting secret location! The last day allows you to explore Bryce Canyon from sunrise to sunset! See the famous hoodoos, spires and arches before setting off back to Vegas.
3-Day National Parks Winter Tour: Grand Canyon, Monument Valley And Zion From Las Vegas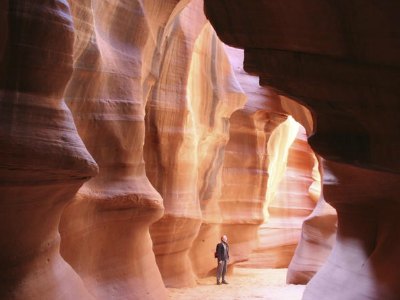 Winter need not be boring! Set off on this 3 day Las Vegas to Zion Winter Tour and have a blast discovering some of the most astounding natural canyons and landscapes on the planet.
Visit the best National Parks, hike, learn from your educated guide and meet like-minded people. The first day takes you through the Mojave Desert to the Grand Canyon National Park. If you are brave, hike down the rugged slopes and see the amazing rock formations. Day 2 offers some traditional craft shopping before following the Colorado River to visit Monument Valley, the setting of many Western movies. Enjoy a fun 4x4 ride across the rugged landscape. Enjoy breakfast on day 3 before travelling to the iconic Horseshoe Bend where photos are a must and then set off to Zion National Park. You can hike and discover the beautiful Weeping Rock, see the Great White Throne and then listen to a talk at the Human History Museum. Great for the family, kids must be 7 years or older.
What's Hot
Do you have any questions or Comments?