Best Las Vegas To Bryce Canyon Tours 2023
Read on to find the best Las Vegas to Bryce Canyon National Park tour for your next adventure. After getting your fill of the lights, glitz and glamour of Las Vegas, you will be delighted to learn that the surrounding area offers the most iconic natural canyons, parks and rivers to visit. Join a tour that suits your time frame. We have 1 day to 7 days tours that take you to Bryce Canyon, Antelope Canyon, Zion National Park, Monument Valley, the famous Grand Canyon and more. You can camp under the stars or sleep in a comfortable hotel. You can choose to explore challenging hiking trails or simply relax and admire the astounding scenery.
Las Vegas to Bryce Canyon, Zion, Grand Canyon South Rim and Monument Valley 7 Day Tour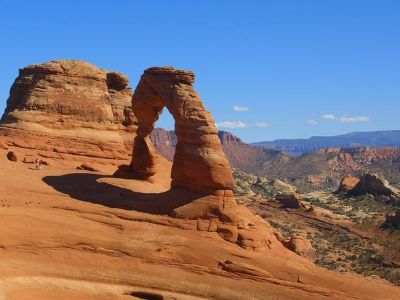 Experience a full week of exploring the most amazing National Parks in western USA. The Las Vegas to Bryce Canyon, Zion, Grand Canyon South Rim and Monument Valley 7 Day Trip is a perfect choice. Set off from Las Vegas in an air-conditioned minivan with your knowledgeable guide. Your first leg of the tour heads across the border into Utah to the the Zion National Park. Here you can see the massive canyon walls and red sandstone cliffs set against a brilliant blue sky. Depending on your level of fitness you can choose to take a challenging hike along the ridge-line to Angels Landing, or a relaxed walk to the Emerald Pools. Be awed by the beautiful scenery of waterfalls, cliffs and canyons. Visit the Temple of Sinawava, Weeping Rock and the Great White Throne.
Day 2 takes you on a drive to Bryce Canyon National Park. This incredible landscape is known for its towering sculpted rock formations, called Hoodoos. You can stay on the top of the Canyon to admire the views or hike down to get a closer look at these surreal rock creations.
Day 3 and 4 takes you to Arches and Canyonlands National Park. Arches is a unique landscape, home to over 2000 natural stone arches. Hike up to Delicate Arch, the iconic freestanding natural arch at 65 feet tall. Then head to Canyonlands National Park, crossed by the massive Colorado and Green Rivers. These canyons were used by the famous Butch Cassidy and the Sundance Kid when they escaped from the law. You can enhance your experience with an optional sunset Hummer tour or perhaps try your hand at canyoneering to explore the sandstone cliffs.
Day 5 – your tour passes the magnificent Lake Powell to arrive at the iconic Monument Valley. Featured in many movies, this astounding landscape is known for its dramatic rock formations that tower into the sky. Take a guided 4x4 Jeep tour with a Navajo guide to learn all about the history and geology of the region. Night time offers a spectacular view of the starry guide, far from the city lights.
Days 6 sets off to do some browsing at a traditional Navajo trading post. You can take an optional visit to Antelope Canyon, the world's most famous slot canyon. Or, you can take a walk to see the awe-inspiring Horseshoe Bend. Your tour then heads to the grand finale – the Grand Canyon. The road follows the massive Colorado River as it winds through the Painted Desert and you will feel the excitement mount. This Las Vegas to Bryce Canyon trip stops at the South Rim, where you can admire the spectacular scenery, stroll around or take a hike into the depths of the Canyon. To make the experience even more amazing, take a helicopter ride to see the Canyon from up high.
Day 7 - head back to Las Vegas with your new found friends and memories to last a lifetime.
More Vegas Day Trips
Get Your Free Las Vegas Events Calendar!
Grand Canyon Helicopter Tours by Papilloin
Grand Canyon Helicopter Tours by Maverick
Awesomest Things to do in Las Vegas Every Day!