Lake Mead Cruises Aboard Desert Princess
Lake Mead cruises on board Desert Princess- a beautiful one-of-a-kind historic Mississippi River steamboat equipped with a paddle wheel - are a breath of fresh air in the crowded urban Las Vegas. There are two tours available - a comprehensive sightseeing cruise that includes Hoover Dam, Dinner cruise running during spring/summer months. In addition to regular tour costs, the National Park Service will charge an entrance fee of $10.00 per car to enter the Lake Mead National Recreational Area.
Lake Mead And Hoover Dam Discovery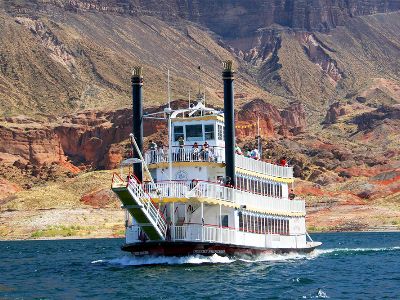 Book Lake Mead And Hoover Dam Discovery Cruise
The Hoover Dam and Lake Mead Lunch cruise is perfect for relaxing and enjoying the natural scenery while having a perfectly prepared meal. Begin your Hoover Dam and Lake Mead cruise with an easy bus pick-up from your hotel. You will then view the Hoover Dam from top to bottom on a 90-minute guided tour which starts at the visitor's center and includes an informative movie about one of the greatest engineering feats known to man. There is plenty of time to explore the Boulder Dam Museum and its many exquisite exhibits on the history and natural environment that surround the Hoover Dam on your way to the generator room.
From Hoover Dam you will travel onward to the splendors of Lake Mead. Once on board the Desert Princess- a stunning historical version of a Mississippi River steamboat complete with a huge paddle wheel as well as two levels of indoor climate controlled seating and a third level containing an observation deck-you will experience the adventure of Lake Mead.
The Desert Princess is an oasis to enjoy a beautifully prepared lunch, while you are cruising through the blue waters of Lake Mead. You can take fabulous photographs of wildlife, view several islands such as Sentinel and Boulder. You won't miss any of the stunning steep cliffs or the Arizona Paint Pots that have made Lake Mead a favorite for many people.
The last stops on this 6-hour finely crafted Lake Mead cruise are at the world famous Ethel M. Chocolate Factory as well as the Botanical Gardens in Henderson. Your day is complete with a bus drop off at your hotel.
What's Hot
Lake Mead Dinner Cruise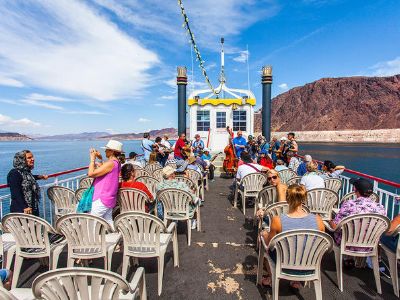 The Lake Mead Desert Princess Dinner cruise will be the highlight of your Las Vegas experience. Enjoy the sunset while the rays of natural light paint the surrounding mountains in brilliant colors as you enjoy a splendid dinner.
The Desert Princess is an absolute gem of an historic Mississippi River steamboat style complete with an enormous paddle wheel. The Desert Princess is also very spacious and U.S. Coast Guard certified for 300 passengers and 10 crew members. The Desert Princess has three levels that include two climate-controlled decks and a third observation deck for all of your lounging pleasures.
During your 120-minute Lake Mead cruise you will enjoy a spectacularly prepared dinner of beef, chicken, seafood or pasta while sitting in the surrounding elegance of the Desert Princess. After dessert you can stroll on the observation deck or just sit back and enjoy the comfort of the Desert Princess.
What's Hot
Do you have any questions or Comments?