The Best Topless Las Vegas Pools
Topless Las Vegas pools offer a discreet excitement of private, adult-only lounges.
While occasionally you may find DJ's spinning at these pools, they are not really pool parties, but rather secluded oases offering a relaxing atmosphere and topless sunbathing.
You will find quite a few of those pools in Vegas!
The Voo /VooDoo Beach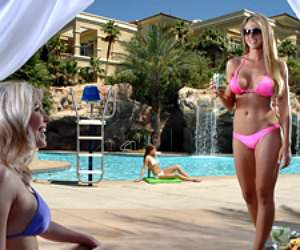 At Rio Hotel & Casino
Music: house, rock
What to wear: Beach/pool attire, European-style: top is optional for ladies
Cover charge: $20 for ladies, $30 for gentlemen
Hours of operation: Thursday - Saturday 11 a.m. - 7 p.m.
Review: The adult-only part of the VooDoo Beach in Rio, the Voo has everything you are looking for in a topless Las Vegas pool. The picturesque waterfalls surround the sparkling pool full with topless ladies and handsome guys. Various live DJs spin invigorating tunes, flair bartenders serve refreshing specialty cocktails, and the hottest go-go dancers initiate pool games or even water fights! Two fully packed bars and a grill provide a complete dining menu with lots of drink options. Pool beds with umbrellas or comfy cabanas can be reserved to take some rest. Spa treatments are also available for the maximum relaxation before another night of fun in Las Vegas.
Get Your Free Las Vegas Events Calendar!
Las Vegas Gifts - Art, Merch And more!
Grand Canyon Helicopter Tours by Papilloin
Grand Canyon Helicopter Tours by Maverick
Awesomest Things to do in Las Vegas Every Day!