Las Vegas Strip casino hotels - Best places to stay
All of these popular Las Vegas casino hotels and resorts on the Strip listed below have amazing reviews, left by visitors just like you. All of them are centrally located on the Strip, boast great casinos and offer a top notch entertainment. These hotels are the best places to stay in Las Vegas - all of them offer great shows, swimming pools, nightclubs and restaurants.
Read my reviews of the best hotels and resorts on Las Vegas Boulevard, check prices and current promotions and coupons.
Encore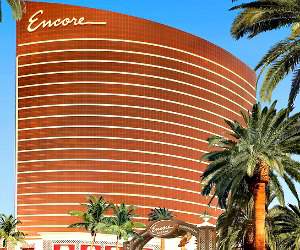 Book A Room At Encore Casino Resort

Address: 3121 Las Vegas Blvd. South, NV 89109
Review: One of the most impressive Las Vegas Strip casino hotels, Encore is a younger, more modern but just as elegant sister of Wynn hotel. "Best run hotel in the city" is a common review among those who have stayed there and experienced it's pampering, boutique atmosphere - as close as it can get to a boutique hotel, which is rare even among luxury Las Vegas Strip casino hotels.
Encore boasts one of the most beautiful spa in the city, called Spa at Encore, inspired by Moroccan themes. There are many restaurants on site, including the highly regarded Sinatra serving Italian food, Switch Steak serving steak and seafood, and Society Cafe for American food.
Encore also offers collections of fine art, a small casino, and European-inspired swimming pool. Another great attraction of this famous Las Vegas Strip hotel are its night clubs - XS, and one the hottest nightclubs Encore Beach Club known as Adult Party Pool with a dance club, cabanas and a restaurant. While Encore is one of best places to stay in Las Vegas, its nightclub XS is the place to dance to the music of DJ Tiesto!
What's Hot
Bellagio
Book A Room At Bellagio Casino Hotel

Address: 3600 S Las Vegas Blvd, NV 89109
Review: The Bellagio casino hotel is among the most venerated luxury Las Vegas Strip casino hotels, albeit it's not the most modern one, and it shows. Still, Bellago is one of the best places to stay in Las Vegas, there is a lot to enjoy here! If you want to avoid going through a smoky casino all the time, try to opt in for a room at the Spa Tower.
Apart from a great casino, Bellagio boasts a gallery of fine art featuring works by Claude Monet, Jean-Baptiste-Camille Corot, Camille Pissarro, and Eugene Louis Boudin. The hotel's multiple dining options include lake-view fine restaurant Jasmine serving Chinese, Picasso offering French and Spanish cuisine, extravagant multi-colored Le Cirque offering French dishes.
Flowers and water themes prevail in this hotel! For flower theme, Bellagio hotel has the most peculiar foyer in the city - the ceiling is all covered with Dale Chihuly's Fioro di Como multi-colored glass flowers. To continue with the flower theme, this Las Vegas Strip hotel has incredible Botanical Gardens with gorgeous flowers and plants that they change every season and arrange in interesting animal-like shapes.
Another amazing feature of Bellagio that sets it apart from other 5 star famous Las Vegas Strip casino hotels is it's beautiful fountain that dances to various tunes (you could try to get a room with a fountain view!). To continue with the water theme Bellagio is home to the incredible show O by Cirque du Soleil - the show that almost entirely takes place in water and features world-class acrobats and gymnasts. And naturally, you can find at this hotel great spa & salon services.
Caesars Palace
Book A Room at Caesars Palace Las Vegas

Address: 3570 Las Vegas Blvd S, NV 89109
Review: The Caesars Hotel, or Caesars Palace, is the most absurdly awesome of all 5 star best Las Vegas Strip casino hotels, with it's statues replicas in every corner (including some rooms), staff in gladiator outfits and Greco-Roman decorations!
Everything in this hotel screams "VEGAS!" - from the highly luxurious Roman-style stone-water themed Qua Baths & Spa, posh Forum shops offering world-class shopping experience in a Roman setting, and even Pussycat Dolls gambling pit with hot half naked dealers and girls dancing in cages.
Caesars Palace is certainly among Las Vegas Strip casino hotels with the greatest nightlife - it boasts the hottest nightclubs in the city including PURE included in the V Card, Cleopatra's Barge, Shadow Bar and the list is not over! There are also multiple most amazing restaurants from Hyakumi offering sushi, to Old Homestead Steakhouse, serving seafood as well as steaks.
The best part of Caesars Palace is its Gardens of the Gods - a luxurious resort comprising eight swimming pools, names after Roman gods - the most impressive swimming pool area among all luxury Las Vegas Strip casino hotels. The main new attraction of the hotel is a recently built Colosseum that is a replica of the Colosseum in Rome, where you can catch a Concert of Celine Dion. And once you are there, do not forget to catch the hotel's famous animatronic show with walking statues!
Wynn Las Vegas
Book A Room At Wynn Resort

Address: 3131 Las Vegas Boulevard South,NV 89109
Review: The Wynn Resort is not only one of the best Las Vegas Strip casino hotels, but it's also a golf resort. You already know of course that it's brought to you by Steve Wynn, the man behind Bellagio, The Mirage, Treasure Island and Encore ?
Wynn offers some of the nicest rooms in the city - with floor-to ceiling windows with incredible views of the Strip or the golf course. Much as in Bellagio, floral motifs prevail at Wynn - from flower arrangements that change seasonally to beautiful floral prints on the floors. Another great feature of the hotel is plenty of natural light.
The pools at this famous Las Vegas hotel come with Jacuzzi, private cabanas, mini-fridge and plasma TV. The Wynn Resort is an adult paradise and there's even a topless sunbathing area called European pool - so think twice before bringing your kids along! The spa at Wynn features a zen garden and offers all possible and impossible treatments that will spoil you to no end! Wynn Resort is also home venue to the incredibly beautiful show Le Reve.
Like in most upscale Las Vegas Strip casino hotels, there are plenty restaurants, offering everything from fine dining to vegan and casual, located on site or at the nearby Encore - guests can use both Wynn and Encore. Two hotspots at Wynn are its nightclubs Tryst stretching along a private lagoon and boasting a 90 foot waterfall and a more intimate Surrender where you can catch the music by DJs Tiësto and deadmau5.
The Venetian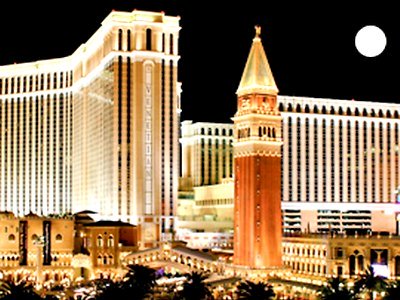 Book A Room At The Venetian Resort

Address: 3355 Las Vegas Blvd S, NV 89109
Review: At The Venetian Resort attention to detail is almost supernatural - from the landmarks of Venice to famous Venetians walking around in medieval costumes to gondoliers riding in authentic Venetian gondolas to opera singers singing, well, Italian opera. Did we mention that the The Venetian is, hands down, the most beautiful of all luxury Las Vegas Strip casino hotels?
Other than looking around and taking gondola rides with your loved ones, there are plenty of things to do at the Venetian. The Venetian resort is one of the best places to stay in Las Vegas - it hosts multiple concerts and shows, and its Canyon Ranch SpaClub is one of the best in Vegas! If you want to do something even more extravagant (and expensive), try shopping at the stunning Grand Canale Shoppes for some designer brands. The shopping area looks like an Italian street, with a canal in between the shops.
The Venetian Las Vegas shares many of its amenities with its sister property the Palazzo (below). There are multiple restaurants like in all Las Vegas Strip casino hotels, for any taste, offering ethnic dishes. The pool area completes the Italian experience, reminding of a Venetian garden.
The Palazzo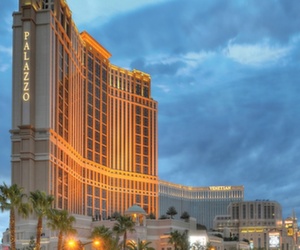 Book A Room At The Palazzo Resort

Address: 3255 Las Vegas Blvd South, NV 89109
Review: The Palazzo Hotel is a new all-suites luxury extension of the Venetian Resort, however it's on our list of the top Las Vegas Strip casino hotels on it's own merits. The Palazzo does not have the Venetian's Venice-themed bells and whistles, but it does have its own casino. The hotel's guests can use the facilities of the Venetian, including it's concerts and shows.
The Palazzo shares 7 swimming pools and multiple restaurants with the Venetian. The Palazzo also has its own luxury swimming pool called Azure with private cabanas. Some of Palazzo's restaurants are Grand Lux Cafe offering ethnic dishes and Sushisamba serving Brazilian, Peruvian and Japanese culinary wonders. The resort also boasts a huge shopping area The Shoppes At The Palazzo.
There's never a dull moment at the Palazzo - one of the most famous Las Vegas Strip casino hotels! Especially at night, considering the selection of hot nightclubs, bars and lounges, including Double Helix Wine & Whiskey Bar and LAVO nightclub.
The Cosmopolitan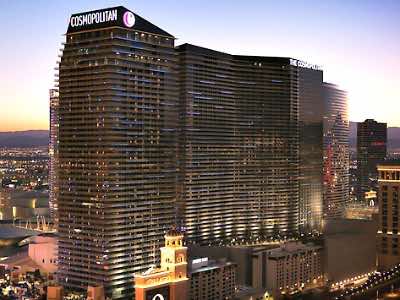 Book A Room At Cosmopolitan Resort

Address: 3708 Las Vegas Blvd, NV 89109
Review: Perhaps the only thing lacking in the Cosmopolitan Resort, one of the best Las Vegas Strip casino hotels, is its own show! But this little nuisance can be ignored, considering they do host some live music performances. Otherwise, this is a huge hotel with 3,995 rooms, offering so many conveniences it could be a small city!
The chic Cosmopolitan resort is one of best places to stay in Las Vegas - it boasts 13 restaurant choices headed by world-renown chefs - from the casual French-cuisine Comme Ça to Blue Ribbon Sushi Bar & Grill to a yummy steakhouse STK. There are six bar and lounges at this hotel serving exquisite cocktails and even ice cream. You can listen to live music or bet on sports events. The resort's exotic cave-like Sahra Spa & Hammam offers rejuvenating experience and all imaginable scrubs and steam baths. There is also a salon on site called Violet Bar.
The best parts of the The Cosmopolitan are its Marquee Nightclub & Dayclub with top DJs, three swimming pools, each with a distinct atmosphere and design - Marquee Dayclub Pool, Bamboo Pool and Boulevard Pool. Marquee is also included in the V Card deal.
One of the best Las Vegas Strip casino hotels, Cosmopolitan consists of two towers, offering fantastic view of the Strip from its private terraces!
ARIA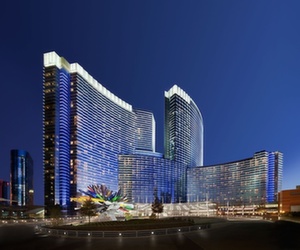 Book A Room At Aria Resort

Address: 3730 Las Vegas Boulevard South, NV 89109
Review: ARIA Hotel is one of the most modern Las Vegas Strip casino hotels boasting a prime location in the center of the CityCenter! The hotel's huge glass silhouette sets it apart from other hotels, as does its ultra modern interior with all the glass and silver decorations and high-tech remote controls that control pretty much everything in the rooms.
The ARIA's night life is rich and fabulous with its five bars and lounges and three stylish night clubs, Gold Boutique designed by The Light Group, and Cirque du Soleil. It's casino is ultra-modern and spacious.
The ARIA hotel offers spa and salon services in the spirit of the best Las Vegas Strip casino hotels, offering everything from massage therapy to facial and body care. Another hot-spot of the resort is its gorgeous ellipse-shaped swimming pools with hot tubs and fountains, surrounded by beautifully arranged palm trees.
Planet Hollywood
Book A Room at Planet Hollywood Resort

Address: 3667 Las Vegas Blvd. S, NV 89109
Review: If the purpose of your visit to Las Vegas is to have as much fun as possible, then look no further than Planet Hollywood Resort - the best place to stay in Las Vegas for naughty visitors! This is one of the most landmark Las Vegas Strip casino hotels- the number of shows played here speaks for itself! Most shows cater to adult audience, except V - The Ultimate Variety, and Comedy Pet which are shows for kids.
However, keep in mind that this is definitely not a family-friendly hotel. There is an atmosphere of eternal adult party, which comes with it's own drawbacks (or benefits - depends on how you look at it) such as half-dressed revelers, loud music and sleepless nights. That would be one of Las Vegas Strip casino hotels of my choice for a bachelor party in Vegas!
There are plenty of bars at Planet Hollywood, where you can grab a 2 for 1 drink with V Card, which also gives free admission to Planet Hollywood's Gallery Nightclub and a few dozens of other nightclubs and bars in Vegas.
Planet Hollywood is one of the coolest Las Vegas Strip casino hotels - every room has a "movie" theme and is decorated with fun movie items and memorabilia. If you ever wondered where things go after a movie is shot - that's definitely one of the places!
There are plenty of restaurants at Planet Hollywood - both inside the hotel, and in Miracle Miles shopping center, which is among the best in Las Vegas. And in Cabo Wabo Cantina in Miracle Miles you can also watch a show by a rotating cast of good stand up comedians. While you are at Miracle Miles, don't forget the free Fountain Show and free Rainstorm!
Monte Carlo
Book A Room At Monte Carlo Resort

Address: 3770 Las Vegas Blvd S, NV 89109
Review: Monte Carlo a bit older than other famous Las Vegas Strip casino hotels. One day Monte Carlo was considered the 7th largest hotel in the world, but not it's surpassed by other resorts around it in size and grandeur. However, it strikes a good balance when it comes to a place to relax in or have fun.
Monte Carlo has a great location - close to many other resorts and to CityCenter.
The design of Monte Carlo evokes Place du Casino in Monte Carlo and is built in a luxurious European style, but nothing over the top. If you like beautiful statues, fountains, colonnades, arches and chandeliers - it's a feast for your eyes!
Rooms in Monte Carlo are small but comfortable. If money is not an issue, you should opt out for Hotel32 Studio - it's luxurious boutique extension, located on the last 32nd floor.
Monte Carlo is among famous Las Vegas Strip casino hotels. It offers 9 restaurants with a wide range of cuisine - French cuisine at Andre's Restaurant by Andre Rochat, spicy Mexican food at Diablo's Cantina, Italian dishes at D.Vino.
Should you win a lot of money at it's casino, there is a great shopping center Street of Dreams.
Activities at the hotel also include splashing in it's Wave Pool, relaxing in it's Lazy River and occasional pool parties.
New York New York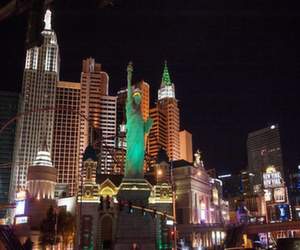 Book A Room at New York New York Hotel & Casino

Address: 3790 Las Vegas Boulevard South, NV 89109
Review: Imagine a hotel literally created from the world-famous features of New York City. The city within the city, New York New York Las Vegas is like an amazing slice of the real Big Apple. The hotel also preserves the spirit of the city with 24/7 buzz. Understandable - like all Las Vegas Strip casino hotels, it boasts a dozen of first-class restaurants, onsite shops, exuberant nightlife and numerous entertainment options, the hotel guests are always busy! Add the wide choice of guest rooms from modest yet cozy Park Avenue to the top Penthouse Suite, additional amenities like a pool and a spa.
Evenings start with the world's best entertainment shows by the Cirque du Soleil and Broadway-inspired performances. Entertainment continues with the real Roller Coaster and, for more thrills, a casino. The winning combination of the Big City impressiveness and Sin City excitement, the hotel's casino is a flawless place for the most persnickety gambler. More than 2,000 slot machines, all kinds of poker tables, roulette and other money-eating machines are located at the luxury 84,000 square-feet casino. While relaxing at the blackjack table, visitors will be pampered by the casino staff's friendliness and professionalism.
MGM Grand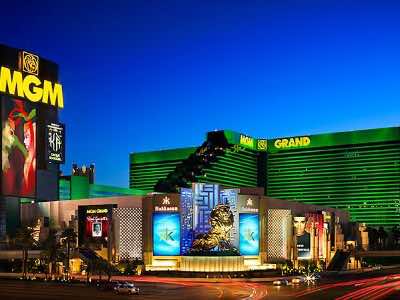 Book A Room at MGM Grand Hotel and Casino

Address: 3799 Las Vegas Blvd S, NV 89109
Review: One of the largest best Las Vegas Strip casino hotels, MGM Grand has 5,044 rooms and suites to meet everyone's need. Depending on your preference, it might be standard Petite yet spacious King Room for business trips, or a breathtaking two-story Skyline Terrace Suite with marvelous views of the Las Vegas Strip.
The distinguished and reputable hotel is all-in-one place, featuring more than a dozen of award-winning restaurants from the sophisticated Italian cuisine at Fiamma restaurant to the folksy Starbucks for a quick bite. Nightlife and entertainment at this famous Las Vegas Strip hotel include Cirque du Soleil's shows, comedy stand-ups and special events. Exotic Hakkasan and glowing Centrifuge nightclubs are attracting crowds of enthusiastic party-goers every night.
Gambling is inseparable part of Las Vegas Strip casino hotels, and MGM Grand Hotel & Casino offers the ultimate gaming experience at its 171,500 square-feet casino with every possible option to try your luck, including a 104-seat sports and race book.
Treasure Island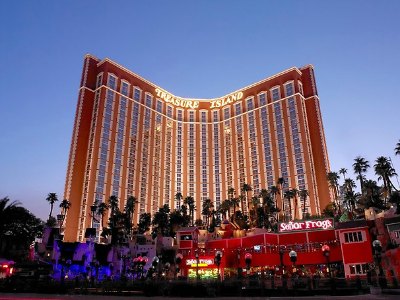 Book A Room at Treasure Island - TI Hotel & Casino

Address: 3300 Las Vegas Blvd S, NV 89109
Review: Like most Las Vegas Strip casino hotels, Treasure Island has its own theme - this is a pirate-themed hotel in an impressive star-shaped building right in the heart of Sin City. This hotel doesn't have own nightclubs, but it's , just a stone-throw from the most popular dance clubs. Still, there are numerous entertainment options at the Treasure Island for those who don't feel like dancing. The luxury casino perfectly matches the hotel's pirate spirit and opens endless possibilities for treasure-hunters.
Players who combine luck with strategy can participate in daily poker tournaments with huge cash pots. Dining options are represented by a dozen of restaurants with a great choice of steaks and snacks. Go to Gilley's Saloon to combine your dinner with entertaining country music and watch sexy cowgirls riding a mechanical bull! Delicious drinks are offered by the Breeze Bar, Isla Tequila Bar and few others.
In the evening the crowd surrounds a pirate ship replica as the must-see Sirens of TI show runs here daily. Amazing story of beautiful Sirens and adventurous pirates brought in song and dance with fire effects and reckless stunts is an unforgettable experience! It is also free and family-friendly. For more sophisticated spectators Cirque du Soleil offers astonishing Mystere theatrical show.
Luxor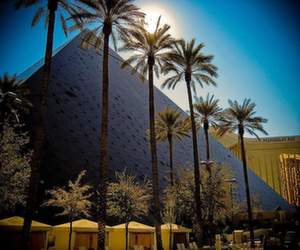 Book A Room at Luxor

Address: 3900 Las Vegas Blvd S, NV 89119
Review: One of the most recognizable Las Vegas Strip casino hotels, the Luxor's black pyramid looks like a sacred monolith with a mighty sphinx that guards the entrance. Extravagant and ancient-looking appearance of this hotel contrasts with its modern and luxury inner world. Luxor is in the middle of the action: connected to the Mandalay Bay with a glass bridge, it leads guests to The Shoppes, one of the best Las Vegas retail complexes. The Strip's free tram takes guests to other hot spots of the Sin City.
Visitors of the Luxor Las Vegas Strip hotel enjoy two exclusive exhibitions: Bodies…The Exhibition and Titanic: The Artifact Exhibition, both are worth seeing. Entertainment shows like the Cirque du Soleil's Believe run during the week. Large pool area with four heated pools and 12 cabanas lets patrons to cool down after non-stop dancing nights at the infamous LAX Nightclub or after excitement-filled gambling at the huge 120,000 square feet Luxor Casino. Saville Row is another popular nightclub that attracts crowds with its dimmed lights and music, elegant European-themed interior and probably the best cocktails . With all that magnificence, the Luxor is truly a pharaoh among the best Las Vegas Strip casino hotels!
Flamingo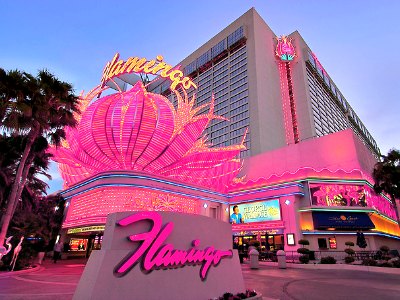 Book A Room at Flamingo Las Vegas

Address: 3555 Las Vegas Blvd S, NV 89109
Review: Flamingo Las Vegas is a perfect getaway for ladies' vacations and bachelorette parties. This pink-hued glamorous hotel with 3,626 rooms is sexy and feminine. It offers high-class dining options at the restaurants like Hamada of Japan, Beach Club and the Pink Bean. Three pools let guests to catch some suntan, to relax at the adult-only Go Pool, and continue to massage and body treatments at the hotel's spa.
Numerous shops offer everything that you need for a night out. Evenings are filled with shows and entertainment presenting Donny and Marie, Vinnie Favorito and George Wallace. Girls adore the X Burlesque University that teaches how to look sexy on stage! Gamblers enjoy the upscale casino and an additional, more intimate tropical-themed area called the Margaritaville Casino. It's also one of pet-friendly Las Vegas Strip casino hotels, with the dog relief area, and the Wildlife Habitat - an exotic flamingo oasis for nature lovers.
What's Hot
Do you have any questions or Comments?