Las Vegas Pool Parties And Day Clubs 2020
The Las Vegas pool parties scene in 2020 is a must-do - from wild and raucous to relaxing and pampering. Party during the day at a trendy Vegas beach club - they are the in thing and there are a host of venues to cater for all tastes. Set high above the city these exotic venues offer fabulous views, great food and an adult ambiance. The venues cater for over 21's and many allow topless bathing. Put on your designer beach wear and set off for a day of partying before a night of more partying. Don't wait for night to fall to join the party, here are the pool parties we recommend!
Las Vegas Pool Party Tours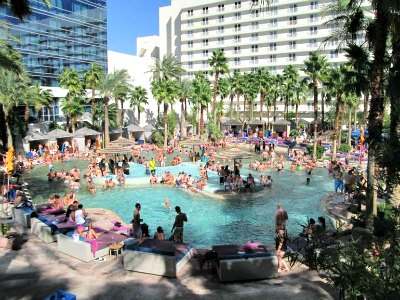 More About Pool Party Tours
Price: $68.99
On a hot summer night, you could get a guide pool party tour by a private limousine! The package includes hotel pick up and drop off, and a visit to the best pool parties in Vegas: Pools at MGM, Pools at the Hard Rock Hotel and Tao Beach at the Venetian ! this package is perfect if you just want to relax, and let others do the planning job for you - With the Pool Party Las Vegas nightclub packages you will be treated like a VIP. On top of the entrance to the hottest pool parties you will be treated to unlimited drinks in your party limousine.
Plan Vegas Stay
What's Hot
Disclaimer: I receive a small commission from the links on this page.
What's Hot
Plan Vacation