The Best Pools In Las Vegas In 2023-2024
These best pools in Las Vegas open in will impress even the picky beach bums! While crowded during summer months, all of these pools have private cabanas where you can hide from the hassle and bustle of the city while relaxing with a cocktail. Many run the hottest pool parties in Vegas. No matter what your preferred way of relaxing at the pool is - you can find anything in Vegas. If you are visiting the city during off season - from October to April, winter, some of these pools are open year-round.
Mandalay Beach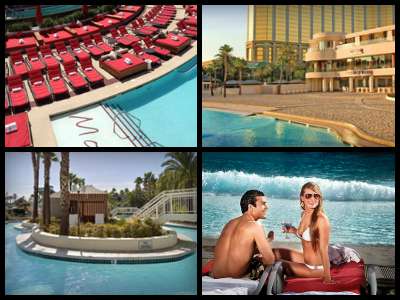 When you want to find one of the best pools in Las Vegas while visiting Sin City, then you should try lounging around the spectacular scenery at Mandalay Bay Beach. Located within Mandalay Bay Resort and Casino, this 11-acre aquatic wonderland is a dream come true for anyone who is searching for an ideal place to cool down in the Vegas heat. Once inside you experience a variety of water fun options from a superb wave pool to four different lagoon-style swimming pools to a quarter-mile long lazy river which is perfect for floating and there is plenty of soft sand. If all of this is not enough, then go watch one of the stellar musical concerts that attract top-notch performers like Travis Tritt, Sublime, and the Caifanes while you soak up the sand between your toes. Numerous packages are available that include private cabanas, lounge chairs, daybeds, and there are plenty of places to grab a bite to eat or a cold libation.
More Attractions
Get Your Free Las Vegas Events Calendar!
Las Vegas Gifts - Art, Merch And more!
Grand Canyon Helicopter Tours by Papilloin
Grand Canyon Helicopter Tours by Maverick
Awesomest Things to do in Las Vegas Every Day!