City Center Las Vegas - Hotels, Shopping & Attractions
City Center Las Vegas is an enormous beautiful urban complex with total area of 16,797,000 square feet (1,560,500 m2). The address of this beautiful complex is 3780 Las Vegas Boulevard South, and it;s located right on The Strip, bordered by famous resorts Park MGM and Cosmopolitan Las Vegas.
Get Your Free Las Vegas Events Calendar!
Grand Canyon Helicopter Tours by Papilloin
Grand Canyon Helicopter Tours by Maverick
Awesomest Things to do in Las Vegas Every Day!

The construction of the CityCenter officially started on February 6, 2006 and it was officially opened to general public on December 16, 2009. The basic purpose of building this immense complex was to revive the city of Las Vegas as it was losing its popularity among tourist and even investors. This was because the city was running out of themes for quite a while in terms of unique theme park designs that have given real vibe and fame to this notoriously sprawling city and everything was becoming quite monotonous and dull.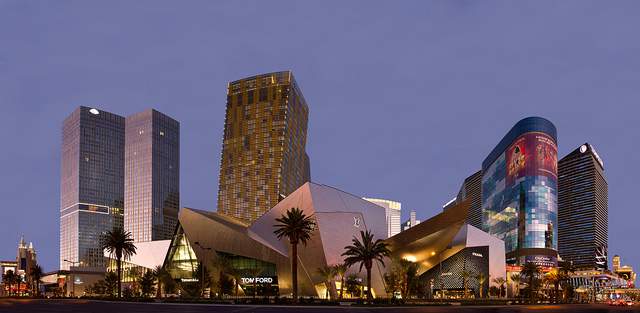 Photo by
Jason Mrachina
The reputation of Las Vegas as a city that can offer real architecture masterpieces was at stake. Therefore, MGM Mirage in collaboration with Dubai World decided to cover the space between two of its properties on the west side of the strip by a showcase of Modern Architecture called as the City Center Las Vegas in order to revitalize the city. However, as is the case with every business endeavor, the project's ultimate goal was to earn revenue for MGM Mirage and its partner firms. At the time when the construction started, the prices of property have skyrocketed on Las Vegas Strip and MGM Mirage decided to make most of this real estate boom by building the City Center.
The CityCenter is not a cliché theme park the likes of which have mushroomed on Las Vegas Strip. Unlike most of the theme hotels that try to impart a feel of traditional Paris, Venice or Rome in the city, the City Center has offered a luxurious lifestyle through modernistic architecture and bringing everything you want at one place. Water and crystals are the main them of the City Center's design and these features are displayed in their full glory from Aria Resort and Casino to Water Art at Crystals. This is in complete contrast to traditional theme parks on Las Vegas Strip that are just irritating mixtures of bright colors and offer nothing new to the visitors.
Nightlife
City Center Las Vegas offers a great nightlife experience, with most bars and lounges located inside Aria Resort & Casino, but are easily accessible from quiet hotels Vdara and Waldorf Astoria. Apart from multiple bars where you can relax with your favorite drink, a sports bar with hue TVs, GOLD Boutique Nightclub and Lounge, High Limit Lounge, and The Deuce Lounge and a small and intimate Baccarat Lounge.
Hotels
The CityCenter is one of the most exciting places in the Vegas when it comes to sophisticated gaming, mesmerizing night clubs, world class dinning, seductive bars and indulgent spas. There are sveral gorgeous hotels at City Center Las Vegas:
Aria Resort and Casino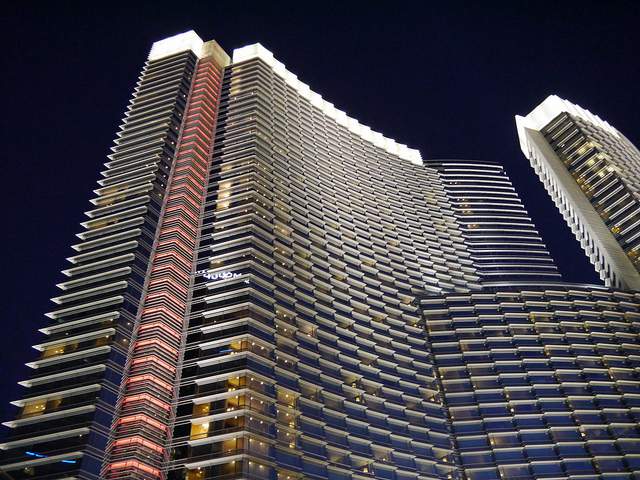 Aria Resort And Casino at CityCenter Las Vegas, photo by
Kennejima
The 4000 room Aria Resort and Casino designed by Cesar Pelli is the feature building of the City Center Las Vegas. It features a huge casino, very popular nightclub HAZE, Spa & Salon and swimming pools.
Waldorf Astoria Hotel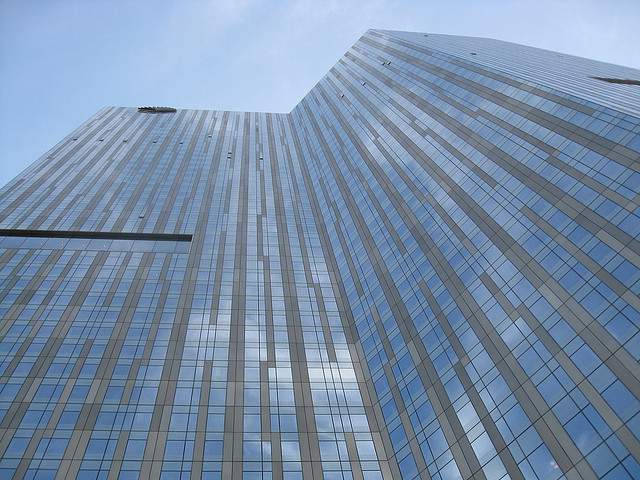 photo by
Friscocali
Waldorf Astoria Hotel that stands adjacent to the Aria, is one of the most highly praised 5-star hotels in the city. As the name suggests, it is a part of the famous hotel chain and it seems to come straight from Shanghai. It is a luxurious and sophisticated no-casino hotel at the City Center Las Vegas and a winner of many awards, inlcuding the coveted AAA Five Diamond Award.
Vdara hotel & Spa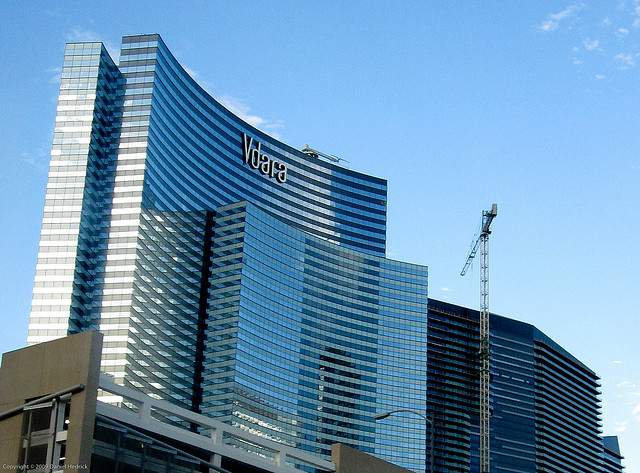 Vdara Hotel & Spa, photo by danielhedrick
Vdara is another gorgeous no-smoking, no-casino hotel located at City Center Las Vegas. Vdara differs from the typical Las Vegas skyline and fits perfectly into the City Center thanks to its impressive crystals-like design and crescent silhouette. The unique shape also allows guests to have some breathtaking views of the city.
Veer Towers
You may be wondering what are these intricately shaped leaning towers at City Center Las Vegas. These are luxurious condominium complexes, opened in 2010. Designed by Helmut Jahn & Francisco Gonzalez Pulido, the 2 towers lean in the opposite direction and every residence offers a view of Las Vegas skyline.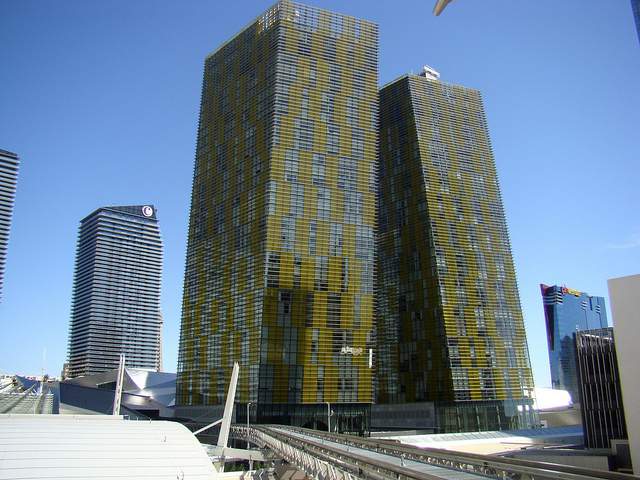 photo by
Phil Guest
Shopping
The City Center Las Vegas is not only about lofty hotels and casinos. It is also a perfect place for shopping. Crystals is the shopping center of the City Center. Crystals looks just like its name suggests both inside and outside. The crystalline and jagged shapes add to the brilliance and elegance of the shopping mall.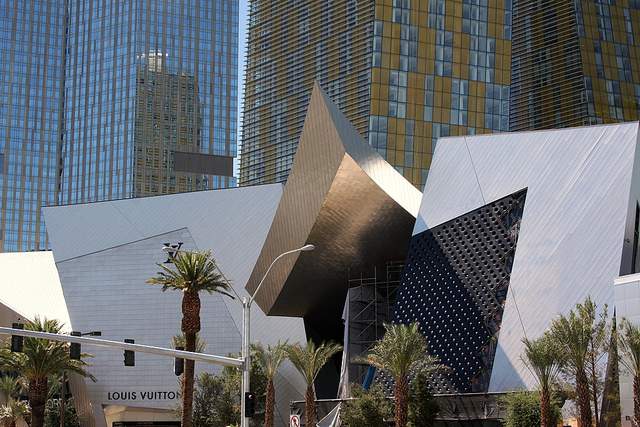 Crystals, photo by
brx0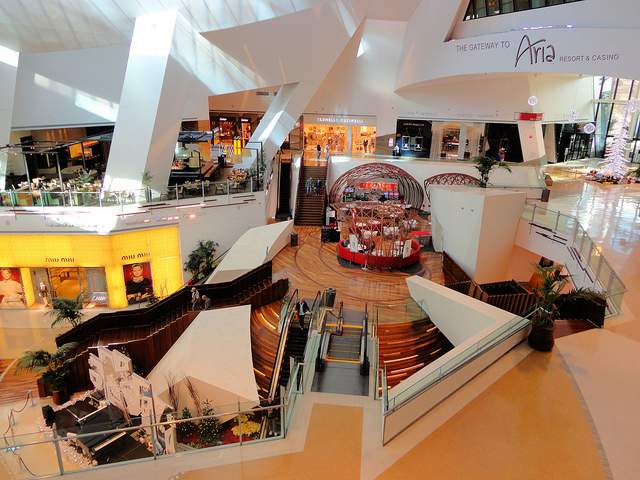 Inside Crystals, photo by
Jim G
Crystals is the premier luxury shopping destination of City Center Las Vegas and incorporates the shops of some of the most well-known and renowned brands. These shops offer high end dinning and shopping experience to the visitors. The items present at Crystals include fabulous contemporary art, brilliant runway collections and modern dining facilities. Some of the luxury brands that have their outlets in Crystals are GUCCI, Harry Winston, Tom Ford, VERSACE and Prada to name a few.
Attractions
City center Las Vegas offers high end spa, casino and night club but there are many other things to enjoy in this great place as well.
Art Exhibitions
The architecture of the City Center Las Vegas is a masterpiece in itself beyond any doubt. However, there are many things to see other than its delectable exterior. The Crystal at CityCenter is not only a sophisticated shopping mall - there is an art gallery that houses masterpieces of some the most famous artists of the world such as Maya Lin, Claes Oldenburg and Richard Long.
City Center is the first major public place to have a permanent art collection in Las Vegas. As you walk at City Center Las Vegas, pay attention - and you will find some fabulous pieces of art - such as this strange boats exhibit.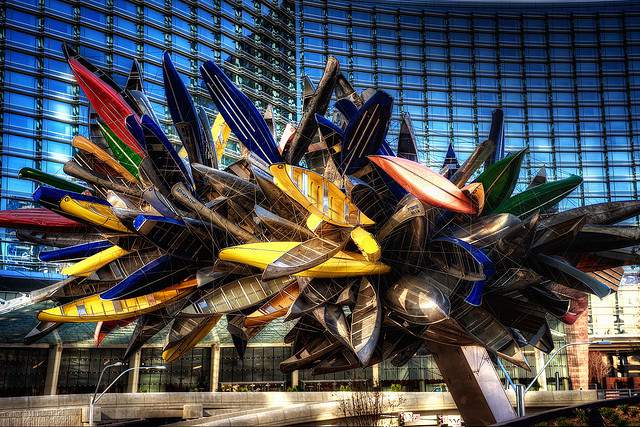 Big Edge art exhibit at CityCenter by Nancy Rubins. Photo by
wbeem
Art Gallery by Dale Chihuly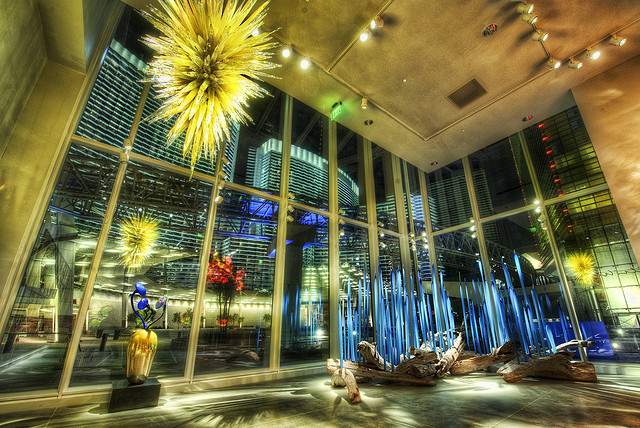 photo by
Trey Ratcliff
Although there are many stunning art pieces in City Center Las Vegas, none can come close to the Art Gallery of the glass masterpices created by Dale Chihuly. Located within the Crystals, the gallery has on display some of the most compelling glass artwork in the world. Entry to this gallery is totally free and is well worth a detour. You will find here some incredible glass sculpures including Nuutajarvi Installation, The Lime Green Icicle Tower and his latest work, the Silvered Venetian series.
Water Attractions at City Center Las Vegas
City Center Las Vegas is different from rest of the theme parks or hotels in Las Vegas in many ways. In this regard, the developers of City Center have come up with a great idea to establish an extremely entertaining and breathtaking fountain with the name of Lumia in the Aria. The entire design of City Center revolves around water and crystal theme.
Wherever you look around at City Center, you will see gorgeous water pieces - fountains, mazes, waterfalls. All this water beauty in a desert climate of Las Vegas comes in handy on a hot summer day!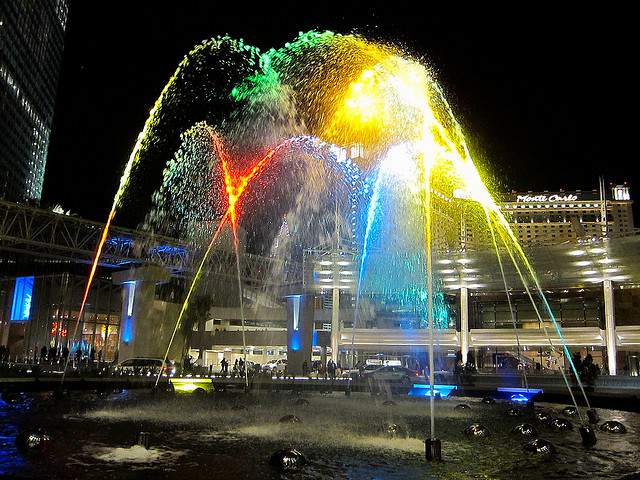 Lumia at Aria, photo by
Mark Mitchel
Restaurants at City Center Las Vegas
The City Center Las Vegas is incomparable in entire city when it comes to trove of fascinating dining experience. Although, it was difficult to bring various famous restaurants together in one place but the City Center has done that and following are some of the best restaurants in this new sensation of the city.
Sage at Aria is perhaps the best of all the restaurants City Center Las Vegas has to offer. The staff is hospitable and responsive, dining facilities are great and most importantly, foods are most delicious of all you have ever eaten in such restaurants. It is a huge restaurant and a bit pricy as well but very reasonable for overall quality of service and taste of special American Cuisines.
Mastro's Ocean Club is yet another great restaurant located in the City Center Las Vegas at Crystals. The price range is also very reasonable and the main specialty of the club is its mouth-watering seafood. The club won the certificate of excellence in 2013 and it is a great place to dine no matter you want to eat mashed lobster potatoes or roasted brussel sprouts. The service is also top notch and it is a capacious place as well with plenty of chairs.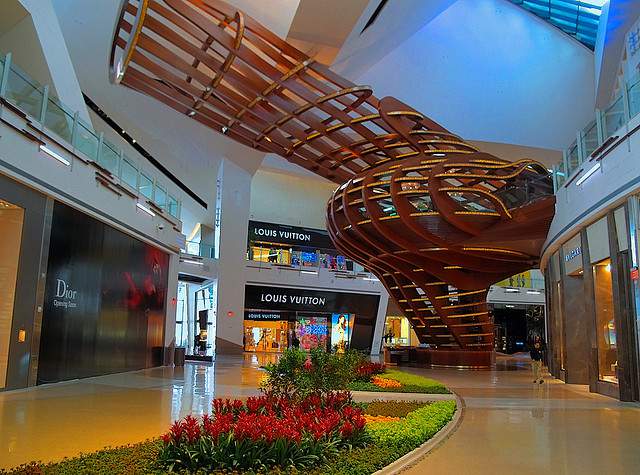 Mastro's Ocean Club at Crystals, photo by
Dailymatador
Lemongrass located in Aria Resort and Casino has also won the certificate of excellence in 2013. The restaurant offers great Thai and Chinese meal although prices are somewhat outrageous but you can expect this from a restaurant operating in such a high end place. Similarly, all the staff is very friendly and attractive and they serve you in the best possible manner.
Former Beso restaurant located in Aria, City Center Las Vegas is now closed and transformed into a new restaurant named She by Morton. It is a really nice restaurant with spicy and tasty steaks as its specialty. It is a great place to eat some meat with excellent staff and service although prices are little too high. According to some people, it is indeed the best place to dine while you are in Aria.
Source: citycenter.com
More Attractions
Get Your Free Las Vegas Events Calendar!
Grand Canyon Helicopter Tours by Papilloin
Grand Canyon Helicopter Tours by Maverick
Awesomest Things to do in Las Vegas Every Day!