Fashion Show Mall Las Vegas
The Fashion Show Mall in Las Vegas offers the quintessential shopping experience.
Hours
Fashion Show hours are Monday through Saturday from 10:00am-9:00pm; and on Sunday the mall is open between 11:00am-7:00pm.
Located on the strip, this mall is spread over a massive area of 1,888,151 square feet and was built by the General Growth Properties Company. It features seven anchor stores, a fashion runway, more than 250 stores and a shopping experience unlike any other in Las Vegas.
Get Your Free Las Vegas Events Calendar!
Grand Canyon Helicopter Tours by Papilloin
Grand Canyon Helicopter Tours by Maverick
Awesomest Things to do in Las Vegas Every Day!

The mall is not just about shopping but about complete entertainment. The façade facing the strip has several large screens and a runway that opens up a few times a day. Fashion Show Mall offers an upscale shopping experience but it also has a number of options for those looking for more affordable deals. It offers a number of high end stores as well as flagship department stores offering options for clothes, jewelry, shoes and almost everything else you could think of.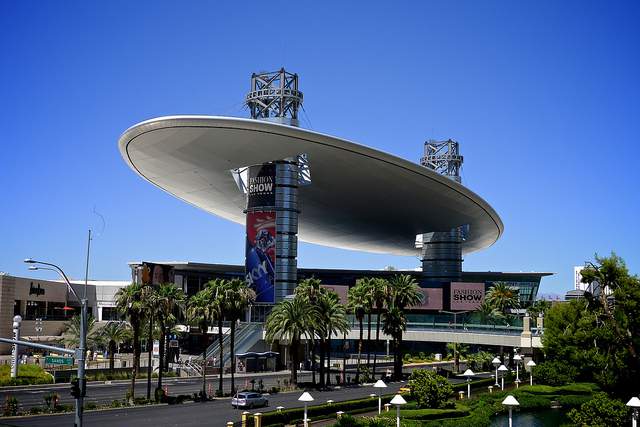 Photo by Dominik Morbitzer
Location and Accessibility
The Fashion Show Mall enjoys an easily accessible, central location which makes it easier for tourists to spot it. It is located next to the Treasure Island Resort and in close vicinity to some of the most popular hotels on the strip like Trump International, Encore and Wynn. The mall is connected to most of these hotels through escalators and bridges. However, because of the popularity of the mall, it does tend to get very crowded.
Fashion Show Mall offers ample parking spaces - there's an outside and underground parking.
Palms Hotel & Casino offers a shuttle bus that departs twice a day at 10 am and 5 pm.
The mall itself is extremely large and for some it can be quite overwhelming. However, there are several seating areas within the mall for those who want to catch a break. Finding stores is also relatively easy because of the clear directions within the mall.
The Fashion Show
What sets the Fashion Show Mall apart from most other malls in Las Vegas is the fact that it offers free fashion shows. The catwalk shows are scheduled from Friday to Sunday from 12 PM to 5 PM where shoppers can watch models displaying clothes, shoes and accessories that are sold at the mall. The mall has a retractable runway that pops out to provide a spectacular show. Another unique feature of this mall is the Cloud, a very well known sign on the strip. This large canopy not just offers shade to shoppers but is also used as a media screen to display bright lights and advertisements to attract shoppers.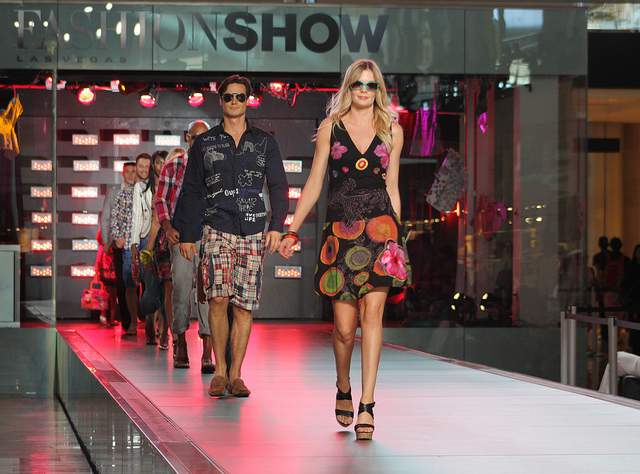 Photo by
Christian y Sergio Velasco
Stores at Fashion Show Mall
Fashion Show Mall offers an excellent range of high-end stores for an ultimate shopping experience. There are more than 250 stores that offer everything- women's and men's clothing, jewelry, shoes, accessories, electronics, toys, bath items, books, music, houseware and gifts. It has many flagship stores like Dillard's Macy's, Nordstrom, Saks Fifth Avenue and Neimen Marcus. In fact, the Fashion Show Mall Las Vegas is the only place in Nevada where you'll be able to find Saks Fifth Avenue, Nordstrom and Neimen Marcus.
If you're looking for designer options, you'll find high end stores like Tiffany's, Louis Vuitton, Steve Madden, Guess Marciano and Chinese Laundry. You will also be able to find something unique at one of a kind boutique stores like Zara, Z Gallerie and Pinto Ranch. The real treat at the Fashion Show Mall Las Vegas are the department stores. At Nordstrom, you'll find all the luxury brand options you're looking for. Saks Fifth Avenue is spread over 166,000 square feet, offering you all the options you'll ever need. Macy's has two different stores in the mall- Macy's and Macy's Men Store.
For something a little less expensive, the mall also has a Forever 21 anchor store spread over two stories and 126,000 square feet. There are also a number of other options like Banana Republic, Abercrombie & Fitch, bebe, Ann Taylor, Gap, Hollister, Mango and Kenneth Cole.
If you're looking for something to spruce up your home, the mall has a number of excellent home décor stores like Sur la Table, Henri Bendel, Z Gallerie and Centaur Art Galleries.
Restaurants
The Fashion Show Mall not only has a large food court where you'll find every imaginable cuisine but also a number of excellent restaurants. You can choose to relax and enjoy a quick gelato or some fast food at KFC, Hot Dog on a Stick, Subway, Taco Maker or Stripburger. However, if you really want to pamper yourself with a great meal, you'll find restaurants like El Segundo Sol, Ra Sushi, Johnny Rockets and the Nordstrom Marketplace Café.
The Capital Grille
The Capital Grille is a great option if you're looking for an indulgent fine dining menu. You'll find a good selection of seafood, wine, desserts and perfectly prepared steak. Another option is the Ra Sushi Bar. Not only is Ra Sushi known for great sushi but it also offers an outdoor seating area, happy hours every day and a DJ every evening. The happy hours run Monday to Saturday, 3-7 PM as well as 10-12 PM on Monday to Thursday. Drink prices are greatly reduced during the happy hours so you'll be able to have all the drinks you need to accompany your sushi.
El Segundo Sol
El Segundo Sol is one of the best Mexican restaurants in Las Vegas and is definitely an experience in itself. The restaurant has outdoor and indoor seating areas and offers all the delicious drinks that you'd expect from a Mexican restaurant. The food is quite delicious with a number of authentic offerings like Chile Rellanos, fajitas, fresh guacamole and more.
The Club
If you come and shop regularly at the Fashion Show Mall in Las Vegas, joining The Club can be a great way to enjoy some savings and get access to exclusive deals that you can't find elsewhere. All club members get exclusive offers for restaurants and stores in the mall. You'll also receive a welcome deal when you join the club and will always be the first to get alerts and updates on all upcoming events at the mall. The real benefit of joining The Club is that you'll have access to impressive discounts when you shop at the retailers or dine at some of the restaurants in the mall. Members of Fashion Show Mall in Las Vegas receive monthly newsletters with information on promotions and discounts.
More Attractions
Get Your Free Las Vegas Events Calendar!
Best of Vegas