The Best Day Trips From Las Vegas - Destination Guide
Here the best day trips from Las Vegas! If you are still unsure what to do in Las Vegas, explore the many national parks, famous landmarks and other destinations located around the city. Tours and day trips abound in Vegas - just decide where YOU want to go! I'll be your own Las Vegas tour guide and will show you where to go from Vegas and the most scenic tours to other popular destinations. You will find Las Vegas trips to and things to do at the Grand Canyon and Skywalk, Hoover Dam, Hollywood, Disneyland, Red Rock Canyon, Death Valley, Valley Of Fire, Bryce Canyon and Zion National Park, and of course the famous Gold Mine!
Current Deals
Grand Canyon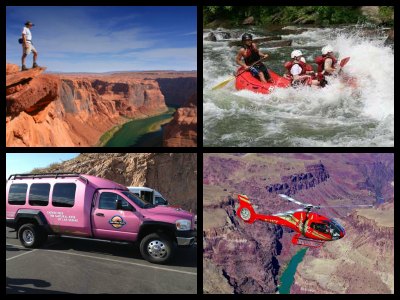 All Grand Canyon Tours
Helicopter Tours
Airplane Flights
Jeep Tours
Rafting Colorado River
Train Trips
Bus Trips
You can take Grand Canyon day trips from Las Vegas to the South Rim, North Rim, Grand Canyon West, and tours that combine a visit to the Grand Canyon with Hoover Dam. Grand Canyon is one of the most amazing parks in the world! There are plenty of ways to get to the Grand Canyon from Las Vegas - by helicopter, by train, by bus, by jeep and even by airplane. Tour prices vary from $100 for a simple bus trip to a bit over $500 for a tour that includes helicopter, boat and Skywalk.
Skywalk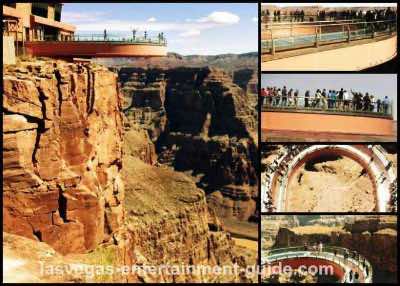 West Rim Indian Adventure by Helicopter
Skywalk Express by Helicopter
West Rim Air & Ground
Grand Canyon and Hoover Dam Bus Tour
West Rim by Bus, Helicopter And Boat
Grand Canyon by Hummer
Skywalk is an observation bridge with a glass floor, built at the edge of a canyon on the territory of Grand Canyon West, owned by Hualapai Indians. It offers a 360 unobstructed, awe-inspiring view of the Grand Canyon. Skywalk became a popular tourist destination on its own right. You can find your perfect Las Vegas trip to Grand Canyon Skywalk among the multitude of tours offered.
Hoover Dam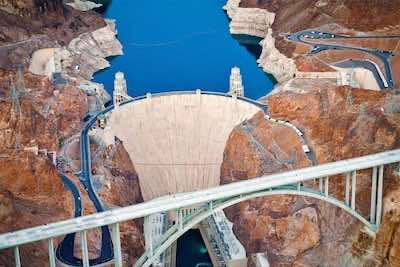 Hoover Dam Tours
Aficionados of mighty structures will appreciate the engineering marvel that is the Hoover Dam! The dam is located in the Boulder city, only about 25 miles (40 km) from Vegas, and is easy to reach. During Hoover Dam day trips from Las Vegas you can not only learn about the sad history that accompanied its construction - there is plenty to do around the dam. For example, sunbathing, water skiing or cruising the Lake Mead that the dam impounds.
Hollywood & Universal Studios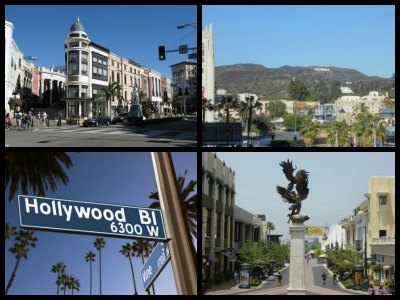 Hollywood Hop on Hop Off Tour With transportation from Vegas
Luxury Transfer To Los Angeles from Las Vegas
Vegas to LA Airplane Tour
Universal Studios Skip The Line
VIP Experience at Universal Studios
Hollywood Walking Tour
Hollywood Movie Locations Tour
Find Hotel in Hollywood
All Los Angeles Tours
Fancy a Hollywood day trip from Las Vegas? It's easy to arrange! You can take a Hollywood Freedom tour with bus transportation included (same day return to Vegas). Or get a luxury transfer to Los Angeles from Vegas, and enjoy a day or two on your own and stay at a hotel in LA, and then come back to Vegas. Here are some ideas on things to do in Hollywood on your tour!
1) Take the hop on hop off bus tour of Hollywood with around 50 stops. 2) Visit the world-famous Universal Studios to see how movies are produced. You can either opt in for a Skip the Line Admission and enjoy it on your own, or take a VIP Experience tour that will make you feel like a star and show you the best special effects and the most interesting locations of the Studios. Universal Studios is also one of hop on hop off bus stops, so you can combine the two. You can also take a walking tour or a movie locations tour of Hollywood, or find other fun tours in Los Angeles before coming back to Las Vegas on your luxury transfer bus. You can also choose airplane day trips from Las Vegas to Los Angeles that includes a flight and a choice between Santa Monica Beach Tour and admission to the Universal Studios.
Disneyland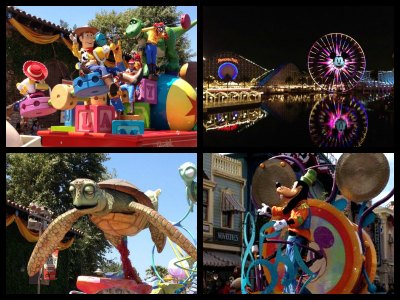 Luxury Transfer To Anaheim from Las Vegas
Find Hotel in Disneyland
3-4 days Vacation Package from Vegas to Disneyland and California Adventure Park With Hotel (Best !)
2 Days Admission to Disneyland
3 Days Admission to Disneyland
4 Days Admission to Disneyland
5 Days Admission to Disneyland
Las Vegas and Disneyland, so different and so alike! Two happy heavens - one for adults, the other for kids, or those who are kids at heart! But I've got sidetracked. You can easily create a magical vacation for yourself and your kids by combining two trips into one - taking Disneyland day trips from Las Vegas. Of course, one day is too little in this magnificent place, so you will need to spend at least 2 days in Anaheim, where Disneyland is located, before coming back to Las Vegas to continue your vacation. You can arrange your Disneyland getaway on your own by taking a transfer to Anaheim and booking a hotel, or opt in for the 3-4 days all inclusive vacation package with transportation, hotel and admission to Disneyland and California Adventure parks (located next door).
Red Rock Canyon
Red Rock Canyon tours
Rock Canyon day trips from Las Vegas are extremely popular! Activities at the Red Rock Canyon include hiking, biking, tours by bus, exotic cars and even three-wheel scooters! Red Rock Canyon is a gorgeous park located only about 30 minutes from Las Vegas, and it's one of those hidden gems locals are proud of! It's a small gem and is perfect to escape to from the buzzing city. They come here to hike, camp, bike, ride horses and rock climb. If you don't want to do all that, you can just drive and take a tour around the Scenic Loop that shows the best of the canyon. Red Rock Canyon is famous for unique geological rock formations that have a bright red color. You can also find here rock paintings left by the ancient Indians, unique Joshua trees that are so big they will blow you away, and of course, animals. The Red Rock Canyon has interesting and rich history. Red Rock Canyon is also home to 2 ranches that offer attractions of their own and are worth a visit Bonnie Springs and Spring Mountain State Park that you can also visit on a Las Vegas day trip.
Valley of Fire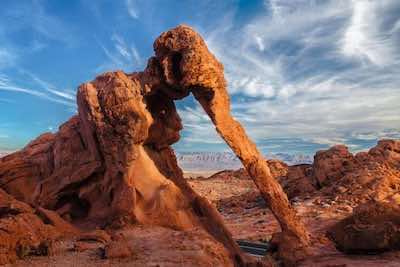 Valley Of Fire tours
During Valley of Fire day trips from Las Vegas you will get a feeling that you are visiting another planet - Mars, perhaps. The rock formations have very unusual shapes - they look like sculptures in a museum under an open sky. The most famous statue is the Elephant Rock. In bright sun, when sun rays are reflected from the surface of the rocks, they appear to be on fire.
The valley's unusual beauty made is one of the poplar destinations for outdoor weddings or even helicopter weddings! But if you are not ready for the big step yet (ha-ha), you can find excellent ATV and dune buggy tours. Riding a Mini Baja Buggy is actually safe for kids 3 years and older, and it's hard to think of a better way to spend a day out than taking one of the best tours you can imagine!
Death Valley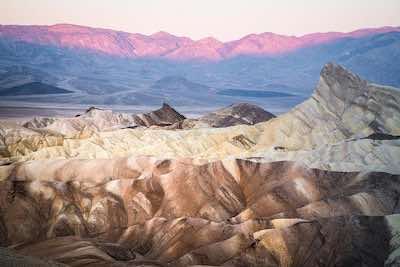 Death Valley Tours
Death Valley is one of the most fascinating, albeit the hottest park located within about 2,5 hours drive from Las Vegas. Death Valley is comprised of several unique places that you won't see anywhere else in the world. For example, there is a region called Badwater Basin - the lowest point in the Northern Hemisphere. It's bottom is covered with hexagonal salt formations.
Death Valley day trips from Las Vegas might be a great idea if you think you might enjoy the lowest, the driest and the hottest place in the United States! Death Valley boasts some of the most gorgeous landscapes and truly is a photographers' and movie-makers' paradise.
Other points of interest in Death Valley are Ubehebe Crater formed during a volcano eruption, Devil's Golf Course with salt formations completely different from those in Badwater Basin, Racetrack Playa with stones that move all by themselves. If you decide to take a tour from Las Vegas to Death Valley, don't miss the opportunity to visit the ghost town of Rhyolite and it's Goldwell Open Air Museum.
Lake Mead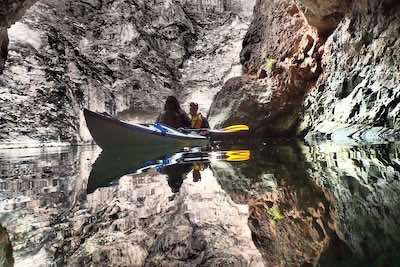 All Lake Mead Tours
Lake Mead cruises are a popular pastime in Vegas - probably because the city is located in the middle of a desert! There are plenty of things to do on Lake Mead year round - you could rent canoe, kayak, jet ski or a houseboat. You can combine Lake Mead day trips from Las Vegas with a boat cruise with a delicious dinner and make it a perfect romantic evening!
Zion National Park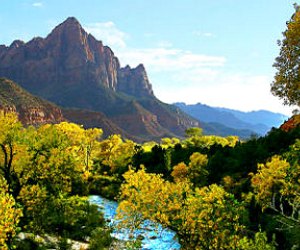 Book Zion National Park Tour
Book Tour of Bryce Canyon and Zion
Book 3 Day Tour: Bryce Canyon, Monument Valley and Zion
Book 3 Day Tour: Grand Canyon, Zion and Bryce Canyon
Zion National Park day trips from Las Vegas is a perfect idea if you want to escape all the hustle and bustle of Vegas - it's an incredibly beautiful gem located in Utah.
Zion is famous for interesting rocks created by the Virgin River. Among points of interest in Zion are: Canyon Overlook Trail, Observation Point from where you can see the stunning Angel's Landing, hiking down The Narrows trails, and for the most experienced with permission - The Subway hiking trail that looks like a tunnel.
Bryce Canyon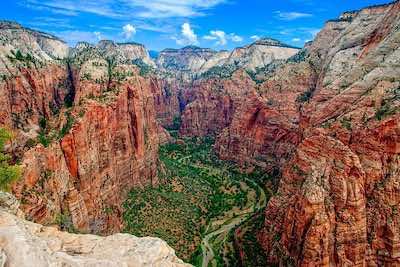 Book Bryce Canyon Tour From Vegas
Book Bryce Canyon and Zion National Park Tour From Vegas
Book 3 Day Tour: Bryce Canyon, Monument Valley and Zion
Book 3 Day Tour: Grand Canyon, Zion and Bryce Canyon
While we are on the subject of the best Las Vegas tours to national parks, I have to mention Bryce Canyon - one of the most photographed parks in the world! Since they are all located pretty close, you can combine Bryce Canyon day trips from Las Vegas with a visit to Zion National Park and to the Monument Valley (described below).
Bryce Canyon is famous for very special rock formations called "Hoodoos" which look like tall, thin pyramids. Paiute Indians believed that these Hoodoos are actually people turned into stone for bad deeds. The flora at Bryce Canyon is also very unique and consists mostly of fir trees that look incredible in winter, all covered in snow. If you hike down Bryce Canyon - you will be amazed by it's beauty! Other activities at the canyon include snow shoeing in winter and horseback riding in summer. Thanks to very light pollution, at night in Bryce Canyon you can see stars without having to look up in the sky - the Bryce Canyon claims to have one of the brightest skies in the world!
Monument Valley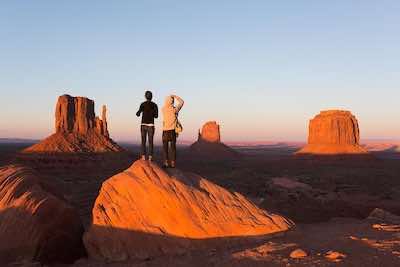 3 Day Tour: Bryce Canyon, Monument Valley and Zion
tours from Las Vegas to Monument Valley: Air and Jeep Tour
Monument Valley and Navajo Indian Reservation
We are getting farther and farther from Las Vegas, but this is the last national park reachable within one day! Monument Valley day trips from Las Vegas will leave long lasting memories. Monument Valley is located on the territory of Navajo Indian Reservation, and it's oh so familiar to many of us who like Wild West movies! Because of it's picturesque and imposing rocks that look like monuments, the valley is a beloved spot of Hollywood producers! Some of the movies shot in Monument Valley include: Wild Wild West (1999), Once Upon a Time in the West (1968), Mission: Impossible II (2000). Other than unbelievable landscape, the valley offers hot air balloon tours and horseback riding.
Eldorado Canyon & Techatticup Gold Mine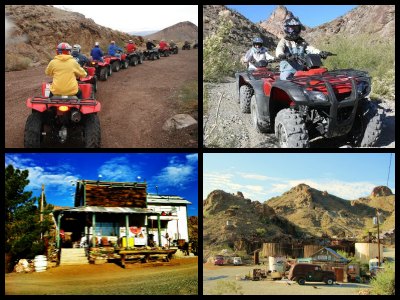 Techatticup Mine and El Dorado Canyon Gold Mine Trip With ATV Ride (Not For Children)
El Dorado Canyon Tour by Pink Jeeps - Perfect For Family
El Dorado Canyon, located at the Lake Mojave, is a picturesque little oasis in the middle of the desert. However, it's mostly famous for the Techatticup Mine, that is now a historic site. The mine is part of the dark past of Nevada - it took away many lives during the Great Gold Rush in the 1800s.
If you are coming to El Dorado Canyon without kids, don't miss your chance to take an ATV tour of the one of the most picturesque canyons during your day trips from Las Vegas!

Top Pages
Hottest Deals
Do you have any questions or Comments?
Find Me On Facebook
Add your Event