Las Vegas Topless Shows 2014
There are Las Vegas topless shows scheduled for 2014, for any taste! Vegas is exactly the place where sexy girls show more than their great personalities. If you are into strip shows, prepare for the wildest romp of your life in the Sin City!
Strip Shows
Crazy Girls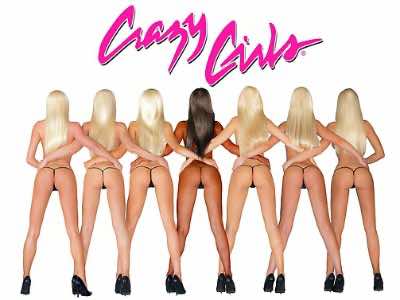 Location: Riviera Hotel & Casino - Crazy Girls Theater
Schedule: On Wednesday - Monday at 9:30 pm
Age limit:18+
Review: Crazy Girls continues the long tradition of cabaret shows in Vegas. The show features beautiful costumes, erotic dancing and of course sexy girls. It's one of the longest-running Las Vegas topless shows, but don't worry - the cast is not the same. This is one of the last shows where you can experience the "old" Vegas (the other being Jubilee!).
Back to Top
X Burlesque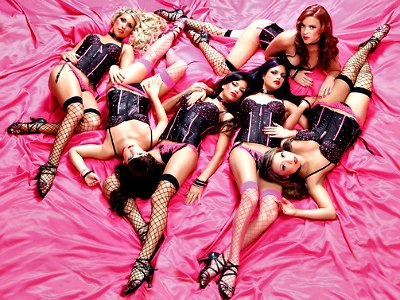 Location: Flamingo Hotel - Bugsy's Cabaret
Schedule: Every night at 10:00 pm
Age limit:18+
Discount Tickets
Review: What can you expect from X Burlesque? 6 beautiful topless girls who dance, tease, seduce and playfully interact with the audience. While the girls change costumes, audience is entertained by stand up comedians. The show is set in an intimate theater with around 180 seats, so no matter where you seat you can enjoy the action close-up. Heads up: Some seats in the theater face away from the stage.
Back to Top
Fantasy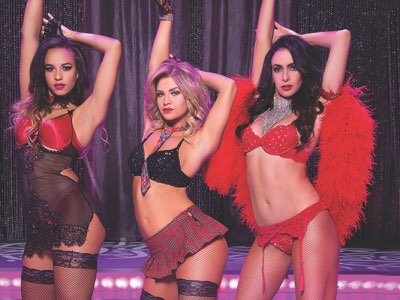 Location: Atrium Showroom - Luxor Hotel
Schedule: Every night at 10:30 pm
Age limit:18+
Review: One of the sexiest Las Vegas adult shows, Fantasy combines the best of what exists in the world - beauty, music, dance, song, comedy, and of course gorgeous girls who dress up in sexy costumes and play out various fantasies - heck, that's why it's called Fantasy! This is a fun, light and entertaining Las Vega strip show.
Back to Top
Pin Up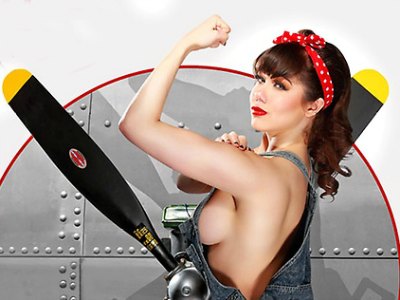 Dates & Time: Thursday-Monday at 10:30 pm
Location: Stratosphere Theater at Stratosphere Hotel & Casino
Age limit: 21+
Discount Tickets
Review: Stepping away from modern Las Vegas topless shows, Pin Up is a retro-style adult show playing at Stratosphere Hotel & Casino. Pin Up is a tribute to the 1940-1960 era that created classic calendar girls - Betty Page, Betty Grable, Rita Hayworth and others. The star of the show is Playboy's Clair Sinclair - the modern "Pin up" girl, backed up by sexy ladies and singer/musician Frankie Moreno who, by the way, wrote music for the show. Through the use of sexy old-fashioned frilly costumes, retro music and dancing, the show recreates the atmosphere of the 50's. This might not be for everyone, but if you feel nostalgic about the era of the pin up girls, or are curious what captured imaginations of millions of men around the world during the 50s, this show is for you. Pin Up is pretty vanilla, but adult and sexy nevertheless.
Back to Top
X Rocks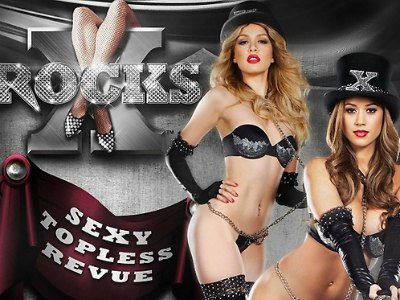 Location: Rio Crown Theater
Schedule: 10:00 p.m. Thursday - Sunday
Age limit:18+
Discount Tickets
Review: X Rock is the newest creation of the producers of two popular strip shows Raack N Roll and X Burlesque, Matt and Angela Stabile. The show manages to combine what seems impossible - hardcore rock music by artists like Alice Cooper, Black Sabbath and Metallica, and sexy dancers who leave little to imagination. To cool you down, the show had a nice break filled with hilarious stint by comedian John Bizarre. In a city like Las Vegas, where strip shows come and go in the blink of an eye, this is a nice distraction for gentlemen (and couples) who enjoy hard rock music and pretty topless ladies.
Back to Top
DreamAngels Topless Review
Location: House ShowClub
Schedule: 9:30 p.m. Wednesday - Sunday
Age limit:18+
Check out the newest Strip show in Las Vegas - DreamAngles are 6 sexy dancers performing at the new House Showclub and Afterhours.
Back to Top
Zombie Burlesque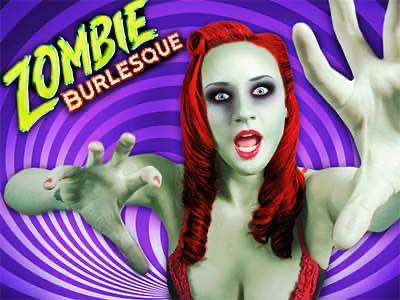 Venue: V Theater at Planet Hollywood
Date & Time: Monday-Saturday, at 8:30 pm
Age restrictions: 16+
Review: Immerse yourself in the 1958, when the area around Las Vegas was a test site for atomic bombs. You will be one of the few living people in this all-zombie nightclub. Sexy undead creatures dance, sing and put on classic burlesque shows.