Las Vegas Dune Buggy Tours 2023-2024
Riding a Las Vegas dune buggy is among the coolest, adrenaline-filled activities in 2023-2024, perfect if you are looking for something different to do in the Sin City! Ride in a 2-passenger buggy or rent your own and chase each other in Nellis Dunes or in Valley of Fire!
Valley of Fire Buggy Tour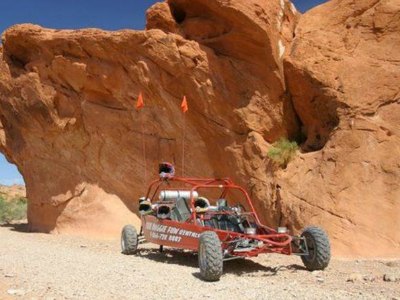 Take a thrilling ride of a lifetime on this Las Vegas dune buggy tour through the wonders of Valley of Fire State Park and experience the beauty of the natural surroundings. The Valley of Fire area has been recognized as one of the best off-road driving environments in the world. Your 3.5-4 hour guided tour will include stops for Bighorn sheep viewing as well as plenty of opportunities for you to shoot some very special photographs of the unique red rock formations, cliffs and sand dunes. Your heart will race with the wind as you maneuver through this picturesque landscape. The dune buggies are all built to meet or exceed all safety regulations and your tour includes safety training as well as all safety equipment. This tour does not offer single seat buggies and the rate is based on each participant. All drivers must possess a valid driver's license and be at least 18-years of age.
Get Your Free Las Vegas Events Calendar!
Grand Canyon Helicopter Tours by Papilloin
Grand Canyon Helicopter Tours by Maverick
Awesomest Things to do in Las Vegas Every Day!

More Tours
Get Your Free Las Vegas Events Calendar!
Best of Vegas