exotic car driving In Las Vegas in Las Vegas in 2022
Driving an exotic car in Las Vegas is once in a lifetime opportunity! Renting a classic car in Vegas will make a perfect gift for your husband or boyfriend. Before renting a car for a drive or for a tour, you will get a though training by professional driving instructors on how to get the most out of your exotic car and help you make up your mind about which car to drive.
Vegas Dream Racing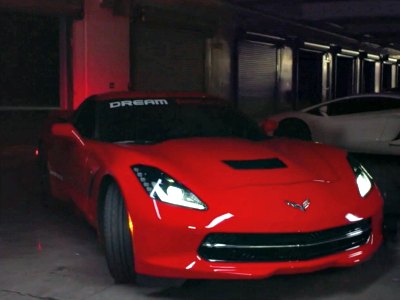 Best Seller! This is one of the most popular among exotic car driving Las Vegas tours. Select your favorite among these 9 gorgeous luxury cars and race 5 to 8 laps at full gear around the race track at Las Vegas Motor Speedway.
The Power Package includes 5 to 8 laps on the following exotic cars:
Ferrari F430 Scuderia
Lamborghini Gallardo LP550-2
Porsche 997 Turbo S
Aston Martin Vantage S
Audi R8 V10
Nissan GT-R
Mercedes SLS AMG
Porsche Cayman GTS
Men will love this exotic car driving experience, and it would make a perfect gift for celebrating a birthday in Las Vegas! Not only will you get behind the wheel of your chosen sports car for a drive, you will have the time to explore other cars, sit inside and take pictures you can show off to your friends. This exotic car Las Vegas racing experience also includes a professional instruction and 2 laps in a Porsche Cayenne GTS to practice before the actual tour.
Exotic Supercar Driving Experience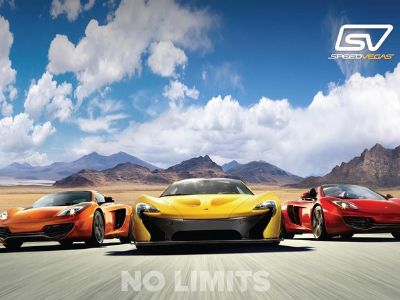 One of the most exciting exotic driving experiences you can have in Las Vegas is to try the Exotic Supercar Driving Experience. Your 2-hour adrenaline filled driving experience begins with free pick-up service from your Las Vegas hotel where you will be taken to the fabulous Las Vegas Motor Speedway. Here you will engage in a short safety briefing before being outfitted with all the safety equipment you need for your thrilling driving experience. After a short driving lesson from a licensed professional race car driver you will set out on your own in a super-fast race car like a Porsche 911 GT3 RS, a Ferrari 488 GTB, or a Lamborghini Huracan. Once inside your race car you are ready to experience the highest adrenaline rush of your life as you hit speeds of 140 mph on the straightaways and maneuver around numerous curves on the track. There are options for five or ten laps depending on how much terror and high speed racing your heart can take. Your high octane day at the motor speedway concludes with drop-off service back at your Las Vegas hotel.
Exotic Car Driving Experiences at Las Vegas Motor Speedway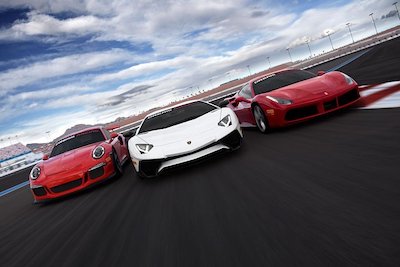 An interesting exotic car experience in Las Vegas that mixes classroom techniques with actual race car driving is the Exotic Car Driving Experience at Las Vegas Motor Speedway. Your adrenaline filled 2-hour driving experience begins when you are picked up from a central location in Las Vegas and transported to the Las Vegas Motor Speedway. Here you will go through the registration process with your VIP guide before being handed over to your driving instructor who will go over safety equipment and a quick driving session on how to handle the extreme power of these racing cars. After your safety briefing you will enter into a 3D simulator that looks exactly like a Ferrari F430 GT complete with dashboard, pedals, steering wheel, and shifting gears. The simulator takes you around the track for a real life driving experience on the Las Vegas Motor Speedway complete with bumps and grinds of the track. Now you are ready to take a real Ferrari F430 GT onto the racetrack where you will navigate the multiple turns and hit speeds of up to 140 mph while driving the straightaways. Your day of racing concludes with drop-off service back to your pick-up point on the Strip.
Polaris Slingshot Rentals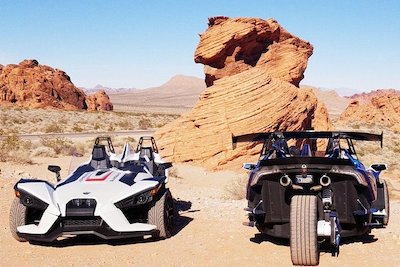 When you want to see the sights of Sin City but don't want to hassle with tour guides, then the best option for you to take is a Polaris Slingshot Rental. Your Las Vegas exotic car adventure has an option of 4-hours or 8-hours and begins when you arrive at Arville Street to pick-up your supercharged 5-speed stick Polaris Slingshot Rental. After learning more about driving this magical machine, you can choose your own route with maps that are provided. You have numerous options from driving to Red Rock Canyon National Conservation Area to Valley of Fire State Park to Mount Charleston. Other options include cruising the Strip taking in the sights like the Welcome to Fabulous Las Vegas Sign, the Bellagio Fountains, the Eiffel Tower, the interesting architecture of Caesars Palace, and of course the high towering Stratosphere. When you are finished seeing all the wonderful places you have dreamed of seeing, your tour concludes back where you started.
Exotic Car Driving Package in Las Vegas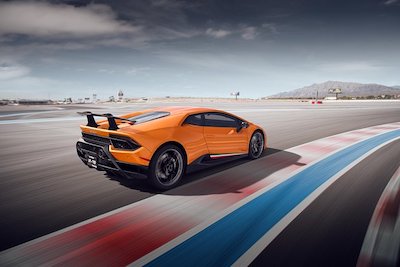 If you are seeking to have a fun time filled with high velocity and plenty of adrenaline, then the Exotic Car Driving Package in Las Vegas is perfect. Your 2-hour driving adventure begins when you arrive at the Las Vegas Motor Speedway. Here you will meet expert racing instructor who will go over the basics of safety and inform you how to get the most of one of the 13 exotic cars available for you to drive. After some intense one-on-one coaching you will strap yourself in the passenger seat of a Porsche Cayenne GTS for two laps with your instructor. While riding you will learn more about exotic car racing and how to handle your high powered vehicle around the track. Now it's your turn to get behind the wheel of one of the 13 different exotic cars that include everything from a Porsche to a Lamborghini to a Ferrari and even a muscle car like a Dodge Hellcat SRT. While driving you can expect to hit speeds of 130 mph down the straightaways as your adrenaline hits new highs when you race around the turns and the S-shaped track. Your adrenaline filled adventure concludes when you complete your specified number of laps in your superfast exotic car.
Exotic Racing
One of the best Las Vegas racing tours for you to experience that is sure to get your adrenaline running on high octane is at Exotic Racing. Your 2-hour adrenaline filled journey begins when you arrive at the 1.5-mile Las Vegas Motor Speedway just 15-minutes away from the Strip. Here you will enter a classroom to learn all the interesting techniques from steering to braking to accelerating to choosing the right line used by world-class drivers. When the briefing is finished you will go for an exciting ride in a Porsche 991 GT3 with a qualified instructor for two incredible laps around the track before taking the wheel while the instructor gives you tips while you drive up to 140 mph on the straightaways. Now pick out the racing car of your choice which includes models like a Nissan GT-R, Mercedes AMG GTS, a McLaren 5705, and several Ferrari and Lamborghini racing cars. After you suit up in safety gear you go on the dream ride of your life where you navigate one of these high-powered racing cars around the track that includes multiple turns for drifting and straightaways for accelerating that will take your make your heart jump and pump with joy.
Plan Vegas Stay
Strip Hotels

Shows

Fun Activities

Tours

Grand Canyon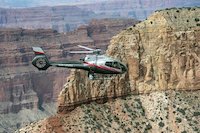 What's Hot