Best Indian Restaurants in Las Vegas In 2022
There are a number of quality Las Vegas Indian restaurants for you to visit that will surely please your taste buds and you can find a coupon for most which adds value. When you want Nepalese influenced cuisine then try Mount Everest India's Cuisine. If you are seeking more than a buffet at lunch then Delhi Indian Cuisine or Curry Leaf Flavors of India are ideal with their a la carte menus.The Mint Indian Bistro boasts a lassi bar. The India Palace has been in business for 16 years and the Taj Palace will engage with your taste buds. If you are looking for a view then watch airplanes take-off at Pure Indian Cuisine and Tamba is directly on the Strip.
Mount Everest India's Cuisine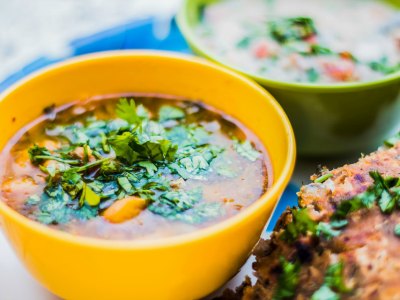 Address: 3641 W Sahara Ave
Prices: $$-$$$
When you want to indulge in a Las Vegas Indian restaurant that has cuisine influenced from Nepal region as well as north and south India then you need to try Mount Everest India's Cuisine. Located along West Sahara Avenue, the establishment has a traditional Indian interior with red curtains, archways and numerous gold colored statues as well as Bollywood music playing in the background. They serve a buffet for lunch which includes many dishes that are great for meat-eaters like the chili chicken and vegetarians enjoy items such as saag paneer. The a la carte menu for dinner has scrumptious dishes like lamb biryani, chicken pepper fry and vegetarians rave about the aloo gobi as well as the baingan bharta. Dessert offers a nice kulfi or rusmalai. When you want to add value to your meal then check Groupon online for coupons.
Get Your Free Las Vegas Events Calendar!