The Best Seafood Restaurants in Las Vegas
There is a fine assortment of Las Vegas seafood restaurants which can accommodate all types of palates from gourmet foodies to casual diners to people looking for a quick tasty meal. Diners who want something fast and flavorful should try the Lobster ME as well as Gordon Ramsey's Fish and Chips. If you want to experience a Mediterranean fish market then visit Estiatorio Milos and Emeril's New Orleans Fish House brings the flavors of New Orleans to your mouth. Casual diners will find innovative dishes at RM Seafood and the Oyster Bar serves up numerous styles of oysters. Gourmet foodies will be drooling at the dishes prepared at Michael Mina. The unique architecture at Mastro's Ocean Club will have you thinking of Robison Caruso and the magical Lake of Dreams will dance for you while dining at Lakeside.
Estiatorio Milos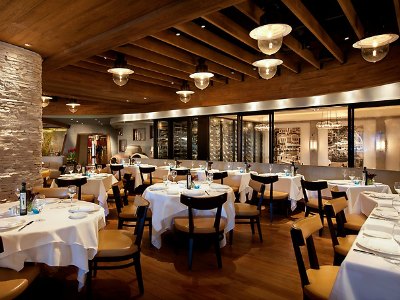 Address: Inside The Cosmopolitan of Las Vegas
Prices: $$$$
The Estiatorio Milos is the best Mediterranean style Las Vegas seafood restaurants in Sin City that puts a Greek twist on innovative dishes inspired by award winning chef Costas Spiliadis. Located within the Cosmopolitan, the restaurant has chic interior with a relaxed atmosphere that is highlighted by a fresh fish market and is open for lunch as well as dinner. Lunch brings a great 45-minute 3-course price-fixed menu which includes options like Mediterranean octopus and organic salmon. Dinner takes your seafood experience to the market where specialty fish from the Mediterranean Sea such as rofos, lithrini, dorade royale as well as turbot are sold by the pound and then prepared in masterful Mediterranean ways. Other specialties include sashimi style octopus, ahnisto and Milos special which is deep fried eggplant as well as zucchini served with tzatziki. Happy hour brings value with a selection of small plates and discounted drinks.
What's Hot
Emeril's New Orleans Fish House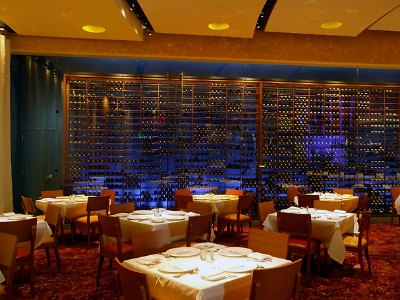 Address: Inside MGM Grand
Prices: $$$$
When your taste buds want to be elevated to a new level at a Las Vegas seafood restaurant then an ideal place to eat is Emeril's New Orleans Fish House. Located within the MGM Grand, this contemporary eatery has an exciting interior that features unique fish sculptures, brightly colored glass and plenty of neon. Open for lunch and dinner, award winning chef Emeril Lagasse has put together a fantastic menu that celebrates the flavors of New Orleans in his seafood creations. The menus are eclectic with delights that range from fried Florida frog legs to Louisiana style broiled oysters to pecan crusted Texas redfish to crab stuffed gulf shrimp as well as several creole grilled steaks which can be topped off with jumbo lump crab Oscar. Happy hour brings a Mardi Gras atmosphere with smartly priced treats and drinks that is sure to please everyone.
Mastro's Ocean Club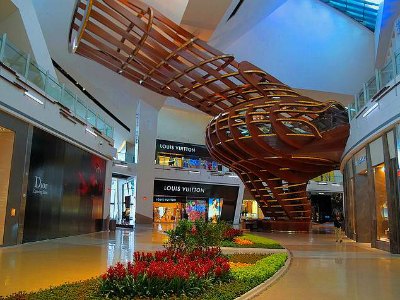 Address: At CityCenter Las Vegas
Prices: $$$$$
If you want a unique dining experience at a Las Vegas seafood restaurant that has you dining on the bounty of the seas in an architecture masterpiece then you should try Mastro's Ocean Club. Located within the Shops at Crystals, this fine dining restaurant is situated within a wooden shaped treehouse that climbs to the ceiling of the mall and is open for dinner. The three-tiered Mastro's signature seafood tower is a must appetizer which can be followed by crowd pleasers like the Asian style Hawaiian big eye tuna, Chilean sea bass, a blackened Pacific swordfish or the vanilla battered twin lobster tails. Grilled items such as a rack of lamb and a bone-in ribeye go well with superb side dishes like the lobster mashed potatoes as well as the Alaskan king crab black truffle gnocchi and the rich butter cake for dessert is heaven.
Photo by Dailymatador
Lobster ME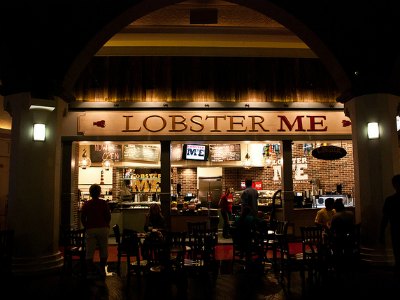 Address: At Miracle Miles shop at Planet Hollywood
Prices: $$
The Lobster ME is an ideal quick service Las Vegas seafood restaurant for all types of foodies who are searching for delectable seafood sandwich cuisine. Located in Planet Hollywood within the Miracle Mile Shops, this quick service delight has a casual atmosphere for shoppers browsing the shops and is open for lunch as well as dinner. There is a wide variety of sandwiches that can be found including the signature lobster rolls like the London, Connecticut and the Cajun shrimp roll receive high marks. The lobster mac and cheese is a winner and the lobster tacos as well as the lobster grilled cheese are delicious. Other items worth noting are the combos which are prepared with fish, chicken or shrimp and are served with chips as well as the lobster bisque which is served in a bread bowl.
Photo by keithreed01
RM Seafood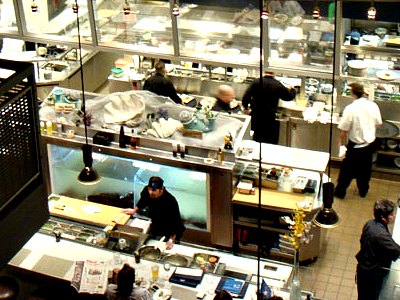 Address: Inside Mandalay Bay
Prices: $$$-$$$$
If you are interested in finding a quality Las Vegas seafood restaurant that thinks about sustainable fishing practices when designing the menu then you must try RM Seafood. Located within Mandalay Bay, this upscale eatery created by award winning chef Rick Moonen has a light filled contemporary interior highlighted by numerous celebrity photographs on the wall and is open for lunch as well as dinner including weekend brunch. There is a raw and sushi bar as well as a la carte menus for all meals. There is a popular 3-course business lunch menu and dinner brings a variety of fresh fish specials from grouper to halibut to salmon to help nurture environmental awareness of the world's oceans. The key lime pie is divine for dessert and happy hour features reduced prices at the raw and sushi bar as well as reasonable drink prices.
Photo by Anne-Marie Nichols
Gordon Ramsay Fish and Chips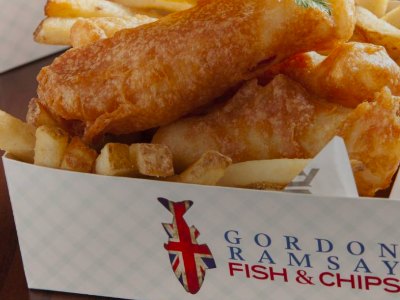 Address: Inside The Linq
Prices: $$-$$$
The Gordon Ramsay Fish and Chips is a unique concept for a Las Vegas seafood restaurant that combines the flavors of England with a definite Sin City attitude. Located at the LINQ, this casual quick service restaurant has an adorable British tone to the interior with limited seating and is open for lunch as well as dinner. The concept is simple but the traditional English style fish, chips and bangers will have your taste buds dancing on the table. As you enter you order from a menu that is quite limited with fish, shrimp, sausage and chicken available in either a basket style or sandwich style. The dishes are prepared delightfully crisp and you have your choice of six different dipping sauces from a Southwest ranch to European-style mayonnaise to Sriracha aioli. A must try drink to accompany your meal is the sticky toffee pudding shake.
Michael Mina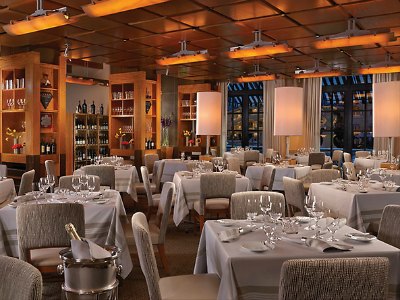 Address: Inside Bellagio Las Vegas
Prices: $$$$
If you are searching for a Las Vegas seafood restaurant which has an exquisite menu designed by a Michelin award winning chef then you need to dine at Michael Mina. Located at the Bellagio behind the Conservatory, this fine dining restaurant has a subdued contemporary decor with an upscale ambience which is complimented by gorgeous art on the walls. Open for dinner, the menus here appeal to many people who are searching for new innovative cuisine with tasting menus available for the pre-theatre crowd, vegetarians and foodies as well as an a la carte selection that pleases the taste buds. Signature dishes at this establishment are the caviar parfait as well as the tuna tartare for starters which are followed by entrees such as a phyllo crusted sole and the lobster pot pie is delicious. Desserts bring the famous Michael's root beer float which is a must eat item.
Oyster Bar 
Address: Inside Harrah's
Prices: $$-$$$
When you want to find a Las Vegas seafood restaurant that specializes in the freshest oysters to be found in Sin City then you need to dine at the Oyster Bar. Located with Harrah's, this casual dining spot is open for lunch as well as dinner and offers a superb selection of oysters that can be prepared as a shooter or six different tasty ways which range from grilled to Rockefeller style to deep fried with the oyster royale being a big hit with patrons. The restaurant puts a Cajun twist on most of the seafood dishes on the menu with standouts such as Cajun scallops, Bourbon Street jambalaya as well as a parmesan-crusted halibut pleasing diners and the New England clam chowder receives high marks. If you like early happy hours then this spot is perfect with discounted oysters, martinis and beer.
Lakeside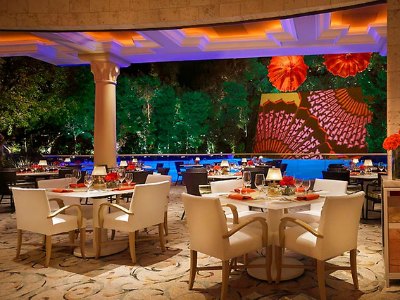 Address: Inside Wynn Las Vegas
Prices: $$$$
If you want to dine at one of the best Las Vegas seafood restaurants which prepares ocean-to-table quality dishes paired with a fantastic view of the Lake of Dreams then you need to eat at the Lakeside. Located within the Wynn adjacent to the Lake of Dreams, this establishment has a relaxing atmosphere with a chic interior that includes incredible views of the Lake of Dreams and is open for dinner. Menu items that patrons adore have been the lobster risotto, the Dover sole as well as the king crab mac and cheese is a hit. There is a very extensive vegetarian menu with dishes such as vegan crab cakes and vegan chowder being crowd pleasers. The ocean-to-table philosophy really stands out with superb flavor of fresh seafood combined with delicate sauces and the fantastic light show on the Lake of Dreams will make for a memorable evening.
Plan Vacation
Strip Hotels

Shows

Fun Activities

Tours

Attractions

Do you have any questions or Comments?