The Best Las Vegas Mexican restaurants In 2023
Below are my reviews of the best Las Vegas Mexican restaurants! For diners looking for an authentic no thrills taco experience then head to Tacos El Gordo or El Segundo Sol. Upscale diners looking for a trendy atmosphere can try the Border Grill and T&T-Tacos & Tequila brings flavors of trendy Mexico City as well as YOLOS Mexican Grill where you will find 60 different tequilas. You can grab a street taco at Canonita while you shop at the Grand Canal or visit Hussong's Cantina Las Vegas for a margarita and you will find a fine dining element at Javier's. Families will like the diversity of the menu at Cabo Wabo Cantina as well as the assortment of flavors and the portions served at Nacho Daddy.
Javier's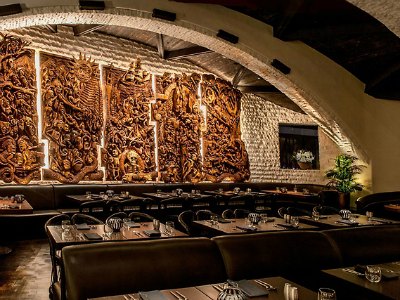 Location: Inside Aria Hotel
Reservations recommended : 866-590-3637.
When you want to have a fine dining experience at a Las Vegas Mexican restaurant that is sure to bring your taste buds to life with sophisticated dishes, then you should go to Javier's. It is a popular upscale restaurant that features innovative traditional cuisine from all around Mexico with a modern twist.
Javier's was founded by Javier Sosa, who opened the first restaurant in Laguna Beach, California in 1995. Since then, the restaurant has expanded with additional locations in several US cities, as well as in Los Cabos, Mexico. One of their locations is at Aria Las Vegas, which is a perfect location for visitors looking for an upscale Mexican dining experience.
Javier's at Aria boasts chic and elegant ambiance, vibrant atmosphere that sets the perfect tone for a memorable meal. Once inside, you will be treated to plenty of ambiance, which includes carved woods with Aztec motif, and a high-arching, colonial-style ceiling accented with a rope-style chandelier.
Javier's menu showcases an array of delectable dishes from different regions of Mexico. Guests can enjoy specialties such as Callitos Mazatlan (premium wild scallops), Pescado a la Veracruzana (seared season fish), and Cabo Azul (Maine lobster), Mole Poblano (chicken breat), Michoacan-style carnitas, and Suiss-style Enchiladas.
To complement your meal, Javier's Las Vegas offers an impressive selection of quality tequilas, ranging from white to reposado to anejo. They are perfect for sipping while enjoying the world-class cuisine that Javier's is renowned for.
Get Your Free Las Vegas Events Calendar!
Grand Canyon Helicopter Tours by Papilloin
Grand Canyon Helicopter Tours by Maverick
Awesomest Things to do in Las Vegas Every Day!

Get Your Free Las Vegas Events Calendar!
Best of Vegas