The Best steakhouses in Las Vegas In 2023
The number of steakhouses in Las Vegas overshadows the number of any other type of restaurants in the city (with the exception maybe of Italian restaurants. Therefore, I was very picky when creating this list of the best ones! But rejoice, dear carnivores, you are in luck in the Sin City - in these steakhouses you will be treated to delicious lunches and dinners, worthy of a royal banquet, and pampered respectively!
Gordon Ramsay Steak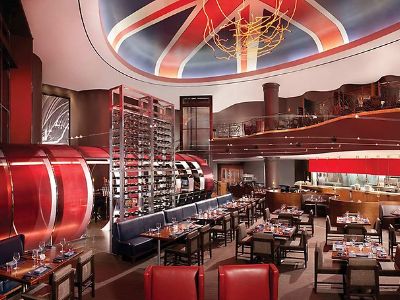 Address: Inside Paris Las Vegas
Prices: $$$-$$$$
If you are a fan of the larger-than-life TV Chef personality Gordon Ramsay, a visit to his Las Vegas Steakhouse is a must. Gordon Ramsay Steak is known for its famous hit dishes that are plated to perfection. Located inside the Las Vegas Paris Hotel, the restaurant brings a boisterous vibe of London to glitzy Vegas. The setting is chic with ceilings that flutter the Union Jack flag. For trend setters, there is a private dining room or a choice to sit at the Chef's table and watch meals being prepared. A classy bar and lounge offer a place to unwind before your meal. The menu tempts with classic British favourites like Beef Wellington and Shepherd's Pie. Ramsay is a master of prime beef cuts, perfectly aged, and a massive steak smothered in his unique house sauce is a must. Wash it down with an exotic handcrafted cocktail and end your meal with the legendary sticky toffee pudding.
Get Your Free Las Vegas Events Calendar!
Grand Canyon Helicopter Tours by Papilloin
Grand Canyon Helicopter Tours by Maverick
Awesomest Things to do in Las Vegas Every Day!

Get Your Free Las Vegas Events Calendar!
Best of Vegas