Las Vegas Bottle Service Explained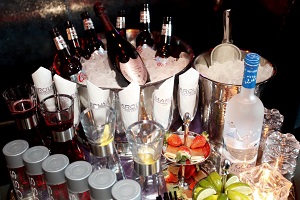 "Las Vegas bottle service" is the term you'll keep seeing if you look up pretty much any VIP package in Las Vegas that includes a visit to a night club, whether it be for your bachelor party, special event, birthday, or whatever. Now, if you're like most folks, you don't swing like a VIP when you're at home, you save it so you can go out in style when you go on vacation, and Vegas is certainly the place to do it. So what the heck is bottle service, why is it so popular, and why is it always offered at these clubs?
Get Your Free Las Vegas Events Calendar!
Grand Canyon Helicopter Tours by Papilloin
Grand Canyon Helicopter Tours by Maverick
Awesomest Things to do in Las Vegas Every Day!

It doesn't matter if you've seen it in person at a club or in a TV show or a movie, you've seen bottle service. Those tables where the VIPs are, the high rollers, the ones that seem to be having a better time than anyone else? Those are the bottle service tables. In this case, the "bottle" is kind of misleading. When you get Las Vegas bottle service at a club, you're really renting the table, and you get booze along with it. The specifics vary from club to club, so we won't get bogged down in the details, but it pretty much works like this…
As Mr. Turk explains in the bottle service guide section of his website BachelorVegas.com, the club is expecting you. Your name is on a list. You get to enter the club ahead of all the people in line because you're important, because you're expected. You and your crew arrive, are escorted to your table, and you meet your server. You may share her with one other table, but you're still going to get dedicated service the likes of which you've never experienced at a bar before. Remember how you just walked into the club? Remember that one time you stood next to the bar and waved a bill to get the bartender's attention and you got ignored over and over again? Yeah, that won't happen with Las Vegas bottle service. Your table includes the bottle of liquor of your choice, mixers, ice, etc…and the server assigned to your table? She'll serve you. You're about as far away from waving a bill at the bar as you can get.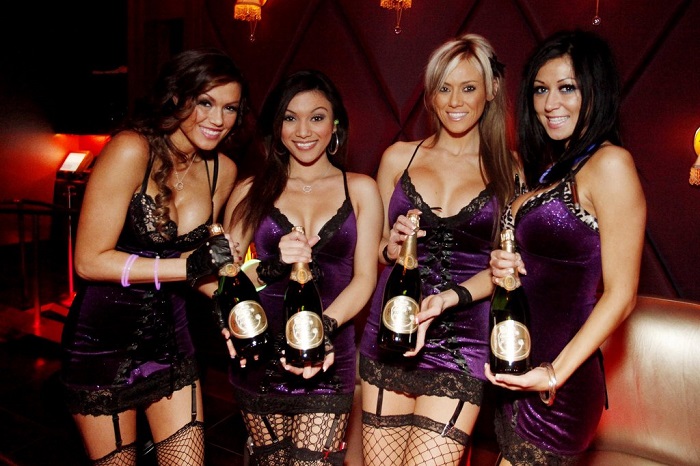 This is how the other half lives. The table next to you could be a celebrity. Everyone on the dance floor, and all those suckers waiting at the bar will wonder who you are, and wonder why you're important. And if you decide to opt for bottle service at a strip club? Well, it'll give you a whole new appreciation for the term VIP.
Prices will, of course, vary, but if you book through an agency that makes a business of setting up parties, arranging VIP events, then you can often get a deal, and let someone else do the arranging for you. Then all you have to do is pay a bill and show up.
So what makes Las Vegas bottle service worth it? Well, if you add up the costs of the drinks for you and your friends throughout an evening, it's not a low price to begin with. But then factor in the time you waited in line outside. The cover charge. The time you spent waiting at the bar. The tips for the bartender to get him to come back faster the next time. The fact that you lost your stand-up table in the corner when you went to the can. You can see why having your own little corner of a Vegas club might be worthwhile! Bottle service always has a minimum, and it's usually divisible by the number of folks in your party, so if you have more than, say, five or six partiers, you may be required to buy two bottles instead of just one. If you're more interested in seeing and being seen than you are in getting tanked, you can easily opt for a couple of bottles of bubbly instead of the hard stuff.
So, while your drinks aren't bottomless, you at least know where they're going to be coming from, so you don't have to think about anything other than enjoying yourself. And just like anywhere in Vegas, you will have to leave a tip, and that won't be included in your tab, but you won't have to worry about hidden fees.
Will Las Vegas bottle service be more expensive than a night tipping back beers at a typical bar? Definitely. Will it be pricier than spending an evening in a night club in general? Probably, but not by as much as you think. Will it be worth it when you can come and go as you please and feel like everyone's looking at you? You can't put a price on feeling that cool. Every club in Vegas offers bottle service because it's in demand. Because it offers more than the opportunity to drink at your own table with your closest friends. It gives you the opportunity to roll like a rock star for an evening. And who doesn't want to try that at least once?
More Nightlife
Get Your Free Las Vegas Events Calendar!
Best of Vegas