Las Vegas bachelorette party Ideas 2022-2023
Here are Las Vegas bachelorette party ideas for 2022-2023! Whether your girlfriends are all nice or a little bit on the wild side, you've chosen the perfect place make sure the bride has the time of her life...for the last time! In a city that keeps everything that happens there within its limits, you can go as crazy as your fantasy goes, or just use my list of things to do to plan a perfect party for your girlfriends in Vegas.
Las Vegas Bachelorette Party VIP packages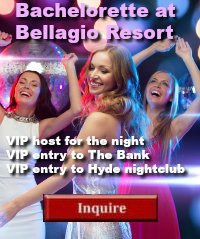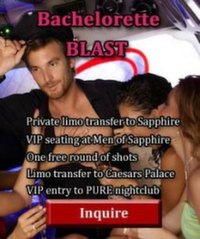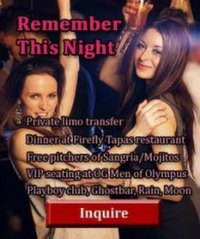 The easiest way to plan a Las Vegas bachelorette party is to let others do it! There's no one who does it better than Vegas VIP - they specialize in organizing nightclub and strip club packages, as well as bachelor and bachelorette experiences. They offer different pre-planned and all inclusive packages, and can even tailor your party to your specific interests. Packages start as cheap as $99 per girl.
Now, how wild do you girls want to go? If you just want to party and dance, you could select the Palms Casino Resort package. A VIP host will take you to the hottest spots at the most party-loving resort in Vegas. Or select the My Girl Wants To Party package with VIP entry to Vanity nightclub and tickets to the hottest male revue show on the Strip Chippendales!
Would you like to spice up your Las Vegas bachelorette party? You need strippers! Two strip clubs are waiting for you - check out the packages with VIP entry to either Men of Sapphire or to Olympic Garden's hot all-male strip show Men of Olympus!
Are you in the mood for something active? Add pole dancing class to your Las Vegas bachelorette party! With the newly acquired skill, the bride might want to surprise her groom on a honeymoon! Here are couple of interesting packages that include VIP entry to nightclubs and a pole dancing class - one with tickets to Chippendales show, and one without.
Here is what you can expect from Vegas VIP - transportation by Limo, a selection of nightclubs with VIP access (which basically means you will avoid the lines), packages that include Chippendales shows or visits to male strip clubs Men of Olympus. While they offer plenty of different options, they can be customized. All you need to do is send an inquiry, and they will contact you either by phone or email.
More Nightlife
Get Your Free Las Vegas Events Calendar!
Grand Canyon Helicopter Tours by Papilloin
Grand Canyon Helicopter Tours by Maverick
Awesomest Things to do in Las Vegas Every Day!