Las Vegas Ziplines
Wondering where you can ride a zipline in Las Vegas and area? Here is a complete list for the adrenaline junkies!
Fly LINQ at The LINQ
Fly LINQ Zipline Price: $24.99
One of the newest adrenaline packed Las Vegas ziplines is Fly LINQ at The LINQ. Your 30-minute ziplining experience begins when you arrive at THE LINQ and are outfitted with a safety harness as well as flight instructions. Your adrenaline levels will start to rise as you begin your upward travels to the launching platform some 12-stories above the ground. Once you have your harness on, you will take-off reaching speeds up to 35mph as you travel 114-feet above The LINQ. Your eyes will be pleased with the bird's eye views of the High Roller and the Strip. Your extreme experience concludes when your heart recedes from your throat and back into chest as you walk away from one of the newest adrenaline rides in Vegas.
Flightlinez at Bootleg canyon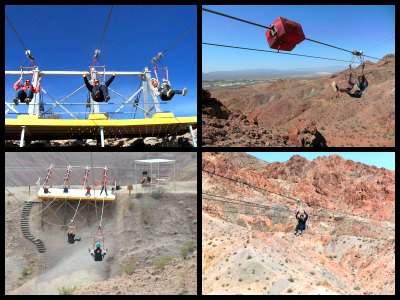 Flightlinez at Bootleg canyon Price: $159.00
Flightlinez at Bootleg Canyon are thrill-filled zip lines located not far from Vegas. If you have a fear of flying, the amazing instructors at Flightlinez will help you conquer it. Set in the Nevada Desert near to Boulder City, is a series of ziplines that will have you soaring over the Bootleg Canyon. This is unique way to experience the stunning scenery.
The trip on this fun Las Vegas zipline ride starts with a safety briefing and a drive up the to the Canyon. You then hike the remaining distance to the top. Get strapped into your paragliding harness and fly along the lines. There are four different runs, each one offering a unique experience. Soar along at up to 50 miles per hour and dive on a 450 foot plunge. The views of the desert from the take off platforms are panoramic and get even better when you take the plunge.
Get Your Free Las Vegas Events Calendar!
Grand Canyon Helicopter Tours by Papilloin
Grand Canyon Helicopter Tours by Maverick
Awesomest Things to do in Las Vegas Every Day!

Slotzilla - zipline On fremont street las vegas
Location: Fremont Street Experience
Slotzilla Zipline Price: $25-$45
Walking along Fremont Street is great fun, but zipping above it in the air on a zip line must be the ultimate experience.
Head for the 12 storey slot machine, you cannot miss it. The Las Vegas zipline on Fremont street is 77 feet high and has a distance of 850 feet. The ride starts at the retail store, where you are given a briefing and then strapped into a harness. Dive off from the second floor platform and zip over the street for breathtaking adventure along the length of the street. Travel reaches speeds of 35 miles per hour until you slow down and brake for your landing at the other end.
Watch the pedestrians get smaller and smaller as you soar higher on this cool Las Vegas roller coaster ride. The zipline is even more fabulous at night when all the lights are on. The whole experience from start to end takes about 20 minutes and is one not to be missed.
Photo by Frank Fujimoto
More Tours
Get Your Free Las Vegas Events Calendar!
Best of Vegas