Las Vegas ghost and wacky tours 2023
These Las Vegas ghost tours in 2023 will take you to the most exciting abandoned and ghost towns in Nevada, California, and Arizona! If you enjoy haunted places and are fascinated by everything paranormal and the UFO, you will get a kick out of these paranormal tours departing from Vegas. Explore Area 51, Goodsprings, Techatticup Gold Mine, the town of Chloride, or hunt ghosts right in Vegas.
Area 51 Tour From Las Vegas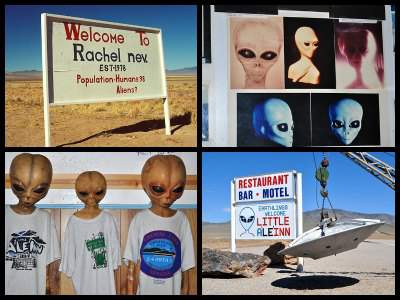 This is a must tour for the UFO enthusiast who wants an up-close personal view of one of the Nation's most secretive areas of research.
Traveling by SUV your first stop is McCarran International Airport where you will watch the unmarked Janet Airline planes fly workers to and from Area 51. From here your ten hour tour takes you through Indian Country where you will be amazed at the petroglyphs that are shaped like aliens and in awe of a dry lake bed that has had numerous UFO sightings.
Traveling down the Extraterrestrial Highway, you will have plenty of opportunities for photos at Little A'le'; the famous restaurant in many documentaries about Area 51 and the movie Independence Day, is also a mini museum of Area 51.
After a delightful lunch of "Alien Burgers" you will be taken to the black mailbox at the entrance of Area 51. Here you will observe the perimeter of this highly secured military facility. You will finish your alien adventure with a return trip to Las Vegas through Joshua Tree forest.
More Tours
Get Your Free Las Vegas Events Calendar!
Best of Vegas