Las Vegas Pink Jeep Tours
Taking a Las Vegas Pink Jeep tour is an interesting way to travel and see many of the famous attractions from natural landscapes to the neon lights of the Strip to national treasures. These excursions are perfect for people looking to travel in style and in small groups while riding comfortably in a customized SUV such as a Trekker or modified Wrangler jeep. The luxury SUV's seat between six to ten people and the SUVs are loaded with amenities such as leather captain chairs, DVD players and extra-large windows for your viewing pleasure. There are a number of stellar excursions like traveling to Grand Canyon or Death Valley National Parks, driving the neon lit Strip at night, witnessing brilliantly colored landscapes at Red Rock Canyon National Conservation Area as well as the Valley of Fire State Park or you can try a trip to Hoover Dam.
Hoover Dam Top to Bottom Las Vegas Pink Jeep Tours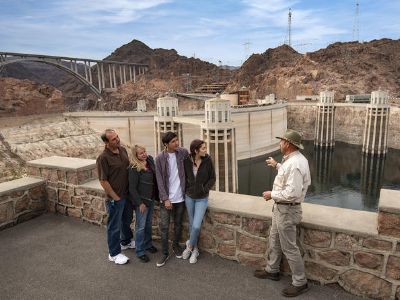 One of the best ways to view an incredible feat of engineering marvel from top to bottom is to try the Hoover Dam Top to Bottom by Luxury SUV with Colorado River Float Tour. Your 5-hour Las Vegas Pink Jeep tour starts with free pick-up service from your hotel where you will meet your local guide and find a seat in a ten passenger customized Trekker luxury SUV. While you are driving to this spectacular Las Vegas attraction, your guide will inform you of interesting facts of what you will see during your journey. Once at Hoover Dam you can watch a video in the visitor's center before you take a tour of the observation deck for great photograph options of the Colorado River and Lake Mead as well as take an elevator down to the generator room. From here you will embark on your journey to the Colorado River where you will board a pontoon boat and take a 20-minute float down the river where you can see the dam up close and personal. Your adventure concludes with drop-off service at your Las Vegas hotel.
Plan Vegas Stay
What's Hot
Disclaimer: I receive a small commission from the links on this page.
Plan Vegas Stay
What's Hot