Best Pink Jeep Tours In Las Vegas
Traveling with Pink Jeep tours in Las Vegas is extremely comfortable and enjoyable way to explore the Grand Canyon, Death Valley, Valley Of Fire, Park Zion and other exciting places! Their guides are probably the most fun, knowledgeable and accommodating in the travel industry - practically every traveler who took one of these tours is happy they did it! Pink Jeeps are very comfortable, luxurious, all-terrain SUV types of vehicles, built specifically for off-road trips. Below are the most popular tours conducted by Pink Jeeps - and there are plenty to choose from, especially among the many different trips to the Grand Canyon!
What's Hot
Grand Canyon Pink Jeep Tour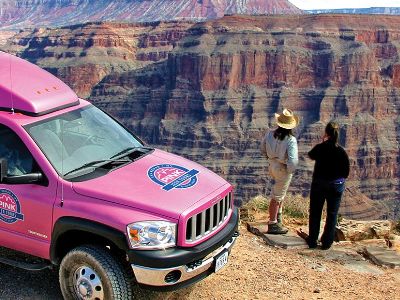 Duration: Various
All Grand Canyon Tours by Pink Jeep Tours Las Vegas
If you are in Vegas, you simply have to see the Grand Canyon! And there is no better way to explore it than with Pink Jeep Tours in Las Vegas. They offer tours to the West Rim and the South Rim of the Grand Canyon. Some of these tours can be combined with a helicopter ride, a boat cruise on the Colorado River and with Skywalk (paid separately).
What's Hot
Hoover Dam with Colorado River Float
Book Hoover Dam Tour by Pink Jeeps
From $141.99; Duration: 5 hours
This is your chance to explore Hoover Dam, a huge man-made structure, from top to bottom! During Pink Jeep tours from Las Vegas to Hoover Dam you will be able to take a raft trip on Lake Mead offering gorgeous views of this engineering wonder. You will also visit the power plant to see generators in action, watch a film on the history of the dam. Then you will take a trip to the Colorado River and observe the gauging station and dynamite repositories used by construction crews.
Red Rock Canyon Pink Jeep Tour from Las Vegas
Book Red Rock Canyon Tour by Pink Jeeps
From $78.99; Duration: 4 hours 30 minutes
Red Rock Canyon is part of the Mojave Desert that surrounds Las Vegas. The canyon is located so close to the city that you can actually see it from the Strip! During Pink Jeep tours from Las Vegas to the Red Rock Canyon, you will learn fascinating historic facts about how the canyon was formed, who left those fascinating petroglyphs on the rocks, admire the red sandstone walls of mountains of which the highest is 1000 meters high. You will also visit the desert tortoise habitat and stop at Calico Hills, Sandstone Quarry and Red Rock Overlook.
Las Vegas City Sightseeing by Pink Jeeps
Book Las Vegas Sightseeing Tour by Pink Jeeps
From $111.99; Duration: 4 hours
Would you like to learn how Las Vegas became the city that it is today - the Entertainment Capital of the World? During Las Vegas sightseeing Pink Jeep tours you will learn how the city was shaped by the Mob, about the city's famous residents and you will cruise around the major hotels and attractions of the city, all the while learning about their history from one of the knowledgeable guides. Attractions you will see include the famous "Welcome To Fabulous Las Vegas" sign, the Gold & Silver Pawn Shop, The High Roller, Wedding Chapel Row and the Fremont Street Experience.
Death Valley Pink Jeep Tour From Las Vegas.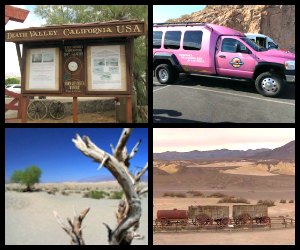 Book Death Valley Tour by Pink Jeeps
From $243.99; Duration: 10 hours
How about taking a break from the buzzing Las Vegas, the most alive city on Earth, and paying a visit to Death Valley - the most desolate place in the Western Hemisphere? Other points of interest that you will visit or view at Death Valley National Park With Pink Jeep Tours Las Vegas include Badwater salt flats at the lowest point in the United States, mountain ranges Greenwater Range, Owlshead Mountains and Panamint Range, Devil's Golf Course and the observation point called Dante's View.
Valley of Fire Pink Jeep Tour From Las Vegas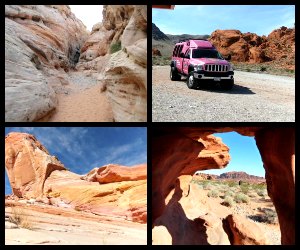 Book Valley of Fire Tour by Pink Jeeps
From $129.99; Duration: 6 hours
Here is a tour to another fascinating place, located around 50 miles from Las Vegas - the Valley of Fire National Park. The valley is filled with fascinating rock formations and fossilized sand dunes, shaped by wind and water. When sun's ray fall on the rocks, they look like they are on fire. But it's not just natural formations that attract tourists - this area used to be home to Anasazi peoples from around 300 BC to 1150 AD, who left rich rock art - petroglyphs, that you will also explore on your Pink Jeep tour from Las Vegas to Valley of Fire.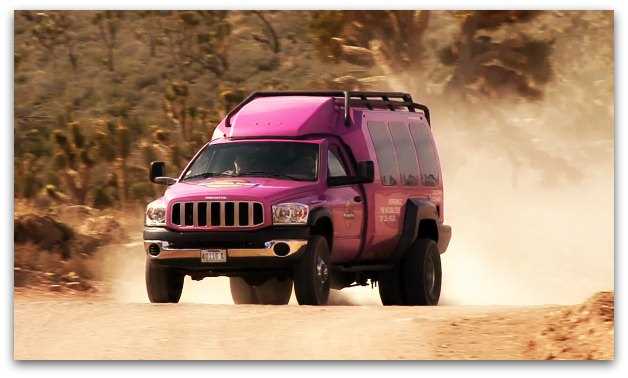 What's Hot
Do you have any questions or Comments?