Fun Things To Do In Las Vegas with teens in 2020
There's a plethora of things to do in Las Vegas with teens in 2020. Exciting tour options include everything a teenager wants to see and conquer including ziplines, roller coasters, navigating an ATV or dune buggy, and there are even options to take them to a shooting range. You can also try numerous activities within the Red Rock Canyon National Conservation Area which include, horseback riding, peddling an electric bike, and hiking through the unique red rock formations. Other activities offer adrenaline filled fun like white water rafting in the Grand Canyon on the mighty Colorado River, soaring in a helicopter or you can float with the winds on hot air balloon. No matter if you choose a tribute concert or break dancing show, you will be thrilled with the activities to keep your teenagers busy.
Horseback Riding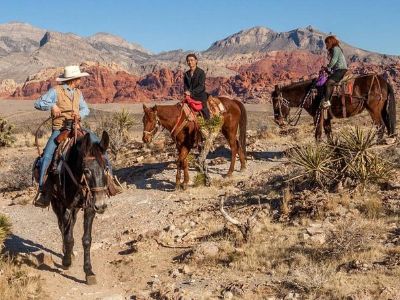 There are plenty of exciting Horse Riding Tours around Las Vegas that are a great for teens. Options include riding through the red rock formations at Red Rock Canyon National Conservation Area, the Bonnie Springs Ranch and you can even take a horseback ride in Grand Canyon National Park. You can saddle up just before sunset and watch the skies above melt into a canvas of pastel colors before enjoying an authentic cowboy barbeque. There are tours that last anywhere from two to six hours with exciting opportunities to see wildlife in their natural habitat like big horn sheep, black-tail deer, and numerous bird species and don't forget to watch for the desert tortoises. Another exciting option is riding on a Buffalo Safari while you look at these huge animals roam the open grasslands near the Mojave Desert.
Plan Vegas Stay
Plan Vegas Stay