Top Las Vegas Shows For Kids And Family 2017
Las Vegas shows for kids in 2017 aren't easy to find, but they do exist! If you are wondering what to do in the Sin City with children, read my reviews of current great fun family friendly Las Vegas shows, created specifically for or appropriate for young children. The following Vegas shows are good for kids under 5, even as young as 2-3 year old, and they are quite cheap.
Comedian-Juggler Jeff Civillico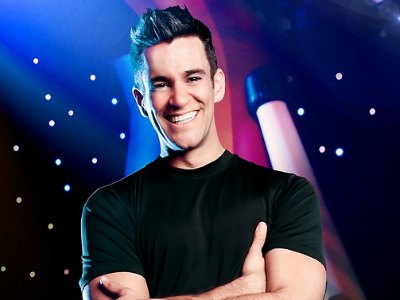 Location: Bugsys Cabaret, Flamingo
Show Times: Saturday - Wednesday at 5:30 pm
Review: Even though Jeff Civillico has one of the newest Las Vegas shows for kids, he already deserved excellent reviews. And kids adore him, too! What I love most about Jeff Civillico is that he combines elements of very clean comedy, very funny mannerism (he is reminding of Jim Carrey in The Mask, and incredible juggling tricks. And he is entertaining on his own, without any show girls, pets or horses. If you are in Vegas with kids - be sure to treat them to the most fun kids show on Las Vegas Strip!
What's Hot
Tournament of Kings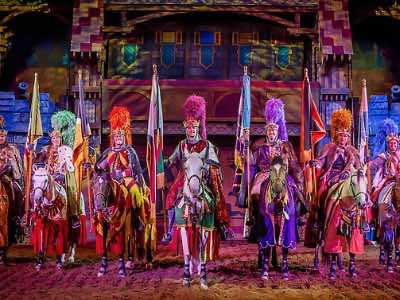 Location: Excalibur Arena - Excalibur Hotel & Casino
Show Times: Daily except Tuesdays at 6:00 pm, and also at 8:30 pm on Thursday-Sunday
Age limit: 3+
Reviews: The Tournament of Kings is a dinner show at the medieval castle-themed hotel Excalibur. Accordingly, the show is themed as a medieval tournament of knights jousting at the arena. The spectators are part of the show, as they are consuming their dinner with bare hands around the arena and cheering the knights. The show is silly, unpretentious and its one of the most fun Las Vegas shows for kids, especially little boys who love castles and horses!
Recycled Percussion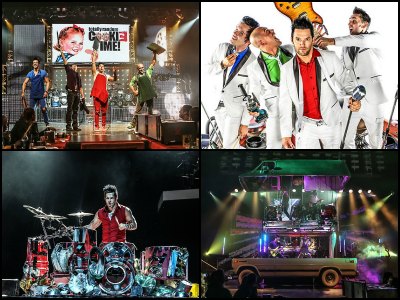 Venue: Saxe Theater, Planet Hollywood
Show Times: Monday-Saturday at 5:30 pm
Review: There is nothing "usual" about the finalists of America's Got Talent band Recycled Percussion! Every member of the audience is a member during their Las Vegas kids and family shows - as you enter the show room, you will get a small drum and a drumstick - you will have to participate in the show and create your own music (don't worry - they will "teach" you!). Their show at Planet Hollywood Resort & Casino is funny, loud, interactive and extremely energetic. The band started in 1995 and at first they used buckets as their instruments, but gradually they were adding more percussion instruments, and anything that could be used as percussion instrument - even washing machines! Recycled Percussion also invented funny and innovative ways to play the instruments - for example - while hanging upside down!
Gregory Popovich's Comedy Pet Theater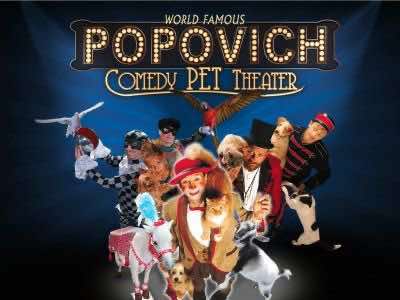 Location: V Theater - Planet Hollywood Resort & Casino
Show Times: Daily except Sunday & Monday at 4:00 pm
Age limit: None
The Comedy Pet Theater will definitely make your kids laugh! Everyone knows that dogs can do tricks, but you wouldn't believe what regular pet cats can do when they are trained by Gregory Popovich! Little cuddly house pets are true stars in this show - they perform various "scenarios" from the "human" life - they pretend to be firemen rescuing each other from the fire, they play doctors-patients, they skip with a skipping rope and push strollers. The show also features a few trained geese and doves, and of course Gregory Popovich himself! Comedy Pet Theater is truly one of the best Las Vegas shows for kids in 2017!
V-The Ultimate Variety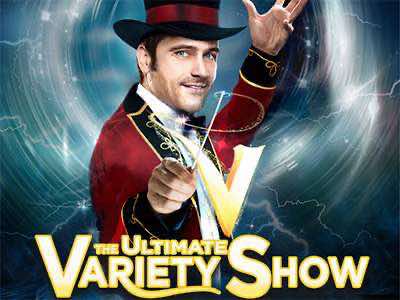 Location: V Theater - Planet Hollywood Resort & Casino
Show Times: Nightly, at 7:00 pm and 8:30 pm
Age limit: None
Reviews: V-The Ultimate Variety is a high energy show perfect for all ages. The show is funny and entertaining, featuring gymnasts, acrobats, jugglers, and never before seen performances. The show features raw talent, with many acts having been featured on America's Got Talent and I Can Do That! It's definitely a nice way to spend an evening at a very low price. It's one of the most fun Las Vegas shows for kids in 2017 in the variety genre!
Circus Acts FREE!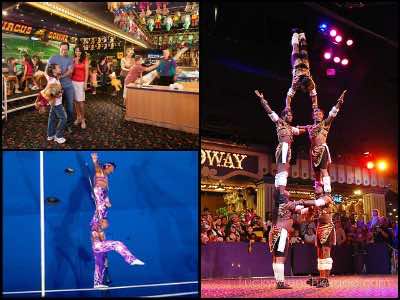 Location: inside Circus Circus Hotel
Show Times: Daily at 11:00 am
The Circus Acts is one of the best free family friendly Vegas shows ever! If you have little children, you should definitely take them to the Circus Circus hotel any day during your vacation, at 11:00 am. The show features acrobats zooming under the ceiling, skillful roller skaters, jugglers. Heads up:This amazing fun happens in the middle of Circus Circus Midway, so your kids would probably want to stop for some age-appropriate "gambling".
Finally, don't forget to check half price show tickets for any cheap Las Vegas shows for kids!
Cirque Du Soleil Shows For kids And Teens
Most Cirque du Soleil shows in Vegas are family friendly and appropriate for children older than 5, as well as for teens and tweens.
Magic Shows
Most magic shows in Las Vegas are kids-friendly, and can be enjoyed by entire family!
for kids and Entire Family
Here are a few more Las Vegas shows for kids and entire family, inclding teens.
What's Hot
Do you have any questions or Comments?