Fremont Street Experience Las Vegas 2023-2024
Here are the most fun things to do on Fremont Street Experience Las Vegas in 2023-2024 - a unique and awe-inspiring attraction. Spread over four blocks, it features a large vault canopy and an outdoor mall with various casinos, light shows and concerts. Although it's open 24/7, the best time to visit it is of course in the evening when all the lights shine.
One of top attractions here is Viva Vision light show. The canopy is as large as 5 football fields and has a state of the art sound system and LED modules. The Fremont Street is much more than just a light show and there are plenty of fun things to do here. It is a unique experience unlike anything else. On one side of the canopy is the Neonopolis complex and on the other side is the Plaza casino and hotel. Fremont Street Experience also hosts a number of special events and concerts throughout the year. If you are adventurous you can try Slotzilla, a zip line under the famous canopy. The zip line will launch you out of a large slot machine, taking you across the canopy.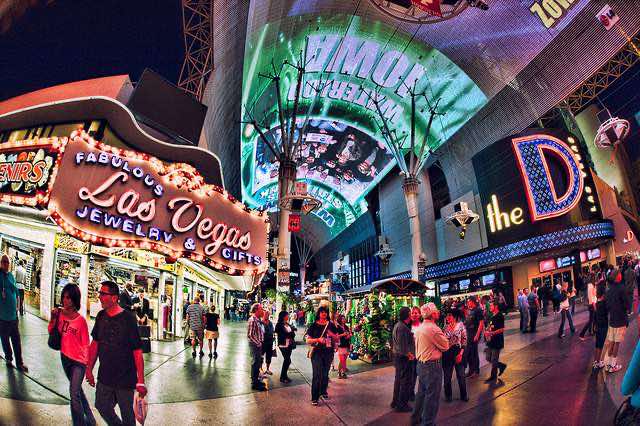 With all the crowds, glitter and the proximity of the Glitter Gulch strip club, this venue is a place for adults, do not take your kids there!
Photo by rustler2x4
Tours
You can either visit the Fremont Street Experience by yourself, or as part of a guided tour, where tour guides will tell you about historic highlights and show you the best parts of this famous Vegas attraction.
Downtown Las Vegas Segway Tour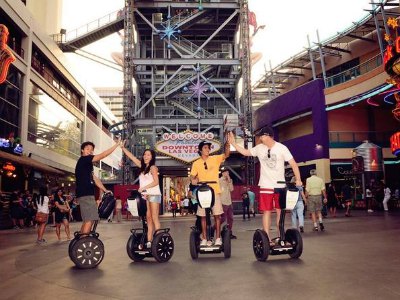 If you are looking for an easy way to learn about Sin City as well as take in the sights of the iconic Fremont Street, then the perfect thing to do on Fremont Street is to try the Las Vegas Segway Tour. Taking a Segway tour is a fantastic way to cover lots of ground and learn more about Glitter Gulch from an expert local guide. On this 2 hour journey you will meet at Segway Vegas and learn a few tips about navigating your Segway before you take off. As you are gliding down downtown Las Vegas you will see fascinating places like the iconic Golden Nugget Casino and Binion's Gambling Hall. There are plenty of quaint little wedding chapels for you to see and you can even get a glimpse of a swimming pool that has a shark tank in the middle. You will cruise by the Mob Museum and learn about yesteryears gangsters.
Downtown Las Vegas Walking Tour By Night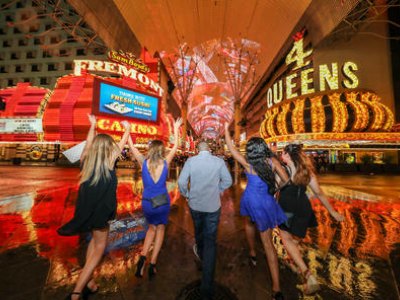 A great thing to do on Fremont Street for a first time or long time visitor to Las Vegas is to take the Downtown Las Vegas Walking Tour By Night Tour. You will meet your local expert guide at the former Union Pacific Station for this 2-hour stroll down memory lane on the newly revitalized Fremont Street. You will enjoy walking around listening to stories of Glitter Gulch and looking at the old neon signs as well as the classic Las Vegas casinos such as the Golden Nugget and Binion's Gambling Hall. The amazing activities along Fremont Street will surprise and you can watch people on the Slotzilla zipline fly above your head. As you are walking on this 1-mile excursion you can satisfy your thirst and hunger at many convenient places while you are checking out Vegas Vic or one of the premier Elvis imitators. Other fascinating items you will see a $1,000,000 in cash money; the world's largest golden nugget; a swimming pool that contains a shark tank in the center and your excellent walking adventure will conclude at the Downtown Container Park which is packed with unique attractions as well as artwork.
Bar Crawl of Fremont Street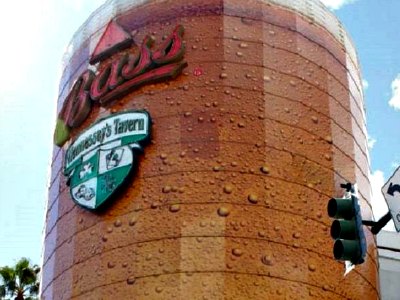 One of the best things to do on Fremont Street for parties who want to get a lay of the land is to try the Weird, Wacky and Wonderful Bar Crawl of Fremont Street. When you meet your expert tour guide and a professional photographer at Four Queens Hotel and Casino you will set out on your 3.5-hour adventure of visiting 7-8 drinking establishments. As you stroll from lounge to lounge you can indulge in fabulous cocktails served up by some of Sin City's most innovative mixologists such as a Scorpion shot or a Mango Margarita. You will take in the sights and sound of Fremont Street which include plenty of live music, $1,000,000 in cash, interesting neon signs of old and don't forget about running into an Elvis. Your local guide will tell you about interesting tidbits of history as you walk along this iconic street of Las Vegas. When you are finished drinking up the night your excursion will conclude in the Downtown Container Park where you can look at all the wacky art or hit up another bar and listen to more live music.
Fun things to do on Fremont Street - History Walking Tour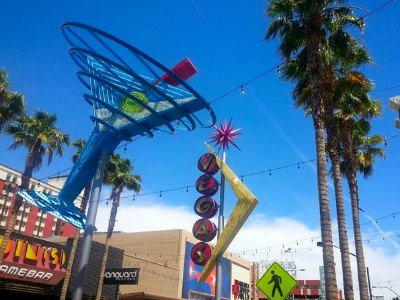 One of the top things to do on Fremont Street is taking the Downtown Las Vegas History Walking Tour that features an excellent overview of early Sin City history. This two hour tour covers one and a half miles of downtown as well as a stroll through the canopy covered Fremont Street Experience. Knowledgeable tour guides explain how exciting Sin City became to the entertainment and gambling world. Guests will learn about the Rat Pack as they walk past iconic places such as Binion's, the Golden Gate and the famed Las Vegas Club.
Patrons will also tour the Neon Museum for a more interesting look at the past. People can upgrade their Downtown and Fremont Street History Walking Tour with a stop at the Gold and Silver Pawn Shop where the television show Pawn Stars is filmed.
The Pop Culture Walking Tour of Fremont Street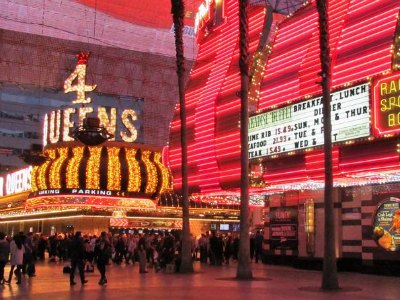 Fremont Street is bursting with Las Vegas culture, history and architecture. So an awesome thing to do on Fremont Street is to learn about this famous attraction on a guided tour that gives you behind-the-scenes info. This was the first paved street in Vegas and before the Strip, was the place to be seen! Take a 90 minute walking tour and be enthralled by your local guide. See the Casinos, the Mob Museum, the neon signs and see people flying overhead on the zip line.
The walk covers ten historic blocks and stops at a dozen fascinating sights. The tour ends at the El Cortez Casino where you can catch your breath and relax with a cocktail on the house.
Viva Vision Show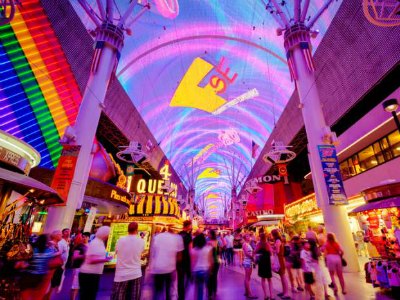 © Kan1234 | Dreamstime.com
Viva Vision, known as Fremont Street Experience light show, attracts millions of visitors each year. Seein it is one of the best things to do on Fremont Street and in Vegas in general! Featuring a 1500 feet long, 90 feet high and 90 feet wide video screen, Viva Vision is suspended high up above the pedestrian mall above some of the most famous hotels and casinos in Las Vegas. The light shows feature 122.5 million LED lamps, state of the art sound and dazzling imagery that leave guests spellbound.
If you are looking for a unique way to enjoy the light shows, try the famous zip line during the show! The light shows are approximately 6 minutes long and are run each hour starting at dusk and ending at midnight most months in the year. Show timings may change based on the season so you might want to check before visiting.
Free things to do on Fremont Street - Live Concerts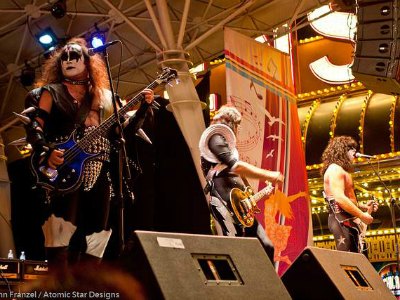 Other than being home to the famous canopy with its unique light and sound show, Fremont Street Experience is also a great place to enjoy free concerts throughout the year. Visitors can find live, free music concerts at the venue throughout the year. There are three world class stages at the Fremont Street Experience. It also showcases a packed schedule of some of the best talent in the music industry from every genre possible, from country and Hoedown to hip-hop and pop.
These concerts are completely free of charge and are among the coolest free things to do on Fremont Street, compared to expensive concerts of high-profile music celebrities. There are no tickets required. You can simply find a spot, enjoy a cocktail along with live entertainment. It offers a party atmosphere where visitors can lose their inhibitions, dance and mingle with others.
Photo by colddayforpontooning
Slotzilla - The zip line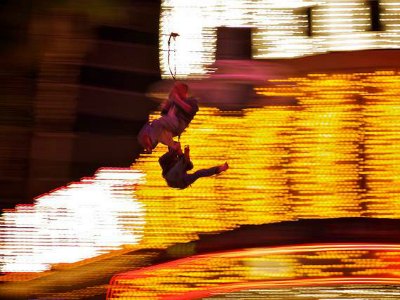 Slotzilla is a popular zip line with a slot machine theme and one of the most exciting things to do on Fremont Street Experience. Located at a height of 12 stories, the zip line offers two great options for you to try. The Slotzilla starts 77 feet in the air and lands flyers halfway down the pedestrian promenade.
The Slotzilla offers thrill-seekers a great experience by taking them 114 up in the air and whisking them under the canopy to the other side at the Golden Gate Casino. For an even more adventurous experience, try the upper Zoomline that flies you prone at 40 miles/hour for a unique experience. The Slotzilla in itself is an attraction since it is the largest slot machine in the world. It is designed to feature iconic Las Vegas items like showgirls, a large arm, video reels, coins, flamingos, martini glass and large dice.
More about Fremont Street Zip Line
Photo by Frank Fujimoto
Best hotels on Fremont Street
Visitors looking for hotels in downtown Las Vegas close to all the action will find plenty of great options. Fremont Street Experience is lined with some of the most iconic hotels and casinos in Las Vegas. Whether you are looking for a luxurious hotel room that offers you an indulgent experience or a budget hotel without the frills, you will find an option here that suits your needs. Downtown Las Vegas is buzzing with activity at all hours and offers a unique party experience that you will remember for years to come. If you want to stay amidst all these exciting things to do on Fremont Street, some of the options available here include hotels : The D Las Vegas, California Casino and Hotel, Four Queens, Golden Gate Hotel, Fremont Hotel.
More Attractions
Get Your Free Las Vegas Events Calendar!
Best of Vegas