Best magic shows in Las Vegas 2015
Here is list of the best magic shows in Las Vegas in 2015. What's Vegas without magic? In fact, there are plenty of amazing magicians in the city working in this genre in 2015.
Deals
You should see at least one of these shows if your visit to Vegas is short. Then come back and see another one! Illusions and tricks have become the essential part of the city, and the world's top magicians call Vegas their home! You've heard of course the names of David Copperfield, Criss Angel, Penn & Teller? Yes that's right these are top Las Vegas illusionists who live and perform right here! Ticket prices for magic shows in Las Vegas vary from $23 to over $100. Below is a list of all current magic shows - they are quite cheap, all of them are good for kids. There are even a few magic shows that play in the afternoon.
Jan Rouven: Illusions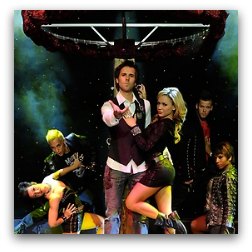 Location: Tropicana Las Vegas
Show Times: Saturday-Thursday at 7:00 pm; black out Fridays
Age limit: 5+
Review: Jan Rouven is Vegas' hottest import and his Illusions is quickly becoming one of the most popular, best rated magic shows! The young illusionist from Germany has joined the ranks of Las Vegas magicians only recently, and has conquered the hearts of kids and adults alike, and deserved excellent reviews from his fans. Among all magic shows in Las Vegas in 2015, Rouven's are the most "dangerous" - in most of his illusions he seems to escape death at the last moment. The show includes such acts as the Bed of Death with swords falling on the cuffed magician, and the Water Tank, that he escapes from switching places with his assistant. All of that, plus a charming smile and natural charisma of Jan Rouven make the show an unforgettable experience!
Back to Top
David Copperfield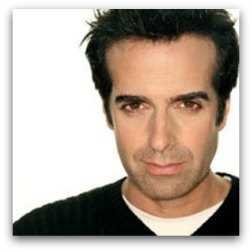 Location: Hollywood Theater - MGM Grand
Show Times: Nightly at 7:00 PM and 9:30 pm, on Saturdays - additional show at 4:00 pm
Age limit: 5+
Review: One thing remains true about David Copperfield: He is one of the best magicians in the world, and his show is among of the best magic shows in Las Vegas in 2015, that you should see at least once in your life. At this show you can see some of the most impressive illusions with disappearance and appearance. While it's impossible to show on stage some of the illusions he is famous for, you will be treated to a video of Copperfield defying the currents of the Niagara Falls, or making the Statue of Liberty disappear. This is the part that people often complain about - show us the magic, not what you have done before! But after all, he HAS done it, what's not to brag about? Besides it would be hard to get the Statue of Liberty on the stage even for him! Otherwise, the show is pure fun, the magic is amazing and keeps you wondering how on Earth did he do it? So if you can forgive (or enjoy!) this little video showing the glorious days of David Copperfield, you are in for a real treat! Apart from being the most famous magician in the world, Copperfield has a great sense of humor and will keep your whole family entertained.
Back to Top
---
Penn and Teller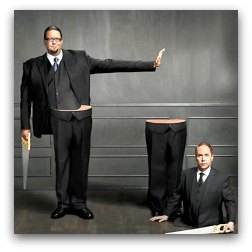 Location: Penn & Teller Theater - Rio Hotel
Show Times: Saturday-Wednesday at 9:00 pm
Age limit: 5+
Review: Penn and Teller are popular Las Vegas magicians who have a reputation of great entertainers, albeit a little bit political. (Interested in political magic shows, anyone? ). What they do that sets them apart from other magic shows in Las Vegas is that they explain some of the tricks to the audience...and manage to stun us nevertheless! They actually show you how the trick is done, and ask you to watch closely, but they do it so you likely won't notice the magical "moment" when a penny turns into a goldfish... Heads up: if you want to try and see how they do the trick, get seats closer to the stage.
Back to Top
Criss Angel Believe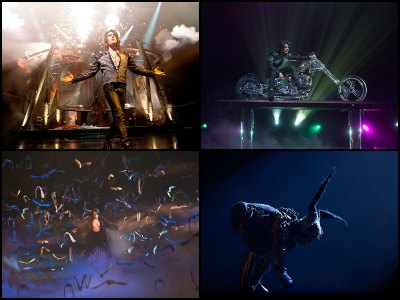 Location: Luxor Theater - Luxor Hotel
Show Times: Almost Nightly at 7:00 pm and 10:00 pm
Age limit: 5+
Review: Criss Angel Believe is among the most popular magic shows in Las Vegas in 2015, despite the mixed reviews. After All, Criss Angel is famous world wide thanks to his TV show Mindfreak. During his show at Rio, you will not only see some tricks and illusions, but will be bound to learn how he started in magic, as well watch some comedy accompanying the show.
Back to Top
Mike Hammer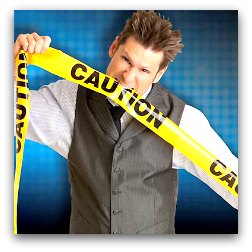 Location: Four Queens Hotel and Casino - downtown
Show Times: Tuesday - Saturday at 7:00 pm
Age limit: 5+
Review: Mike Hammer is one of the funniest illusions, and his magic show in downtown Las Vegas draws crowds. Mike Hammer is so hilarious, friendly and talented that I hope he soon will move to the Strip. His magic show with a lot of comic acts is a true delight and is loved by kids and adults alike - he can do it all from handcuff escape to "stealing" your stuff and hearts! What we love most about Hammer is that he is so down to Earth and loves to pose for pictures!
Back to Top
---
Tommy Wind
Location: Tommy Wind Theater
Show Times: Thursday - Saturday at 7:00 pm
Age limit: None
That's incredible how all magic shows in Las Vegas each have a unique twist on magic tricks - and the young magician Tommy Wind is no exception. He offers a truely unique show at his new Tommy Wind Theater - a magic show with elements of martial arts, music, comedy and mentalism. Tommy's love for music is permeating - many of his magic tricks involve musical instruments, plus he demonstrates his talent playing many of them. Occasionally, Tommy Wind brings his parents into the show, especially when he wants to demonstrate what inspited him to learn magic. The show is perfect for kids, and adults. And, hint for the ladies - he is quite easy on the eyes, too!
Back to Top
Nathan Burton's Comedy Magic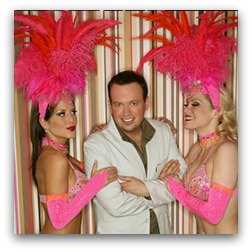 Location: Saxe Theater, Planet Hollywood
Show Times: Almost every day at 4:00 pm
Age limit: None
Review: If you are in the mood for a highly entertaining evening with elements of a comedy club, beautiful showgirls and magic, then magician Nathan Burton is your guy! Nathan Burton has a great sense of humor (clean for kids' ears), a boyish enthusiasm and an unmatched ability for Las Vegas illusionists to make the audience laugh and has for assistants some of the prettiest girls in town. We can safely say that Nathan Burton's spectacle is one of the funniest magic shows in Las Vegas in 2015!
---
Back to Top
Mac King Comedy Magic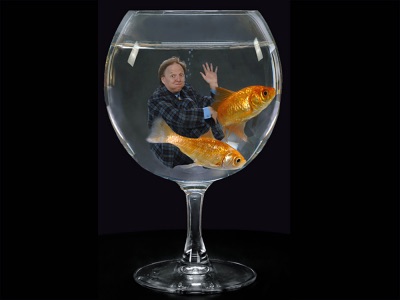 Dates & Time: Tuesday-Saturday at 1:00 pm and 3:00 pm
Location: The Theater at Harrah's
Age limit: 5+
Review: Wearing a plaid retro suit, unflattering hairdo and armed with apologetic self-deprecating humor, Mac King may pass for a goofy nerd and not for what he is - one of the best illusion craftsmen of our time! Mac King's is perhaps the most hilarious of all magic shows in Las Vegas. His tricks are based strictly on a sleight of hand, and he has an unmatched sense of humor. His jokes are hilarious, up to date and quite white, considering he runs an afternoon show and kids make up a large part of the audience. However do not mistake this for a strictly kids show - some of his jokes are clearly intended for adults, but masked enough for little ones to not understand them.
Back to Top
Laughternoon With Adam London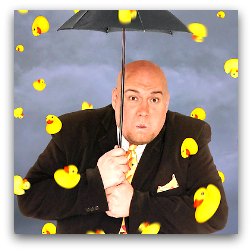 Dates & Time: Every day at 4:00 pm
Location: Showroom at The D Hotel
Age limit: N/A
Adam London is among the newest Las Vegas magicians, and his Laughternoon is a popular magic show for kids. The magician has already carved himself a unique niche - a family-friendly hilarious comedy show with cute magic tricks based on sleight of hand. Adam London is not shy to demonstrate his penchant towards ducks - starting from his cute tie to his hilarious magic tricks. His Laughternoon magic show in Las Vegas is great for kids and adults looking to spend an hour laughing their heads off.
Back to Top
Top Pages
Deals
Do you have any questions or Comments?