Top Las Vegas Comedy Shows 2013
Las Vegas comedy shows 2013 are the funniest in the world! The city appreciates and rewards true talents with long-term contracts and possibility to run their own shows in the city. Read below about the top comedians that live and perform in the Sin City, and about those that visit Vegas from time to time.
Top Resident Stand Up Comedians in Vegas
Here are top stand up comedians living and performing in Vegas: you can catch their show practically any time.
Las Vegas Comedians Visiting in 2013
Are you wondering if famous stand up comedians are coming to Las Vegas in 2013 while you are visiting? Check out the headliners below::
Terry Fator - The Voice of Entertainment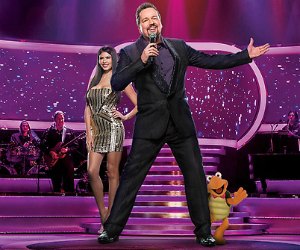 Venue: Terry Fator Theatre - Mirage
Date & Time: Practically every day, at 7:30 pm
Age restrictions: 5+
Discount Tickets
Tags: Comedy, Music, Impersonators
Review: If you want to see something really unusual, choose Terry Fator show! Winner of the show America's Got Talent, Fator immediately received a five-year contract to perform in Las Vegas. And he deserves it! In simple words, Terry is a Ventriloquist - he performs with dolls without opening his mouth. However, his puppets don't just talk - they sing! They can sing like Elvis Presley, Cher, Louis Armstrong, Lady Gaga and even Kermit the Frog, and we would say, sometimes they sing better than the original! This is really an incredible show - watch Fator's adorable puppets sing with familiar voices without Fator's lips moving. It's one of the most amazing Las Vegas comedy shows 2013 for all ages, although they do have a 5+ age restriction.
Back To Top
Las Vegas Comedy Shows 2013 - Blue Man Group
Venue: Monte Carlo Resort and Casino
Date & Time: Nightly at 7:00 pm and 9:30 pm
Age restrictions: None
Discount Tickets
Review: The Blue Man Group is another amazing spectacle that you should see at least once in your life! In this hilarious show, three completely bald guys covered in gooey paint that makes them shiny blue, entertain the audience using various unconventional musical instruments, multimedia, technology, theatre and visual effects. Audience is more than welcome to participate in the show. The Blue Man Group show is definitely one of its kind, and won't leave anyone indifferent. Great fun for kids and adults and among the most fun Las Vegas comedy shows 2013!
Back To Top
Most Popular Things To Do in Vegas
Defending The Caveman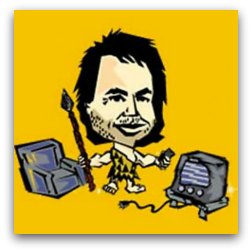 Venue: Improv Comedy Club - Harrah's Hotel
Date & Time: Daily at 7:00 pm, Sunday - Monday - additional 4:00 pm show
Age restrictions: 18+
Find Defending The Caveman on Discount Show Tickets
Review: Defending the Caveman is a one-man show starring Kevin Burke that explores the relationships between couples. Against the background of stone-age decorations and using example from the prehistoric era, Kevin Burke explains why men and women are so different, why they behave the way they do and teaches us how to see hilarious in an everyday life as a couple. Some couples claim that his shows are better than a marriage counseling - so much they learn about each other during the show!
Back To Top
Top Shows On Sale In Vegas
Recycled Percussion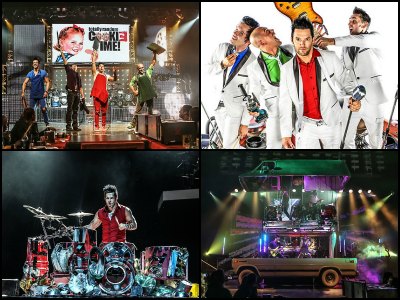 Venue: Tropicana Resort & Casino
Date & Time: Every day except Tuesday at 7:30 pm
Discount Tickets
Review:
There is nothing "usual" about the finalists of America's Got Talent band Recycled Percussion! Every member of the audience is a member during their Las Vegas comedy shows 2013 - as you enter the show room, you will get a small drum and a drumstick - you will have to participate in the show and create your own music (don't worry - they will "teach" you!). Their show at Tropicana Resort & Casino is funny, loud, interactive and extremely energetic. The band started in 1995 and at first they used buckets as their instruments, but gradually they were adding more percussion instruments, and anything that could be used as percussion instrument - even washing machines! Recycled Percussion also invented funny and innovative ways to play the instruments - for example - while hanging upside down!
Back To Top
Marriage Can Be Murder
Dates & Time: Every day at 8:30 pm
Venue: Showroom at The D Hotel
Age restrictions: 8+
Half Price Tickets or Find on Discount Show Tickets
Anyone who enjoys a good comedy and a good detective story will get a kick out of Marriage Can Be Murder - an interactive criminal comedy at the D hotel. This is the longest-running dinner show, and one of the funniest Las Vegas comedy shows with hilarious characters - especially praised it the "dumb blonde" DD. The premise of the story is that you are a guest at a dinner, and you along with other guests and a few actors implanted among the guests, are supposed to solve a murder mystery. Of course you don't know who is who. The purpose of the show is to find the murderer and the motive, based on real clues that you can hear or see during the entire experience. Remember to always keep your ears and eyes open - you never know which conversation you overhear during standing in line, the dinner and even during the breaks.
Back to Top
Las Vegas Comedy Shows 2013 - Tony N' Tina's Wedding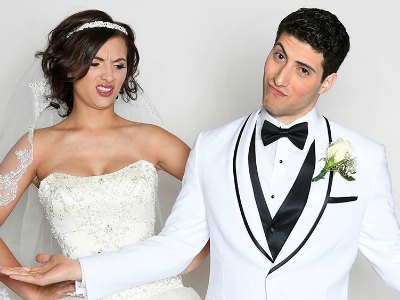 Venue: Windows at Bally's
Date & Time: Every day at 7:00 pm
Discount Tickets
Tags: Comedy
Review: Tony N' Tina's Wedding is among the most unusual Las Vegas comedy shows 2013 - and probably, the most interactive one. This is actually not a show, but rather a fake Italian wedding, where cast members mingle with the audience. They do, however, always stay in their roles and act like their characters even when they are not really "acting" at the moment. Did you ever imagine what it's like to be not "you" but someone else? This is your chance - At the "wedding" you will be treated as a family member of the bride or the groom - you can have a little fun and act like one! You will be also treated to a buffet-style Italian dinner, like at a real wedding. If you enjoy improvisational shows and being part of one you will certainly enjoy Tony N' Tina's Wedding - remember, however, that this is not the type of show to enjoy artistic beauty of the performance like at a Cirque du Soleil show - but rather it's a show where you can relax and have a lot of fun!.
Back To Top
More Las Vegas Comedy Shows 2013
There are quite a few good comedy clubs in Vegas that have a rotating cast of stand up comedians. I can't tell you exactly who will perform on any given night - they themselves don't know! But according to multiple reviews I've checked, most of the comedians they engage are pretty funny. Of these, Brad Garrett's Comedy club is perhaps the funniest. (However, Brad himself doesn't perform every night).
And finally here are hilarious shows that are combine the elements of magic or hypnosis and comedy. If you enjoy raw adult humor, then check out Marc Savard's Comedy Hypnosis. For a really good funny magic go for Penn & Teller. Nathan Burton is more vanilla:-)
List of Las Vegas Shows 2013
Please share this page with your friends!
Hottest Deals In Vegas
Explore The City
Do you have any questions or Comments?