Things To Do At Town Square Las Vegas
Town Square Las Vegas is a major shopping and entertainment center.
Hours
Monday - Thursday, 10 a.m. - 9:30 p.m.;
Friday - Saturday, 10 a.m. - 10 p.m.; and,
Sunday, 11 a.m. - 8 p.m.
If you're in Sin City, the Entertainment Capital of the World, but somehow are more in the mood for some eclectic shopping and delectable food options rather than gambling or getting naughty…so where do you head to?
Well, the Town Square would certainly be an excellent option!
Get Your Free Las Vegas Events Calendar!
Grand Canyon Helicopter Tours by Papilloin
Grand Canyon Helicopter Tours by Maverick
Awesomest Things to do in Las Vegas Every Day!

After all, with 1.5 million square feet of retail space, this is one destination which will definitely not leave you craving for more when it comes to shopping options…the folks at Town Square Las Vegas sure seem to live by the credo of shop till you drop! Like almsot everything else in Vegas, the Town Square has a special "theme" - a small and quiet European town. Major retail stores are located inside small cute houses, just like this one.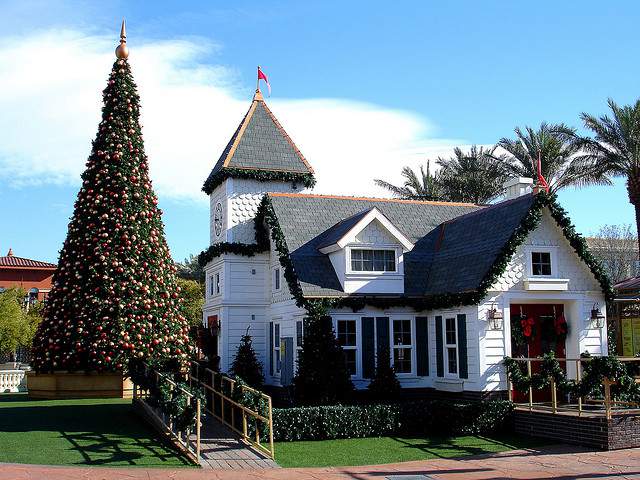 Photo by
Vanessa Chettleburgh
Getting there
Town Square is really easy to get to, being located on the main South Las Vegas Boulevard. An excellent landmark would be the Mandalay Bay Hotel & Casino which lies just north of Town Square.
Facilities
A visit to Town Square is made all the more pleasurable by the presence of a wide array of services which make shopping or eating out that much easier. For instance, there is a dedicated Concierge Center (information for which can be obtained on 702-269-5001), along with Valet parking so that you don't have to put in time and effort looking for parking space.
There are also complimentary wheelchairs available for those in need of them, along with rental options for strollers. Also, with a dedicated taxi stand located at the Town Square, you can always take a bus ride here and once you have shopped to your heart's content, can take a comfortable taxi ride back!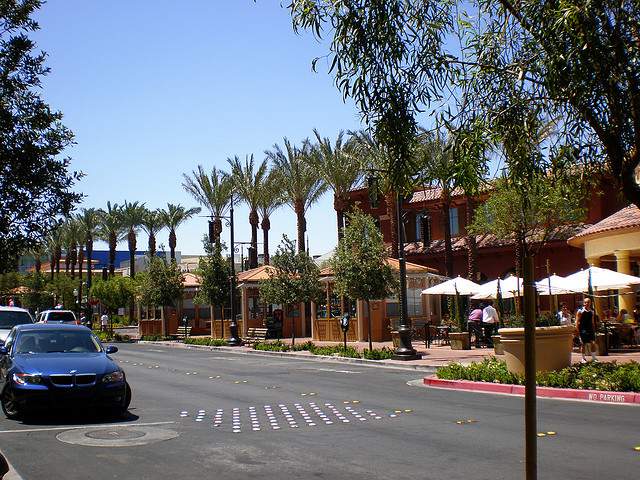 Photo by
Miss Shari
Shoppings
Town Square Las Vegas shopping is a particularly enjoyable experience, given the umpteen retail stores. So whether we are talking about H&M, Abercrombie & Fitch, Lucky Brand Jeans, Apple, Guitar Center, Martin + Osa or Sephora, you will find an absolute plethora of such shopping outlets at Town Square Las Vegas. Further, there are anchor stores of the likes of Whole Foods Market and Robb & Stucky Interiors which offer a whole lot in terms of shopping options on their own, before you've even looked at any of the other retail outlets!
Also, the Fry's Electronics store at Town Square is colossal at 300,000 square feet, offering a humungous choice of electronic items.
Restaurants and Bars
Aha, now to come to the delectable part!
Town Square has consistently been recognized as one of the best options for foodies in Las Vegas, thanks to the wide variety of restaurants in the mall. Across preferred choices for cuisines and food types, you will very likely find what you are looking for at Town Square, that too in perhaps one of the finest qualities you are ever likely to find across Las Vegas.
Herein we look at some of the restaurant choices in Town Square, going over them one by one.
Blue Martini
Blue Martini is a hip and cool joint that serves some really special martinis you will absolutely love! Among the dishes we would strongly recommend the quesadillas and the lobster tacos here. Visit Blue Martini during happy hours: 4-8 pm, daily.
McFadden's Restaurant and Saloon
Irish-American fare well and truly comes alive at this excellent outlet, especially a variety of draft Irish beers that include the ever so popular Guinness, Magners Irish Cider and Harp Lager. There's also Fireball cinnamon whisky, available on the tap. While you are here, don't miss some really delectable Irish dishes such as Dublin rolls, Lasagna bun burger and beef patty glazed with Irish whisky. Happy hour at McFadden's Restaurant and Saloon - 4pm - 7pm daily
Texas de Brazil
When it comes to Brazilian cuisine, Texas de Brazil sure has the right Samba movements about it, figuratively speaking! Of special interest would be the salad bar, with so much choice on offer that includes shrimp salad, sushi, tabbouleh, smoked salmon, as well as fresh Manchego cheese to name only a few. Meats are just as eclectic here…may we recommend the bacon wrapped filet mignon? The setting of the restaurant clearly has a Brazilian feel to it as well, which when coupled with the fact that some of the staff at Texas de Brazil are Brazilian natives themselves, might compel you to question whether you are really in Sin City or somewhere in Rio de Janeiro! Texas de Brazil has a happy hour, but for bar only.
Stoney's Rockin Country
No, don't let the name fool you – this isn't a place where you would come to get stoned! Rather, if there was to be the epithet of best country bar in Vegas, where you could stroll in, strapping your Wrangler's, cowboy hat and boots, and listen to some of the finest country music you've ever set your ears on, this just has to be the place.
California Pizza Kitchen
For good old pizzas – served with a lot of pizzazz, look no further than California Pizza Kitchen at Town Square. Our recommendation here would be any of the numerous hearth-baked pizzas offered here, especially the BBQ Chicken Pizza.
I Love Burgers
Just as pizza lovers would be best off going to California Pizza Kitchens for their preferred choice of pizzas, for burger aficionados, we would strongly recommend going to I Love Burgers. As the name clearly suggests, this is a place tailor made for burger freaks, with a wide variety of gourmet hamburgers on offer, all of which come with plenty of choices for toppings.
Bonefish Grill
When it comes to seafood in particular, we would wholeheartedly recommend going to Bonefish Grill. Of special commendation would be the signature Bang Bang shrimp appetizer dish here, which is offered as crispy shrimp along with a delicious spicy and creamy sauce. Also, do try the grilled Norwegian salmon here – definitely one of the best we've had anywhere! Happy hour at Bonefish Grill - 4:00pm - 6:30pm Sunday - Thursday.
Kabuki
For Japanese, Sushi fare, head straight to Kabuki, definitely one of the finest Japanese restaurants you are likely to find not only in Town Square but the whole of Las Vegas! We strongly recommend the sushi rolls here especially spider roll (no there is no spider inside it! Only crab, avocado and a smelt egg). You will also enjoy the ginger shrimp with crispy rice signature dish at Kabuki. Happy hour at Kabuki - weekdays from 3 pm to 6 pm.
Brio Tuscan Grille
In the heart of Town Square Las Vegas stands proudly, Brio Tuscan Grille with a wide variety of Tuscan cuisine options. The lobster bisque here is clearly magical. Then there are plenty of pasta options though we would recommend the sacchetti formagio. For dessert do try the orange brûlée. Happy hour at Brio Tuscal Grille is from 3-6:30 pm.
Sugar Factory Brasserie
While sweetmeats are not all that Sugar Factory Brasserie offers, if you are headed here, we would recommend doing so for the sweet treats alright! In fact you can very well try the main dishes at other Town Square restaurants (given the immense choice on offer here!) and come to Sugar Factory Brasserie for desserts. Our recommendation would undoubtedly be the King Kong Sundae, suitable for a large group of at least a dozen folks, which offers as many as 24 different scoops of ice cream, marshmallows, cupcakes, chocolate chip cookies, gummy bears, and much, much more! Definitely not for the faint hearted – or those missing the proverbial sweet tooth!
Summary
In summary, Town Square Las Vegas is clearly a one-stop shop for shopping, eating and more! After all there is a nice and spacious playground on the
premises where your kids can keep themselves busy for a long time, even as say you go about your shopping pursuits.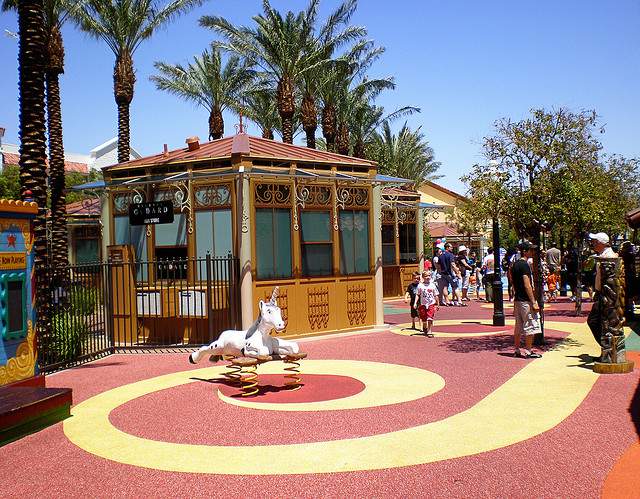 Photo by
Miss Shari
Then there is also the outstanding movie theater here where you can catch any of the latest Hollywood flicks.
All in all, whether you are in for some serious shopping and eating, or simply fancy a casual outing, or perhaps are on the anvil for a red hot date, Town Square Las Vegas would be just the right place for you!
More Attractions
Get Your Free Las Vegas Events Calendar!
Best of Vegas