Flyover Las Vegas
Location: 3771 S Las Vegas Blvd Suite 150
Flyover is my favorite Las Vegas Immersive Experience! In all honesty, if you haven't experienced it yet, whatever you imagine it is, it will most likely turn out so much better than you imagine. The promo videos don't do justice to the real experience.
Put in simple words, Flyover expereince is a simulation of flying over incredible locatios of Earth while you are sitting buckled comfortably in seats similar to those on a mild roller coaster ride. As you are watching a short film, the seats move, simulating soaring over, dodging and basically flying over mountains, waves, valleys, treetops, roofs, etc. The experience is enhanced by sensory elements such as water drops, cool breeze and even scents.
If you are wondering what it feels like - it feels like flying inside a drone equiped with a camera as it's filming all these wonders, while ascending, descending and bypassing the obstacles. Anyway, there's no other way to expereince this in real life, so you are in for a real treat.
There are currently three films you can choose from at Flyover Las Vegas - Wonders of The American West that takes you through the US National Parks, Iceland, and Windborne that flies over The Canadian Rockies. All three are amazing, but my favorite is Iceland, ecause that's such an exotic place for me.
The Flyover is located in a modern premises, with large spacious theaters, boasts cool nature-inspired art, and The Lost Cactus cafe/bar. Before you enter the actual experience, you'll be treated to a sort of educational film.
Illuminarium
Location: 3215 S. Rancho Dr. West of the Las Vegas Strip
If there is one Las Vegas immersive experience that you can't miss, it's probably the Illuminarium at Area 15! (If you haven't heard about Area 15, it's a fantastic destination just 8 minutes drive from Las Vegas Strip, offering plenty of cool experiences.)
Please note that Area 15 changes often what is chooses to show at Illuminarium. I will try to stay on top of things, so this information below is to the best of my knowledge regarding what immersive experiences are currently showing there right now!
Illuminarium offers two incredible family friendly experiences from 11 am to 7 pm, that on certain days are also offered for adults only for admission at 8 pm. One is called "Space: A Journey to the Moon & Beyond", and the other is "Wild: A Safari Experience." At both experiences, the setting is this: a huge hall where you can walk around, all immersed in the experience, a few sitting areas where you can sit to enjoy the experience in a more relaxing way, and incredibly beautiful images and films are projected on the giant walls and even the floor. You are also surrounded by classical music, which makes the experience even cooler. It may sound simple, but the whole experience is definitely amazing!
the "Space" experience is my favorite, perhaps because I know that the chance that I will ever experience space in any other way is very small. It shows you galaxies and stars, with images taken by James Webb Space Telescope, recordings by NASA of a spaceship taking off, of astronauts in space, a moon landscape and other incredible films shot in space. The coolest part is that there are some interactive bits to this experience, for example, you kick lunar dust on the floor and even leave foot prints (it will settle down soon, don't worry), or break asteroids when you step on them.
The other fantastic Las Vegas immersive experience currently running at Illuminarium is "Wild: A Safari Experience." You guessed it right: it takes you on a journey through the spaces of South Africa, Kenya, Rwanda, and Tanzania and lets you experience the wild animals, such as zebras gorillas, lions, giraffs, elephants and others, in their natural habitat. The coolest part of this experience is the night time in the jungle, when you get to experience billions of stars all around you, even on the floor!
Meowolf's Omega Mart
Location: 3215 S. Rancho Dr. West of the Las Vegas Strip, inside Illuminarium
Welcome to Meow Wolf's Omega Mart, where nothing is as it seems. On the outside, it looks like a typical grocery store, and you can even purchase whatever products you like. But if you look closer, you'll see that the products are not what they seem : they are art. Funky, spooky, and cool, but art. Some items are attached to the shelves and have weird price tags - those can't be purchased. However, that's not the point of Meowolf's Omega Mart - you have to find a door to a parallel universe, where Dramcorp resides.
I don't want to give everything away, but there are two ways to enjoy Meowolf's Omega Mart Las Vegas Immersive experience. One - just experience it as an art installation. Walk through secret doors and look around through the nine hidden rooms - it's a parallel reality, filled with large art installations. Travel between rooms through hidden portals, and take it all in.
The second way to experience it as sort of like an escape room. There is a story to this whole thing. Before you enter, purchase an Employee Card for $3, and it will allow you to scan, or to "boop" a QR code that will give you clues about what's going on in this parallel universe and unravel the mstery of the Dramcorp.
Immersive Van Gogh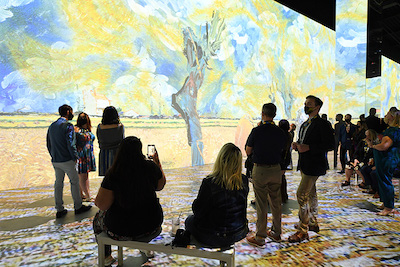 Location: The Shops at Crystals
Open through September 3, 2023-2024
The highly popular Las Vegas Immersive experience Immersive Van Gogh is located inside The Shops at Crystals in CityCenter. If you haven't been living under a rock, you proably already know what it is, but I am obliged to tell you anyway.
Immersive Van Gogh is a beautiful large scale art installation that brings to life the works of Van Gogh in a unique immersive way - by projecting them on the walls, ceiling and floor. As you enter the exhibition, you are greeted by a breathtaking display of animated canvas, vibrant colors. The exhibition takes you on a journey through Van Gogh's life and artistic evolution, from his early paintings to his famous masterpieces. Vav Gogh has only been active for 10 years, from 1880 to 1890, so this evolution happened really fast.
The projections highlight the intricate details and brushstrokes of Van Gogh's art, allowing you experience his work from different angles. The experience is enhanced by beautiful classical music by world renown composers, such as Camille Saint-Saëns, Wolfgang Amadeus Mozart, Johann Sebastian Bach, Leo Delibes and Erik Satie.
The use of technology and multimedia elements creates a stunning multisensory experience, allowing you to discover new details, symbols and emotions behind the paintings. You'll leave this exhibition with a deeper appreciation for art
Immersive Disney Animation
Location: The Shops at Crystals
Open through September 3, 2023-2024
The Immersive Disney Animation Experience is a 360° interactive exhibition featuring larger-than-life projections of short excerpts of iconic Disney movies. As you enter the exhibition,you'll be transported into a realm of the beloved Disney characters and stories that come to life through cutting-edge technololy. Audio effects add to the experience, allowing you to fully immerse in the magnificent world of Disney.
The exhibition highlights the evolution of Disney animation from the early Mickey Mouse trough classics like Peter Pan and Lion King, to the contemporary favorites such as Frozen and Encanto. I am not a huge fan of Disney movies, considering I am adult, but I still found this experience pretty cool.
The best way to describe the Las Vegas Immersive Disney Animation Experience is "stepping inside" the movies. You are literally inside the magical castle, or the casita from Encanto, or the Savanna from Lion King. The stories are projected on the walls, on the ceining, the floor, on the columns. Everywhere you look - you are inside the story. Step on magical stars, blow on the bubbles, feel yourself part othe magical world that is Disney.
Fantasy Lab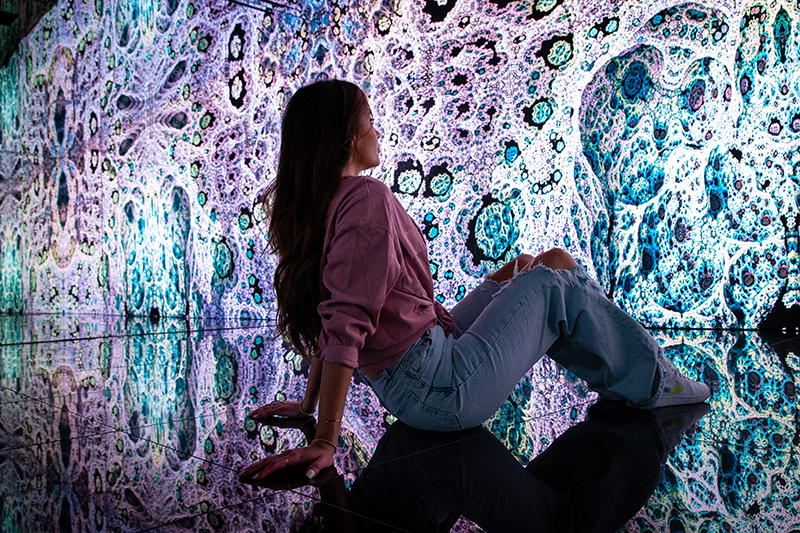 Location: Inside the Fashion Show Mall on Level One next to Forever 21.
Entering Fantasy Lab Las Vegas Immersive Experience, located inside Fashion Show Mall on the Strip, is like stepping inside 7 visual simulations of a dream. It's made up of 7 very different rooms, and you get to spend 10 minutes in each, if you don't count the restaurant/bar before the entry into the actual exhibition. There's plenty of cute art to explore inside the restaurant as well!
Enlightenment is a dark room filled with stars, or small lights that make an impression of stars. Obviously it gets it's name from the light emanating from the stars. Insomnia is wonky children's room, filled with furniture pieces and toys all around the walls, floors and the ceiling, with sort of like an Alice in Wonderland vibe. Kaleidoscope room is filled with moving projections of various ornaments that make you feel as if you are inside a giant kaleidoscope.
The Nightmare room is like stepping inside a real immersive nightmare with spooky insects, clicking and buzzing sounds. Circus projects cartoon-style circus images on the wall. But my favorite exhibit is Labyrinth, with cool glass-like walls in a range of pastel colors that you can get lost in. Circus room is filled with circus props that you can try, such as hulahoops and large alls, with images from an old-fashioned circus projected on the walls. And Labyrinth is a ginat maze made up of what seems like fragile glass walls.
Location:
Location:
Location:
Location:
Location:
Location:
Location:
Location:
Location:
Location:
https://area15.com/experiences/okeeffe-immersive-experience/ https://www.vegas.com/attractions/on-the-strip/ultimate-4d-experience/ excalibur https://www.viator.com/tours/Las-Vegas/Shark-Reef-at-Mandalay-Bay-Hotel-and-Casino/d684-5156SHARK https://area15.com/experiences/virtualis-vr/ https://mgmgrand.mgmresorts.com/en/entertainment/virtual-reality.html https://www.caesars.com/linq/things-to-do/attractions/vr-adventures https://www.vradventures.net ??? https://armyofthedeadvr.com/las-vegas/?utm_source=google&utm_medium=localcards&utm_campaign=99101_las https://www.grandcanalshoppes.com/en/directory/sandbox-vr-46123.html https://www.xworld360.com https://imaginarium360.com/las-vegas/?gclid=CjwKCAjw67ajBhAVEiwA2g_jEOEF-1IyzGhb7TYKyXB1KtnSDNZsqMSsk5Rh_Ft5A_TeJxEt4EmOJxoC_XcQAvD_BwE
More Attractions
Get Your Free Las Vegas Events Calendar!
Las Vegas Gifts - Art, Merch And more!
Grand Canyon Helicopter Tours by Papilloin
Grand Canyon Helicopter Tours by Maverick
Awesomest Things to do in Las Vegas Every Day!