Naughty Las Vegas Vacation For Couples
Ideas for a naughty Las Vegas vacation or a couple's getaway in the Sin City ? This is probably one of the most popular questions I've been asked! There are, in fact, so many attractions and fun things to do in Las Vegas for couples. Whether you are a husband and wife looking to spice up your love life in Vegas, or boyfriend/girlfriend, you will find plenty of naughty, adult activities in Las Vegas for couples!
Love Cloud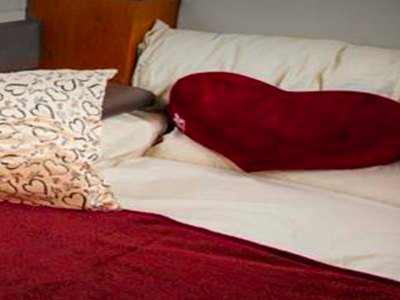 You may be asking what's the most fun and unique thing you could do with your husband or wife in Las Vegas? Well, look no further - Love Cloud Air Tour just for the two of you trumps it all! This is an intimate flight, with a pilot safely hidden in his own cabin, that allows you to reach new heights in your love life. As you soar 1 mile above The Strip in a private airplane, feel free to remove your seatbelts and make your highest fantasies come true ! You have a selection of packages between 30 min, 45 min and 90 min flights.
Best Shows For Couples
Deals
Best Hotels For Couples
Every vacation starts from finding the most suitable hotel - and we are no exception. Therefore, I found the best Las Vegas hotels where couples would have the most fun. My top choice are Planet Hollywood and The Mirage - both very adult hotels, frequented by party-loving public, where you surely will see some skin even if you are not looking for it. They offer plenty of entertainment, bars, night clubs. Planet Hollywood, for example, hosts the largest number of shows in Vegas. The wife/girlfriend could even take a Stripper 101 class to learn new tricks to entertain the husband/boyfriend!
Rio, Palms and Hard Rock hotel also cater to revelers with their 24/7 party atmosphere. Palms and Hard Rock Hotel host some of the hottest concerts in Vegas and the most incredible pool parties. Rio is home to a free show catering to adults -Show In The Sky with dancers dancing in gondolas hanging from the ceiling.
Best Strip Clubs For Couples
Olympic Garden
Sapphire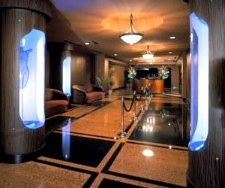 Palomino
People are wondering which are the best strip clubs in Las Vegas for couples. The thing about Vegas strip clubs is that some of them are really "gentlemen's" clubs - ladies are not allowed in, and they only feature female strippers. It's always best to check their website or call in advance. You can find all the websites and more tips on what to do and what not to do in Las Vegas Strip Clubs.
These strip clubs are a perfect choice for a naughty Las Vegas vacation - they either have a special "ladies night", or have both female and male strippers on the same night so you both can enjoy your night out.
Nightclub Passes
Do you enjoy partying? Then you definitely need to get hold of one of those V Cards - the ultimate party pass in Vegas! This card, or more like vouchers, will give you absolutely free access to most of night clubs and even Strip clubs and pool parties (provided it's summer season) in Vegas. And if you are wondering whether the girl needs the card too - after all, women can get in most clubs for free, I'd suggest that you do need it. First of all, not all clubs are free for women. Second, with this card you would avoid surprises such as having to wait in line while the guy already got a free VIP access. On the other hand, if you are prepared to enjoy at least part of your naughty Las Vegas vacation separately, the girl could get a What Women Want Pass instead.
Best Night Clubs For Couples
Lavo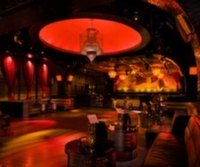 Tryst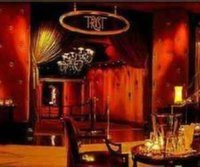 Marquee
Assuming you have your V Card, where would you start partying? Here are all the best, naughtiest Las Vegas night Clubs for couples - all of them are currently included into V Card. Otherwise, the cover charge is around $30 for each club. In other words, with only 2 night clubs you will justify the cost of the V Card.
Best Pools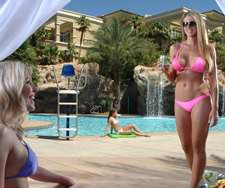 The Voo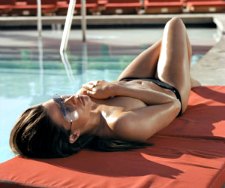 Moorea Beach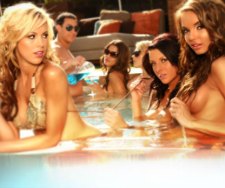 Bare Pool
And I know you want to ask this question - what are the best, naughtiest pools in Las Vegas for couples? Well there are 2 types of naughty adult pools here - pools with the hottest parties, and pools with European (topless) area. To make things more fun for your naughty Las Vegas getaway, I separated the pools into 2 categories.
Here are the best European pools in Vegas. Please keep in mind that you do need to arrive to the pools in a nice presentable attire, and sober preferably. Otherwise they might not let you in!
Best Las Vegas Pool Parties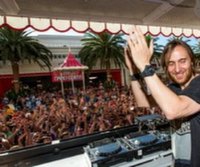 Encore Beach Club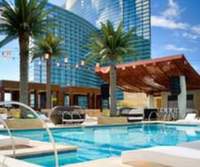 Marquee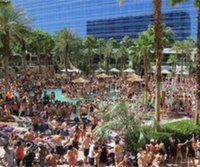 Rehab
These are the most fun pool parties - a perfect addition to a naughty couple's getaway in Las Vegas! Many of them are included in the V Card and you can get there absolutely for free and without having to wait in line.
Best Spas For Couples
Spa at Encore
Qua Baths & Spa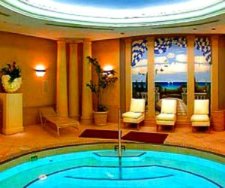 Finally, after partying and playing, you may be interested in a relaxing massage, spa treatment or just soaking in a Jacuzzi. While you can't really find "naughty spa" in Las Vegas, the next closes thing is a spa that caters to couples or allows co-ed spa experience. On top are these magical spas!
Hope you and your girlfriend/boyfriend will have a fabulous, naughty Las Vegas vacation as a couple that you will remember for ever!
Deals
Top Pages
Do you have any questions or Comments?