60 Las Vegas Bachelor Party Ideas
Need Las Vegas bachelor party ideas? We have plenty! Choose among our 60 activities for guys only to create your own party package! If you want to have a "wild" party, but don't like planning - let organizers handle your party! All you need is send an inquiry, tell them briefly what you need, and professional guides will come up with a plan for a perfect party for you!
What's Hot
Top 10 Vegas bachelor party activities
All Adrenaline Activities
Ok enough about clubbing and hot girls! Here are a few unique Las Vegas bachelor party ideas to do during daytime - Adrenaline activities! Fortunately, there are plenty of these in Las Vegas as well. So I've spoken with a few of my (male) friends and we voted on which are the best adrenaline activities in Vegas that all of them would love to take during their next bachelor party. I am happy to introduce the winners.
Your party would bang with Gun Range experience! Your friends can shoot from a wide variety of guns - MP5 with 25 rounds, M4, AK-47, UZI and other guns and rifles.
ATV Tours in several scenic locations such as Valley of Fire or Nevada desert are great for both beginners and experienced ATV riders.
Exotic Cars driving along a race track or even a tour to the Red Rock Canyon where you could change cars a few times.
Zip Line at Bootleg Canyon - an exciting adventure where you can zip over the valley at high speed
Indoor Skydiving - on of the most fun Las Vegas activities - perfect if you aren't ready for a real skydiving.
Off Road Adventure Tours where you could ride huge off road cars and get them dirty!
Dig This - fun with excavators and bulldozers in a real adult sandbox
Thrilling Tandem Skydiving with an instructor attached to your shoulders.
The most adventurous guys can try the Sky Combat Experience and fly real combat aircrafts.
Sky Jump - a bungee jumping from a Stratosphere hotel & Casino
5 Best Topless Shows
All Topless Shows
There are many ways to create a Las Vegas bachelor party agenda, but I can't imagine one without at least one topless show! And by "show" I mean an actual show - we'll get to strip clubs too. We'd like to draw your attention to 5 sexiest and hottest adult topless shows in Las Vegas, ideal for a guys' night out. One thing to remember - enjoy these shows for what they are - light, sexy, a bit silly and fun.
Best Shows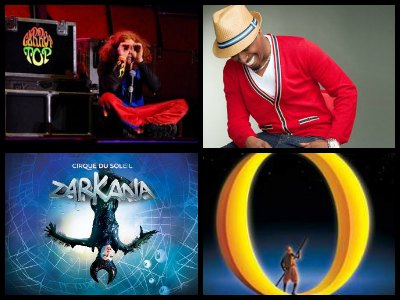 Shows Schedule
Well, Las Vegas bachelor party activities don't have to be all about topless girls, right?
I think that you might enjoy a few of the other great shows, perfect for an all-guys getaway - especially comedies and sports events.
Therefore I carefully selected these shows that can be enjoyed by a bunch of guys!
Best Tours For Las Vegas Bachelor Party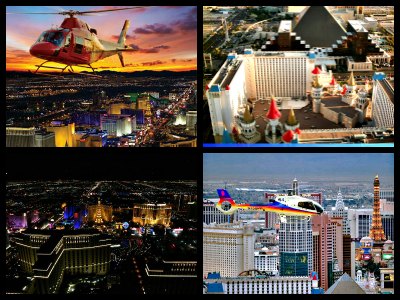 All Las Vegas Tours
If you have a lot of time and are done exploring the city, I have a few more Las Vegas bachelor party ideas: take one of the many day trips from Las Vegas.
Again, when selecting these tours, I had a guys' trip to Las Vegas in mind. So what are the best tours for a guy's trip? No need to arrange transportation - all tours include a free pick up from hotels!
5 Best Las Vegas Hotels For Bachelor Party
Check out the selection of other best hotels in Vegas
Let's start from the essentials - you will need a hotel for your Las Vegas bachelor party! What you will need is a hotel with a "party" vibe, lot's of action, night clubs and very active night life. There are a few hotels in Vegas with a party going on nearly 24/7 so you can have lots of fun without ever leaving the hotel room!
Tip: Ask party guests if they are willing to share a hotel room - you can fit more people into a suite and it will be cheaper than booking separate rooms.
I recommend the following hotels on the Strip:
Best Strip Clubs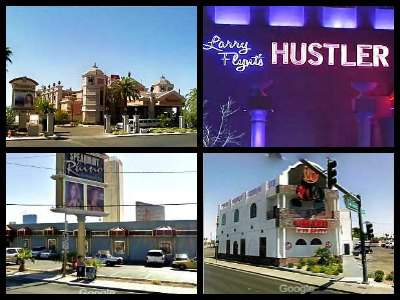 All Vegas Strip Clubs
And you thought we'd never mention the strip clubs? But these are the main part of any bachelor party! Now that I mentioned the strip clubs, it's also time to introduce V Card - the ultimate Las Vegas bachelor party package. With this card, you will have free access to most of the best strip clubs in the city! I am recommending here top 5 gentlemen's clubs in Vegas. Note that although the V Card "buys you" free access to some of these clubs, you can also contact them to arrange the party for you! All clubs except Spearmint Rhino are free to visit with V Card - otherwise the cover fee is around $30. Tip: Read my strip club tips about ways to avoid cover charges, dress code and etiquette. Warning! Do not arrive to Strip Clubs by taxi or limo - call to order a free pick up! I recommend the following gentlemen's clubs to help boost your Las Vegas bachelor party ideas.
Best Night Clubs
All Vegas Nightclubs
No matter what your Las Vegas bachelor party ideas are, you simply have to to take the groom to one of the night clubs before he takes the plunge! Vegas nightclubs are hot, hot, hot, with the most awesome resident DJ's. For example, Tiësto and deadmau5 play at Wynn Hotel all the time.
But since we are planning your bachelor party package here, I suggest hitting at least 1 of the 5 nightclubs included into the V Card - this way, it will be much cheaper for your group of friends than paying the cover charge separately at all Vegas night clubs. So I researched a few of the clubs included into the V Card, and have selected the most fun ones for your Las Vegas bachelor party:
Best Bars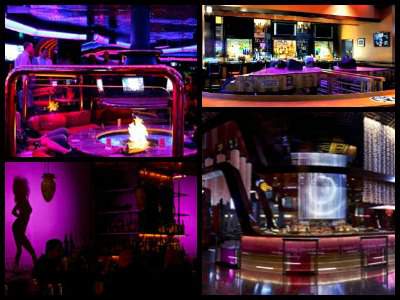 Best Vegas Bars
Groom tired and happy from all the dancing, strippers and topless show? That's not all! Now it's time to take your Las Vegas bachelor party to a bar/restaurant to continue the merriment. I again put a lot of thought into selecting best restaurants - the most fun ones.
If you want to celebrate your stag party at the most fun bar - look no further than Carnaval Court at Harrah's. Carnaval Court is in our opinion the best, most fun bar in Las Vegas. They have a live band Mr. and Ms. Smith that plays party music, and they have a party atmosphere that you need.
If you did not see the movie Coyote Ugly , it's all about hot girl bartenders dancing on the tables (oh my i need to see it again - the movie is pretty sleazy, but the dancers are hot, hot, hot!). So this Coyote Ugly at New York New York is based on this movie and, naturally, has pretty girls dancing in between pouring you booze. How awesome is that?
Stripper Bar, on the other hand, is owned by strippers! While there is not much going on in terms of entertainment, there are a few girls dancing. This place is good for a few quick drinks on your Las Vegas bachelor party, if you are going to see any show at Planet Hollywood Hotel. However, the most fun part with this bar is taking the groom there - he will have to pass by a huge stripper doll called Sin City Cindy. Please do have a camera with you and as he goes between her legs and looks up (and he will) - snap a picture!
Blondies Sports Bar & Grill at Planet Hollywood is a great place to catch a sports game if there is one during your Las Vegas getaway. They have big screen TV's and beautiful women, but they don't have much entertainment going on. As I mentioned, this is a sports bar and that's how it's supposed to be used!
I thought that including the funny restaurant/bar Dick's Last Resort at Excalibur Hotel into your Las Vegas bachelor party ideas would be a hilarious idea. Warning: don't warn the groom about this restaurant if he doesn't already know! He should however have a healthy sense of humor to enjoy this one. It's a really special place: they crack you up with insulting jokes, they write stupid comments on your hats, they can even give you phallus-shaped balloons and stuff like that. They call themselves The Shame of The Strip for a reason and they are simply hilarious. If you want to get your groom insulted - go ahead and ask them to give him special treatment!
Best Pools
All Vegas Pool Parties
If you are having your Las Vegas bachelor party during summer or at least between April and October - you should check out a few of the best pool parties in Las Vegas! I selected these pools because they either have a European topless area (Tao Beach) that your groom would surely enjoy (ha! ha!), or they have awesome party atmosphere - all the rest! Yes Vegas is famous for its awesome pool parties that are just like night clubs only wet and take place during day time.
All of these pools are included into the V Card that offers free VIP admission into the pools. cover charge for Lss Vegas pools as $20-$30 depending on the day of the week, some pools are free for women.
Best Restaurants
These are a few of the most fun restaurants in Vegas, that any Las Vegas bachelor party can't go wrong with!
What's Hot
Do you have any questions or Comments?