Things To Do In Las Vegas for kids 2015
Below is a list of things to do in Las Vegas for kids in 2015 - plenty of family vacation ideas!
Explore Las Vegas
There are plenty of attractions, shows and tours you could do when visiting Las Vegas with your children. Recommended for little kids, as well as teens ! Although Vegas stopped being the ultimate family destination a while ago, but there are still plenty of fun family friendly Las Vegas activities.
Besides, for some families it's not even a question whether to bring kids with them on vacation in Las Vegas or not. At least our family has no choice, as we don't have anyone to leave our kids with. So if your family is like ours, you can still get the most of your vacation. Here are some wonderful things you could do with your kids here.
Family Friendly Shows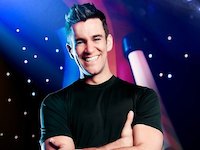 Jeff Civillico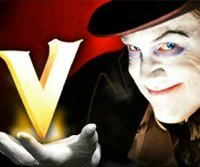 V-The Ultimate Variety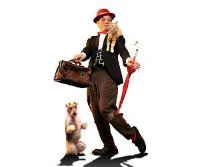 Comedy Pet
All Family Friendly Shows in Las Vegas
There are quite a few shows in Las Vegas suitable for kids and teens, although most of them have age restrictions of 5+. But then you wouldn't normally want to take 2 year old for a show as they can't even sit still! The shows we recommend for kids also include Cirque du Soleil (all except Zumanity - which is strictly adult show! However, even for Cirque du Soleil kids need to be at least 5 years old. And, of course, there are plenty of magic shows that the little ones would love!
Deals
Las Vegas Power Pass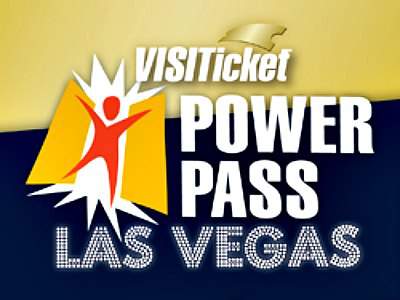 More About Power Pass
First thing you will need (not that you can't do without it, but it will save you a lot of money) - is the Las Vegas Power Pass. For one relatively low price you will get free access to many great attractions in Vegas. It's best to rent a car, because the Power Pass includes attractions in different parts of the city and it will be quite costly to hire a taxi and too long to travel around by bus.
Free Attractions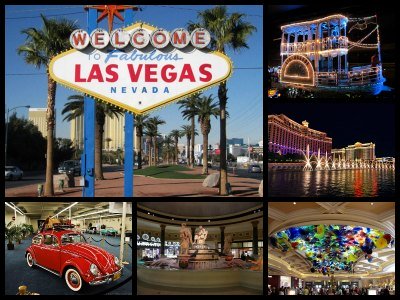 Free Las Vegas attractions For Kids
If you are looking for free things to do in Las Vegas for kids - there are some wonderful shows and attractions that don't cost a dime! Strictly speaking, not all of them are geared towards little children, but all of them are clean enough so kids can enjoy them together with you.
Some wonderful free shows include the erupting Volcano at The Mirage, the dancing Fountains at Bellagio, the Fall of Atlantis show of moving statues at Caesars Palace, the light show of The Fremont Street Experience.
family friendly Attractions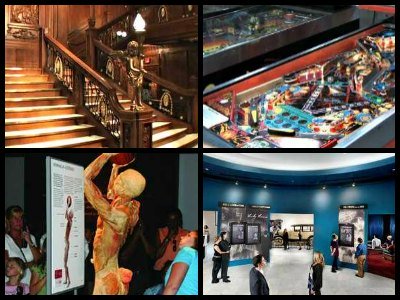 More About Attractions For Kids
There are plenty of attractions and activities in Las Vegas for kids. Most of these attractions can be enjoyed by adults, teenagers and little children. Although we think the following attractions are more geared towards older kids, but you know your child better.
It might not be the cultural capital of the world, but there are quite a few museums in Las Vegas suitable for kids and their families! Some example include: the Natural History Museum whose name speaks for itself, Nevada State Railroad Museum where little ones can see and ride vintage trains, Nevada State Museum - a hidden treasure located inside the Springs Preserve park, and Lied Discovery Children's Museum that is the largest life and science lab in Las Vegas for kids.
The highly controversial Bodies - The Exhibition displays real bodies and body parts - here your children can learn about healthy body vs. unhealthy. Titanic is a small museum that recreates the story and displays artifacts that belonged to passengers from the famous ship. Other attractions included here are Ethel M. Chocolate Factory, Mob Attraction - perfect if you are looking for interactive Las Vegas activities for families, Mob Museum (not to confuse with Mob Attraction), CSI The Experience, Madam Tussauds Wax Museum and The Pinball Hall Of Fame where you can play pinball games on machines dating back as far as 1900's!.
Parks, Zoos and Aquariums
Parks, Zoos, Aquariums
Kids love nature and animals, and you can find a few amazing parks with wildlife that you can visit. Springs Preserve is a great park with plenty of family activities and a few cool displays where your kids can run, bike and learn about green living. Shark Reef at Mandalay Bay is an amazing indoor aquarium with beautiful exotic fish and other sea creatures. Conservatory & Botanical Gardens is a free indoor garden with amazing flowers that change every season - one of the coolest free things to do in Las Vegas for kids.
Sightseeing
More about Sightseeing Tours
Sightseeing tours within city limits are among the most fun things to do in Las Vegas for kids! These tours are informative, fun-filled, and short enough for little ones to handle. Especially if your kids are in Vegas for the first time, these tours are a great introduction to the city for them. There tours I suggest are Double-Decker Bus of the Stars, and Hop-on Hop-Off Open Top Bus.
Tours For a family vacation
Day Trips by Destination
There are many tours for those looking for exciting adventurous tours in Las Vegas for kids. Our favorite thing about Vegas is it's location. Really! It's located so conveniently that it's very easy to get from the city to great national parks. The most poplar trip during Las Vegas family vacation is of course the Grand Canyon. Other national parks you could explore with your children while on vacation in Vegas are Death Valley, Valley of Fire, Red Rock Canyon, Zion, Bryce Canyon.
Hotels On The Strip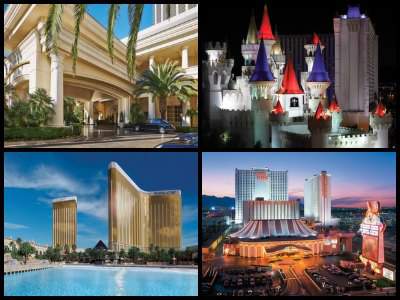 During your Vegas family vacation, you will need a hotel to stay in. There are two theme hotels in Las Vegas Las Vegas for kids, geared especially towards little children - they were actually built with kids in mind. They are quite affordable and offer plenty of kids activities. Circus Circus is built in a shape of a traveling circus, and runs a free show called Circus Acts. Excalibur is built in a shape of a medieval castle, and runs a theme dinner show Tournament of Kings.
Did you know that not all the fun things to do in Las Vegas for kids are on the Strip? Most of it, yes, but there are many small quiet resorts, hidden behind the huge hotels or off the Strip. What make these resorts a great choice for Las Vegas family vacation is that they look so much like resorts in the Caribbean. They have great swimming pools and water parks, and you could stay there all day long and feel like you are somewhere in Tahiti. If you suddenly feel like experiencing the "real" Vegas - it's just across the street!
The other two hotels that we included - Mandalay Bay and Four Seasons are fun for both adults and kids.
Thrill Rides / Amusement Parks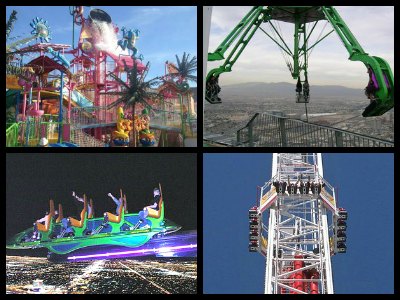 More About Thrill Rides
Vegas is home to so many great amusement parks and other thrill rides that if your kids or teens are into this stuff you will never get bored! That's not the case with our two boys, they are more into animals and fish, haha! But nevertheless, we've made the research for you and are happy to recommend the following amusement parks for Las Vegas family vacation.
Insanity and X-Scream are insane rides located at the Stratosphere Hotel - the tallest hotel in Vegas. The Adventuredome is probably the most popular amusement park in Vegas, located at Circus Circus hotel. The Roller Coaster at New York New York is a fantastic ride that goes around the entire hotel!
Deals
Top Pages
Do you have any questions or Comments?